Andrew Cuomo Vegas Presidential Election Odds
56th Governor of New York State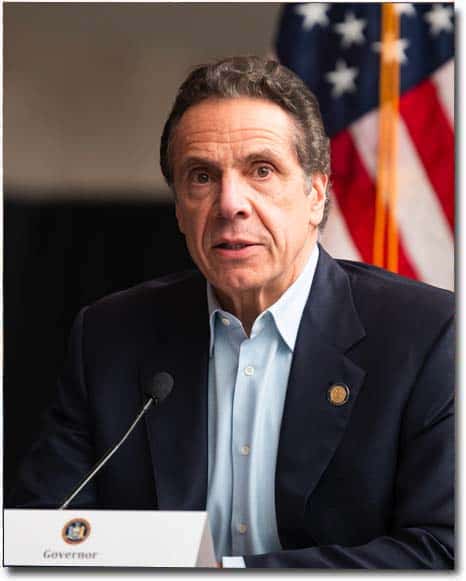 Andrew Cuomo, a career politician and current Democratic governor of New York, has been getting a lot of press lately about a potential run for the 2020 presidency. This is due in large part to his massively increased local approval ratings in NY as a result of the coronavirus outbreak and his daily sparring with President Donald Trump over ventilators (which the state didn't turn out to need).
That said, there is no official Andrew Cuomo for President 2020 campaign, and the potential candidate himself said that he isn't interested in running for the highest office in the land. Of course, that rebuttal isn't gospel, and many sports bettors are putting money on Cuomo's Vegas election odds, which have him in second behind presumptive Democratic nominee Joe Biden.
If you want to bet on these Vegas odds, though, you'll have to do so at an offshore election betting site. These sportsbooks are the only ones legally able to offer political lines, despite Nevada bookmakers releasing "odds" on the general election, Vice President candidates, and so on. Vegas uses these to entice bettors to their sportsbooks, but they cannot by law take action on political or entertainment betting outcomes. But the books listed here can, so cast your votes accordingly!
Most Trusted Online Sportsbooks with 2020 Election Odds
Andrew Cuomo Presidential Election Odds
Current Odds - Political Specials
Next Elected Mayor Of New York City
Andrew Yang

+150

Eric Adams

+335

Scott Stringer

+350

Raymond McGuire

+625

Maya Wiley

+1100

Kathryn Garcia

+1400

Shaun Donovan

+2200

Dianne Morales

+8000

Carlos Menchaca

+10000
Will Andrew Yang Be Elected The Next Mayor Of New York City In 2021?
*Odds Provided By Bovada
Is It Legal To Bet On Andrew Cuomo For President?
Yes, it is, provided that you use one of the offshore sportsbooks listed here. These top sites all have Andrew Cuomo odds featured prominently on their boards, and you can place a real-money wager on the New York governor if you think he has a real chance to enter the 2020 race and win.
There are no federal laws barring individuals from betting on politics online with offshore operators, as the Wire Act of 1961 and the UIGEA of 2006 do not go after individual bettors. Instead, these laws target only unlicensed bookmakers operating on US soil and banks that knowingly process transactions to unregulated betting sites.
The sole caveat is that the states of Washington and Connecticut have laws against online gambling in general, and though these are unenforced and many WA and CT residents wager at these sites, we recommend that you stick with all local laws.
How To Bet On Andrew Cuomo To Win The 2020 Presidential Election
Betting on Governor Cuomo is easy enough once you've signed up at any online election odds site. That process, fortunately, is equally simple, and you can join and make your first deposit in just a few minutes, getting in on these lines while the getting's good.
Choose one or more sites listed here, and follow the links to their home pages.
Tap or click the "Join" button, usually found in the upper right corner of the screen.
Enter your real name, email address, DOB, and phone number. Then choose a username and a password for your site account.
Make a deposit by selecting the banking method that suits your needs. If you can, we recommend using Bitcoin to deposit, as BTC offers fast transactions, the biggest bonuses, has no added fees, and is the only way to get same-day payouts.
Choose your bonus, paying attention to the rollover requirements. You do not have to accept any sportsbook bonuses in order to join and wager, as they are 100% optional.
Find the Politics or Elections tab at your book, and browse the lines.
Place your bets.
Wait until this whole "election" thing sorts itself out, and collect your winnings!
Andrew Cuomo Bio
Andrew Mark Cuomo was born in Queens, NY, on December 6, 1957, and is 62 years old. If he wins the election, he would be 63 once he takes office, more than a decade younger than both parties' presumptive nominees (Donald Trump and Joe Biden).
In 1971, Cuomo finished his elementary education at St. Gerard Majella's School, and he graduated from Archbishop Molloy High School in 1975. After that, he attended Fordham University and earned a BA (1979) before getting his law degree from Albany Law School in 1982.
Cuomo married Kerry Kennedy (yes, of those Kennedys) in 1990, and has three daughters with her, though the couple divorced in 2005. After that, Cuomo dated the Food Network's Sandra Lee. They lived together until 2019. Cuomo is a Roman Catholic and has one brother, Fredo Cuomo, and one sister, radiologist Margaret Cuomo.
Andrew Cuomo's Political Experience
Cuomo comes from a political family, as his father Mario was elected governor of NY in 1982, a campaign on which Cuomo worked. He was a member of his father's staff and used that position to work his way up the political ladder in the Empire State.
In 1993, Cuomo became a member of the Clinton administration as Assistant Secretary for Community Planning and Development within the Department of Housing and Urban Development (HUD).
In 2002, Cuomo ran for governor of NY but withdrew from the race on the night before the state convention. In 2006, Cuomo ran for NY Attorney General, beating Republican Jeanine Pirro (now a Fox News personality). In 2010, Cuomo ran for NY governor again, this time winning and taking office on January 1, 2011, which is a position he still holds.
Andrew Cuomo's Political Platforms
Cuomo's politics are predicated on the standard Democratic party platforms, and he's considered to be a mainstream moderate Democrat. He supports the typical DNC calling cards:
Abortion rights
Strict gun control
Universal healthcare
Special LGBTQ protections
Higher taxes for the wealthy
Felon's rights
As for his views on the GOP, Cuomo has expressed disdain for Republicans across the board, saying that "extreme conservatives…have no place in New York" in a January 2017 interview on WCNY.