Donald Trump's Presidential Impeachment Odds
When it comes to political betting, it's more than just who wins and who loses elections. Wagers can be made on political prop bets like how many times a candidate will say a specific word, how active Twitter might be during a debate, whether the current president will be impeached, and so on.
As President Donald Trump just faced impeachment (Dec. 2019-Feb. 2020), many online sportsbooks offered betting odds on the possibility he would be removed from office. Now, as Trump again faces impeachment in an effort to prevent him from ever running for President again, the top online betting sites again have odds on the outcome of such an initiative.
Since impeachment can be a long process with multiple steps, bettors have plenty of chances to capitalize monetarily on the proceedings whenever they arise. And since such proceedings are primed to arise many more times in the future, you can expect impeachment odds to be a semi-regular thing going forward. Decorum, once lost, is gone forever, as the poet says.
Impeachment probabilities can also affect other prop bets and betting lines, as they did for the odds for which party would control the White House after the 2020 election or whether or not Republicans would remain in control.
Is betting on Donald Trump's Vegas impeachment odds legal?
There are no federal laws that make it a crime to place bets on a Presidential impeachment. As long as the wagers are made through licensed offshore sites operating legitimately within the industry, the bets are legal. Bettors can also put money on Presidential resignation odds, Donald Trump's 2024 election odds, candidate matchup odds, and a variety of other related political prop bets.
Unfortunately, since political betting is such a new field, no domestic sportsbooks offer action on impeachments, even in Vegas. However, Vegas oddsmakers still set impeachment lines as advertising-friendly hypotheticals to get bettors interested in gambling, though only overseas books can post real-money impeachment odds and prop bets for the ordeal.
It should be noted that Washington and Connecticut prohibit all forms of online gambling, though these laws are historically unenforced (so you are free to sign up and wager at your own risk).
Best Online Sportsbooks For Betting On Trump Impeachment
How To Bet On Presidential Impeachment Odds
Betting on impeachment is no different than betting on any other line of Vegas election odds. Domestically, gamblers can't wager at any in-state books, as players are required to do so at offshore sportsbooks. Fortunately, it's a simple process to get started.
To bet on impeachment, an account must first be made at your preferred book, then verified and funded to be used. This takes only a few minutes, especially if you deposit using Bitcoin or credit/debit. Once your account is ready, impeachment betting odds can usually be found under the "Political" tab at online books. Impeachment odds might also be listed in the "Specials" section or "Entertainment" section of your betting site of choice. After finding these bets, placing a real-money wager is just a couple of clicks or taps away.
Each of the online sportsbooks listed on this page features a number of security protocols to ensure player safety. Not only does every book here employ SSL/TLS data encryption, 24/7 customer support, and cryptocurrency options to create a safe environment for all bettors, each one is licensed to guarantee its legality.
What are Trump's impeachment odds?
Each sportsbook sets its own odds, so the chances that Trump is impeached (again!) may differ between oddsmakers. The following is a list of current impeachment odds from multiple different books:
Will Donald Trump still be POTUS on 1/19/2021?
Donald Trump Impeachment 2021
As we suspected, Trump – win or lose – will almost certainly be impeached again. While Trump impeachment news has hit a fever pitch following the protests in Washington DC on January 6, 2021, the real reason the left wishes to impeach and convict the President is so he cannot run again in 2024. Trump is, after all, the current betting favorite to win the GOP nomination in the next election.
All that said, though Trump impeachment part two seems like a foregone conclusion (and will likely be a hard reality by the time you read this), it is unlikely that the US Senate will vote to convict him. That takes a 67-vote majority, and the upper chamber is currently split 50-50 Dem/Rep. So, will Trump be impeached again? Yes. But will Trump be convicted and barred from public office? This is highly improbable.
Once Trump is impeached for "inciting violence," you can expect the Trump impeachment vote to pass the House. In the Senate, impeachment of Donald Trump will likely be dismissed, with Trump acquitted for a second time.
Why is Trump being impeached in 2021?
The mainstream media falsely asserts that President Trump "incited violence" by calling for a peaceful, lawful, constitutionally protected protest on Capitol Hill for the January 6 validation of the electoral college votes for the 2020 November general.
There was some limited violence at the 500,000-person protest, and though Trump disavowed such actions, the motive is to paint him as the chief culprit so he cannot run for public office again.
The 2021 Trump impeachment trial is all about the desperation of the left, and it's an attempt to remove "Trumpism" (i.e. national populism) from the public discourse. It will not work, as every Trump impeachment poll shows the move to be highly unpopular with a public that is not interested in further division and political rhetoric between the two prominent parties.
At the very least, we should at least get some decent Trump impeachment memes out of the whole thing.
What caused the 2019 impeachment inquiry into Donald Trump?
While Robert Mueller's investigation into Trump's alleged collusion with Russia during the 2016 election, the subsequent Mueller Report, and his testimony all played a role in the eventual impeachment inquiry, the pivotal moment was the so-called Ukrainian scandal.
Trump was alleged to have withheld military funding from the Ukraine unless the foreign government provided "dirt" on Joe Biden and Hunter Biden activities with the now-defunct Burisma energy company. No such deal was proposed in reality, and Trump was eventually acquitted by the US Senate.
What happened with the Trump Ukraine scandal?
On July 25, 2019, Trump and Ukraine President Volodymyr Zelensky shared a phone call to discuss various issues, including Joe Biden's and Hunter Biden's involvement in the firing of a Ukrainian prosecutor investigating Burisma Holdings Limited, the discredited Ukrainian petrochemical company for which Hunter Biden sat on the board.
According to a White House "whistleblower" complaint, Trump threatened to withhold military aid from Ukraine unless the country investigated the Biden family and their dealings in Ukraine. The transcript of the call, released by Trump, did not demonstrate this.
However, the Democrats in the US House quickly changed the narrative to implied rather than explicit statements of record. House Speaker Nancy Pelosi announced a formal impeachment inquiry on September 24.
Aside from the original "whistleblower," more whistleblowers were ready to come forward, according to their legal teams. This did not happen, and Trump sailed through impeachment without any negative impact to his polling numbers or approval ratings.
Who drove the impeachment against Trump in 2019?
Officially, the inquiry was launched by Speaker of the House Nancy Pelosi, so she was one of the biggest driving forces behind the proceedings. It should be noted, however, that Pelosi did not favor an impeachment inquiry prior to the "whistleblower's" complaint.
The following list features some of the most prominent impeachment supporters:
House Speaker Nancy Pelosi
Rashida Tlaib (member of "The Squad" and target of Trump criticisms)
Democratic candidate Tom Seyer (founder of Need to Impeach)
Elizabeth Warren (favored impeachment prior to Ukraine scandal)
Tulsi Gabbard (did not favor impeachment prior to Ukrainian scandal, and did not vote to impeach Trump)
Justin Amash (former Republican, now the only Independent in the House of Representatives)
Al Green (called for impeachment in 2017)
Maryland Gov. Larry Hogan (Republican)
2019-2020 Trump Impeachment And Senate Trial Outcome
Impeachment (House Resolution 755)
On December 18, 2019, Donald J. Trump was formally impeached by US House of Representatives on two broad and unspecific charges: Abuse of Power and Obstruction of Congress.
Article I: Abuse of Power

Democrats: 229 for, 2 against, 1 present, 1 not voting
Republicans: 0 for, 195 against, 2 not voting
Independents: 1 for, 0 against

Article II: Obstruction of Congress

Democrats: 228 for, 3 against, 1 present, 1 not voting
Republicans: 0 for, 195 against, 2 not voting
Independents: 1 for, 0 against
Senate Trial Results
On February 5, 2020, Trump was acquitted easily on both counts, with the Democrats failing to come remotely close to the 67-vote threshold in the Senate needed to convict.
Article I: Abuse of Power

Democrats: 45 for, 0 against
Republicans: 1 for, 52 against
Independents: 2 for, 0 against

Article II: Obstruction of Congress

Democrats: 45 for, 0 against
Republicans: 0 for, 53 against
Independents: 2 for, 0 against
Mitt Romney, the Utah Republican from Massachusetts and former 2016 Trump GOP rival, voted to convict the President on Abuse of Power charges. Romney is the only person in history to vote against a member of his same party in an impeachment trial. It remains to be seen how this will affect his future in UT politics.
How does impeachment work?
Impeachment proceedings include a couple of key steps that must be followed by Congress to legally remove a president.
First, if the House Judiciary Committee investigation's findings are sufficient, they recommend articles of impeachment to the House.
Next, the House holds a vote on the article of impeachment. If the majority of the House votes in favor of impeachment, the President is impeached but not immediately removed from office.
Following impeachment, the Senate holds a trial based on the articles of impeachment. If two-thirds of the Senate votes to convict the president (i.e. at least 67 out of 100 Senators), then he is removed from office.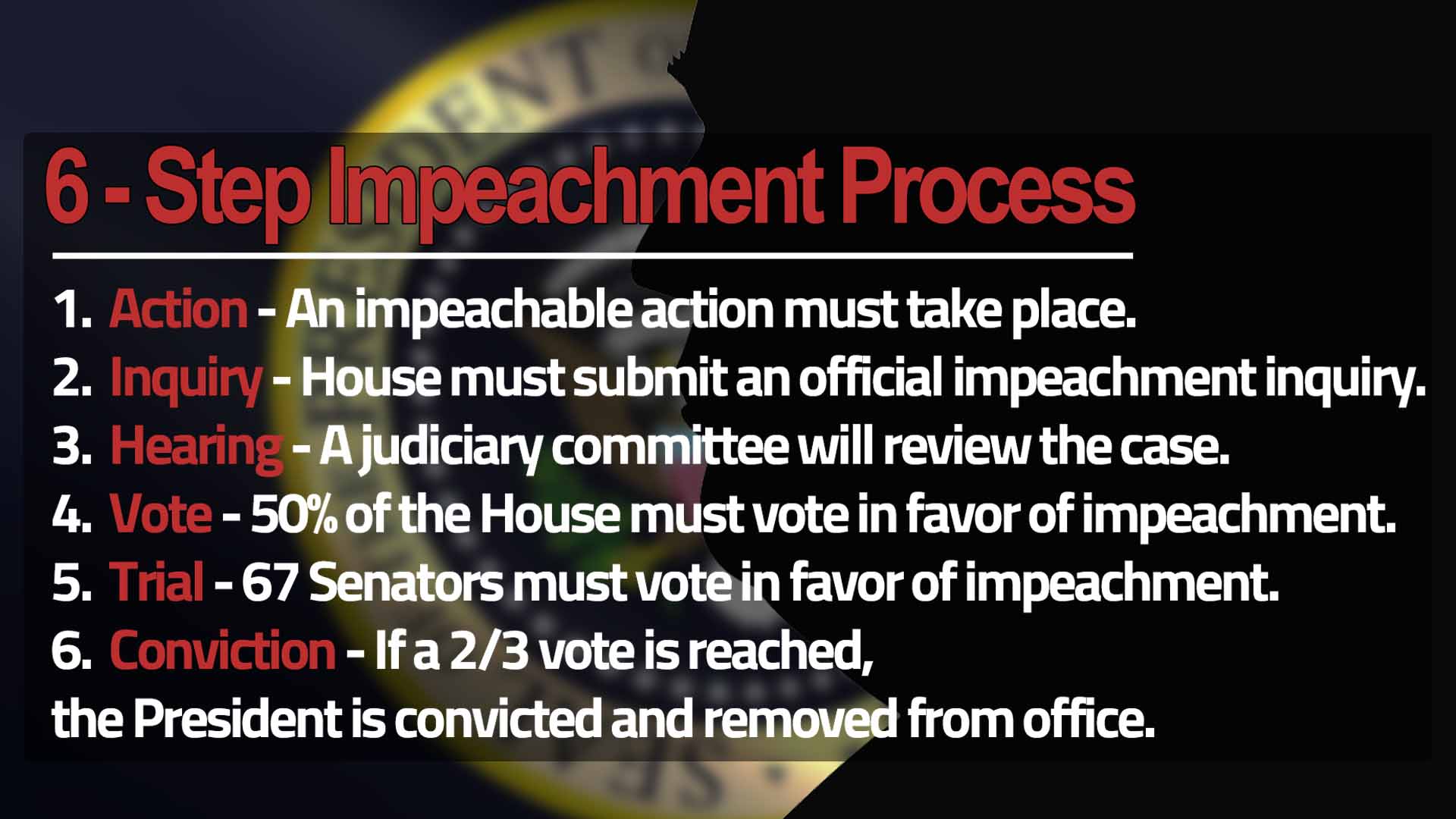 What other presidents have been impeached?
Before Trump, only two former presidents have ever been impeached, although a third narrowly avoided impeachment by resigning.
Andrew Johnson was impeached in 1868 primarily due to his violation do the Tenure of Office Act. After his impeachment, Johnson was cleared of all charges during his trial and remained in office. In 1998, Bill Clinton was charged with perjury and obstruction of justice. Like Johnson, Clinton was acquitted and remained in office. In December 2019, Donald Trump was impeached, but after a six week process, the Senate found him not guilty and he was acquitted. In Trump's case, impeachment has had a positive effect on both his polling and re-election odds.
Impeachment proceedings were also brought against Richard Nixon related to his involvement in the Watergate Scandal, but he stepped down as president in 1974 before he could be convicted of obstruction of justice, abuse of power, and contempt of Congress.
Presidential Impeachment FAQs