Donald Trump's Presidential Impeachment Odds
When it comes to political betting, it is more than just who wins and who loses elections. Wagers can be made on politiclal prop bets from how many times a candidate will say a specific word, how active Twitter might be during a debate, or if the current president will be impeached.
As President Donald Trump is currently facing impeachment, many online sportsbooks are offering bettings odds on the possibility he is removed from office. Since impeachment can be a long process with multiple steps, bettors have plenty of chances to capitalize monetarily on the proceedings.
Impeachment probabilities can also affect other prop bets and betting lines, such as odds for which party will control the White House in 2020, or in the case of the current administration, will Republicans remain in control?
Is betting on Donald Trump's Vegas impeachment odds legal?
There are no federal laws that make it a crime to place bets on a Presidential impeachment. As long as the wagers are made through licensed sportsbooks domestically or through offshore sites operating legitimately within the industry, the bets are legal.
Unfortunately, since political betting is such a new field, many domestic sportsbooks do not offer action on impeachments. However, many licensed online bookmakers offer impeachment odds and prop bets for the ordeal. It should be noted that Washington and Connecticut prohibit all forms of online gambling.
Best sportsbooks for betting on Trump's impeachment
How to bet on Presidential impeachment odds
Betting on the impeachment is no different than betting on any other Vegas election odds. Domestically, gamblers only need to visit their local casino or use the state's app, depending on the local laws. Although there are a few more steps required for betting on offshore sportsbooks, it is still a simple process.
An account must first be made on the preferred book, then verified and funded to be used. Once the account to ready, impeachment betting odds can usually be found under the "Political" tab on online books. Impeachment odds might also be listed in the "Specials." After finding the bets, placing a real-money wager in just a couple clicks away.
Of all the online sportsbooks listed on this page, each one features a number of security protocols to ensure player safety. Not only does every book here use data encryption, customer support, and cryptocurrency options to create a fortified environment for all bettors, each one is licensed to guarantee its legality.
What are Trump's impeachment odds?
Each sportsbook sets its own odds, so the chances that Trump is impeachments may differ between oddsmakers. The following is a list of impeachment odds among multiple different books:
Will Trump Be Impeached In His First Term?
What has caused the impeachment inquiry into Trump?
While Robert Mueller's investigation into Trump's alleged collusion with Russia during the 2016 election, the subsequent Mueller Report, and his testimony all played a role in the eventual impeachment inquiry, the pivotal moment was the Ukrainian scandal.
What happened with the Trump Ukraine scandal?
Following Mueller's testimony on July 24, House Democrats did not file impeachment proceedings. However, the next day on July 25, Trump and Ukraine President Volodymyr Zelensky shared a phone call to discuss Joe and Hunter Biden.
According to a White House whistleblower's formal complaint, Trump threatened to withhold military aid from Ukraine unless the country investigated the Biden family and their dealings in Ukraine.
The complaint was filed on August 12, but was not sent to Congress in the required time allocation. As a result, Director of National Intelligence Joseph Maguire was subpoenaed by Intelligence Chairman Adam Schiff on September 13. News broke shortly after that the whistleblower's complaint centered on the Ukraine phone call and Trump admitted that he did discuss the Bidens with Zelensky. House Speaker Nancy Pelosi then announced a formal impeachment inquiry on September 24.
On September 25, Trump released the phone call's transcripts and Maguire gave his testimony to the Intelligence Committee. Up until this point, any odds from Vegas related to Trump's impeachment favored him staying safe. But following his plea to China asking them to also investigate the Bidens on October 3, Trump's odds flipped to favor his impeachment.
Aside from the original whistleblower, more whistleblowers are ready to come forward, according to their legal teams.
Who is driving the impeachment against Trump?
With the impeachment inquiry started, members of Congress are now being forced to give their opinions on the allegations against Trump.
Officially, the inquiry was launched by Pelosi, so she is one of the biggest driving forces behind the proceeding. It should be noted, however, that Pelosi did not favor an impeachment inquiry prior to the whistleblower's complaint.
The following list features some of the most prominent impeachment inquiry supporters:
House Speaker Nancy Pelosi
Rashida Tlaib (member of "The Squad" and target of Trump insults)
Democratic candidate Tom Seyer (founder of Need to Impeach)
Elizabeth Warren (favored impeachment prior to Ukraine scandal)
Tulsi Gabbard (did not favor impeachment prior to Ukrainian scandal)
Justin Amash (former Republican, now the only Independent in the House of Representatives)
Al Green (called for impeachment in 2017)
Maryland Gov. Larry Hogan (Republican)
How does impeachment work?
Impeachment proceedings include a couple of key steps that must be followed by Congress to legally remove a president.
First, if the House Judiciary Committee investigation's findings are sufficient, they recommend articles of impeachment to the House.
Next, the House holds a vote of the article of impeachment. If the majority of the House votes in favor of impeachment, the president is impeached but not immediately removed from office.
Following impeachment, the Senate holds a trial based on the articles of impeachment. If two-thirds of the Senate vote to convict the president, then he is removed from office.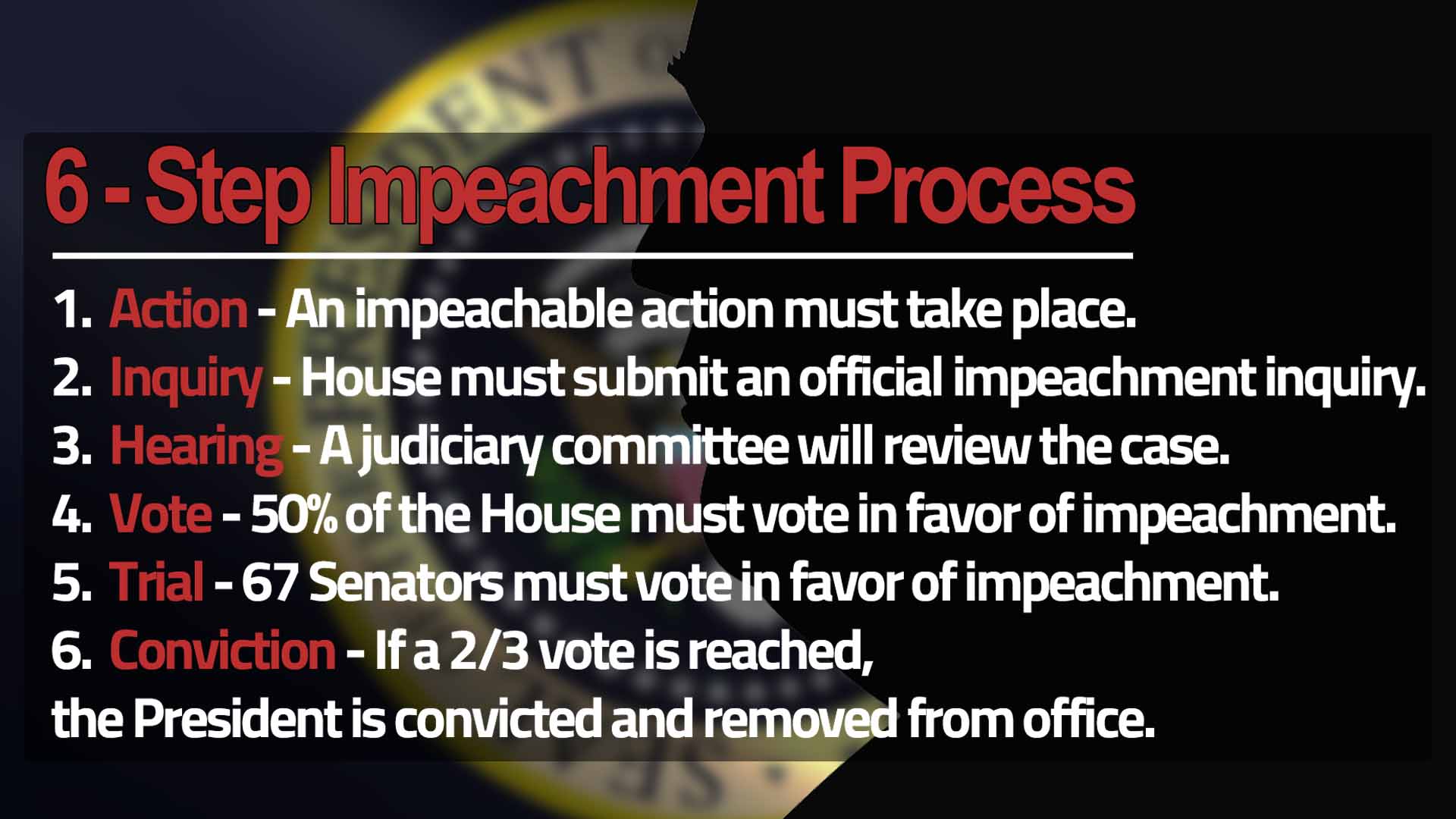 What other presidents have been impeached?
Only two former presidents have ever been impeached, although a third narrowly avoided impeachment by resigning.
Andrew Johnson was impeached in 1868 primarily due to his violation do the Tenure of Office Act. After his impeachment, Johnson was cleared of all charges during his trial and remained in office.
The only other impeached president was Bill Clinton in 1998, who was charged with perjury and obstruction of justice. Like Johnson, Clinton was not removed from office after his acquittal.
Impeachment proceedings were also brought against Richard Nixon related to his involvement in the Watergate Scandal, but he stepped down as president in 1974 before he could be convicted of obstruction of justice, abuse of power, and contempt of Congress.
FAQs
How often do the Vegas impeachment odds change? The volatility of the odds is unpredictable, especially with something as uncommon as presidential impeachment. Depending on Trump's actions or information that may be discovered through the investigation, the odds could flip continuously until the House vote is held.
How long is the impeachment process? Does Vegas accept bets the whole time? Impeachments have no set time. However, Clinton's impeachment lasted five months and with the available technology in 2019, Trump's impeachment proceedings should last around the same amount of time. As for the acceptance of bets, Vegas sportsbooks should be consulted individually as different bets may have different timeframes.