Vegas Election Odds For Joe Biden 2020
Former Vice President And US Senator For Delaware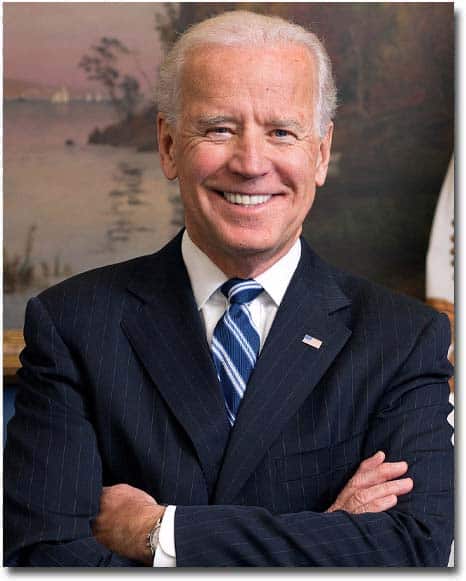 After serving as a local county council member, Joe Biden was elected as a US Senator for Delaware, a seat he would hold for the next 35 years. Biden became a recognizable face on the national political scene when he ran for President in 1988 before exiting the race to make way for eventual Democratic nominee Michael Dukakis.
Biden entered the race to become the Democratic nominee for President once again in 2008, eventually withdrawing from the race and becoming the running mate of winner Barack Obama. From there, he served as the Vice President of the United States of America from 2009-2017. Following his tenure as the VP, many Democratic voters assumed he'd run for office in 2016 and were disappointed when he elected not to.
Now Joe Biden is atop the democratic odds boards to win the nomination and give Donald Trump a run for his money in the 2020 November general, and he has promised to pick a woman Vice President running mate.
Coronavirus Update: The Coronavirus pandemic has helped skyrocket the Biden betting odds. Vegas election odds affected by the Coronavirus have mostly worked in Biden's favor, as he is now closer to Trump according to most oddsmakers. He is also the presumptive Democratic Presidential nominee now that Bernie Sanders has dropped out and given Biden his endorsement.
Joe Biden Betting Odds 2020
You can wager on Joe Biden odds at any top offshore sportsbook that offers election betting, and you'll want to shop around for the best possible payouts. Right now, you'll get that at Bovada, which is the best election betting site for US gamblers. Other sites have Biden at +100 (EVEN) or +105, but his +120 odds at Bovada will be the best bang for your buck.
2020 US Presidential Election Odds
Donald Trump 

-120

Joe Biden 

+120

Hillary Clinton 

+2500

Michelle Obama 

+5000

Andrew Cuomo

+6000

Mike Pence 

+9500

Nikki Haley

+20000
Joe Biden Democratic Primary Odds
Democratic Candidate
Joe Biden

-800

Hillary Clinton 

+750

Andrew Cuomo

+2000

Michelle Obama

+2800
Joe Biden Props
Will The Democrats Have A Brokered Convention In 2020?
Biden vs Trump Odds
This is the real question, and with the ongoing hype and hysteria surrounding coronavirus, it seems that Trump's biggest strength – the booming stock market – has now become his Achilles bone spur. Whether or not it's fair to cast responsibility on the US President for the global outbreak of a Chinese disease is neither here nor there, as the mainstream narrative seems content to blame Agent Orange for this one.
Will Joe Biden beat Trump because of this? That remains to be seen, but you can place bets on the head-to-head matchup at several offshore betting sites.
US Presidential Election 2020 – Biden vs. Trump Early Line
Donald Trump

-135

Joe Biden

+105
Will Joe Biden Pick A Female Vice President?
There has been a lot of speculation about who will be the Joe Biden Vice President selection, but the man himself has given bettors - and sportsbooks - a few hints. Early in his campaign, Biden said that he was going to pick a woman Vice President candidate, though he did not say if that woman would also be a minority. Bettors, however, seem to think this will be the case, as CA Senator Kamala Harris is favored on most Vegas Vice President election odds boards to be his top choice.
A Kamala Harris Vice President nomination makes some sense, given her establishment Democrat bona fides, but tactically, Amy Klobuchar seems to be the better choice given her popularity in crucial Rust Belt states that Trump won in 2016. Neither would be the first woman to run for Vice President, as Sarah Palin joined John McCain on the Republican ticket in 2008 and Geraldine Ferraro ran on Walter Mondale's Democratic ticket in 1984.
Current Democratic Vice President Betting Odds
Kamala Harris

+175

Amy Klobuchar

+325

Elizabeth Warren

+700

Michelle Obama

+750

Val Demings

+900

Stacey Abrams

+1200

Gretchen Whitmer

+1500

Susan Rice

+1600

Catherine Cortez Masto

+2000

Hillary Clinton

+3500

Michelle Lujan Grisham

+4000

Tammy Duckworth

+4000

Tammy Baldwin

+5000

Andrew Cuomo

+10000

Tulsi Gabbard

+10000
Is It Legal To Bet On Joe Biden?
Yes, it is legal to bet on Joe Biden and election outcomes as long as you do so with an online sportsbook operating legally offshore. Vegas itself does not offer odds on entertainment betting or political outcomes (even though they release "unofficial" betting lines for marketing purposes), so that leaves offshore sportsbooks as the only option. US gaming laws do not prohibit wagering on political outcomes in other countries.
Washington and Connecticut have enacted laws that forbid online gaming in all of its forms. We've yet to hear of anyone being prosecuted for online betting in those states, but we recommend familiarizing yourself with your local gaming laws and sticking to your state's rules and regulations.
How To Bet On Joe Biden?
Las Vegas sportsbooks have traditionally refrained from offering odds on entertainment markets, the category that political outcomes fall under. Other domestic sportsbooks have followed Vegas's example, leaving only one option to win money on Joe Biden betting odds inside of the United States: licensed offshore sportsbooks operating online. And since you can't wager with an online sportsbook without depositing funds, here's how to get started:
Once you've selected one of our recommended sportsbooks you want to wager with, you'll need to register for an account. This will require the entry of personal data such as name and address, and you will need to create a login and password.
The next screen will ask for your initial deposit, which can be made via most major credit or debit cards, wire transfer, or the most preferred method, Bitcoin. Be sure to investigate the bonuses offered by each sportsbook. Bonuses usually match a percentage of your initial deposits, and Bitcoin typically receives the most substantial bonuses. If you just want to browse the odds, then you can skip this step for now.
Navigate to the political betting lines, which will usually be located under the "Entertainment" tab or – at some sites – the "Political" tab.
Select the wager that you'd like to make and enter the amount you'd like to risk. You'll need to deposit funds first if you skipped that step.
Wait for the results and collect your payout!
Joe Biden Bio
Joe Biden has served as a US Senator or Delaware for over 30 years and was the Vice President of the United States of America from 2009 until 2017 under President Barack Obama. 2020 marks the third time Biden has run for President, and this time, the Biden betting odds have him as the favorite to become the Democratic nominee for President. He matches up more favorably against Donald Trump than any other Democratic candidate does, so perhaps this could be the year for Biden to defeat all candidates for the 2020 Presidential Election and win the White House.
Profession: Politician, Author, Speaker (of a sort)
Net Worth: $9 million
Age: 77
Spouse: Jill Biden
Children: Hunter, Beau (1969-2015), Ashley, Naomi (1971-1972)
Religion: Roman Catholic
Twitter: @JoeBiden
Campaign Slogan: "Our Best Days Still Lie Ahead" (Yes, a politician put "lie" into his slogan.)
Joe Biden's Political Experience
Joe Biden was a prominent presence in DC politics for 34 years before leaving office as Vice President in 2017. Biden has belonged to the Democratic party for his entire political career and has served as US Senator of Delaware and Vice President of the United States.
2020 marks the third time that Biden has run for President. After a Super Tuesday shocker where Biden unexpectedly dominated at the ballot box, he now aims to make the third time the charm and rally past Trump in November.
Vice President of the United States of America (2009-2017)
US Senator – Delaware (1973-2009)
New Castle County Council Member – 4th District (1970-1972)
What is the focus of Joe Biden's Campaign?
A longtime moderate Democrat, Joe Biden aims to restore the United States to its pre-Trump glory (or something). He feels that Trump has made many errors on a global scale that, if left unchecked, have the potential to create long-term damage to the country. His message is focused on the following three concepts.
Rebuilding The Middle Class
Biden wants to create an economic climate in the United States that is advantageous to the middle class. Under Biden's plan, middle-class families should have the financial capacity to own their homes and provide for their children's secondary education.
Restore Respectability On The World Stage
Biden believes that Donald Trump has embarrassed the United States on the world stage, and he intends to restore integrity to the office of President. Biden aims to repair relationships with other world leaders and to once again establish the United States as an example for other countries to aspire to.
Biden intends to foster an environment in the United States that is inclusive to all peoples. This includes lessening the impact and influence that companies and individuals with big money can wield. All voices are critical when discussing the issues, not just the opinions backed by financial interests.
Joe Biden FAQs