Vegas US Supreme Court Odds 2023
Supreme Court decisions are often the subject of Vegas political betting lines, particularly when Supreme Court cases are heard on hot-button issues that constitute a pillar of either the Democrat Party or Republican Party.
Because Supreme Court judges are appointed by the President and confirmed by the US Senate, these positions – while allegedly apolitical and objective – are anything but. This gives members at online Vegas election betting sites a decided edge when putting money on SCOTUS odds, as the nation's highest court almost always votes along party lines on any given subject.
To learn more about the SCOTUS and the action available for Vegas US Supreme Court odds, our brief guide about the institution, its function, and its membership should help you place those winning wagers. Read on to learn how to bet on the next Supreme Court Justice, the next landmark Supreme Court case, the next crazy Supreme Court decision, and more.
Is It Legal To Bet On Supreme Court Odds?
Yes, you can legally wager on Supreme Court nominees, Supreme Court rulings, and various other political props at legal online Vegas election betting sites. In fact, in 2018, the Supreme Court ruled to overturn the ban on US sports betting, leading to massive growth in the domestic betting industry.
Ironically, though, no state allows local political betting despite the PASPA ruling, so bettors will have to place their election bets online at any of the top Vegas political sportsbooks listed here.
There are no federal restrictions preventing you from doing so, and these sites offer the only ways to legally bet on the Supreme Court, various potential candidates, political props, gubernatorial elections, political rallies, Presidential debates, and other election-related action.
Betting On The Next Supreme Court Justice
Barring impeachment, there are really only two ways that a Supreme Court Justice can leave the bench. Remember, SCOTUS jurists serve for life. As such, they only ever leave via retirement and – less often – via death. Most of the time, Justices will retire when it is politically expedient to do so, and you will often see a host of political props anytime such buzz hits the news cycle.
That's why, in January 2022, Clinton appointee Stephen Breyer – the oldest current Justice at 83 years of age – made it known that his own retirement was imminent. This move gives the Biden administration a chance to nominate a left-wing federal judge to the post before the Senate turns red in the Midterms (as the 2022 US Senate odds indicate is highly likely). Of course, that means that it also gives you a chance to bet on exactly who the next Justice is going to be.
Vegas Odds On Supreme Court Cases For 2023
Aside from Supreme Court retirement odds and Supreme Court nomination odds, the most frequent kinds of betting lines you'll get have to do with the various court cases either making their ways to the Supreme Court or actively being heard by the SCOTUS.
Not all cases are created equal, of course, and most of them are trivial and unexciting. As such, Vegas political betting lines are more or less reserved for truly interesting or odd Supreme Court cases.
Some examples of historical cases that would generate online betting odds these days include the Supreme Court abortion case (Roe vs. Wade), the Supreme Court Obamacare case, the Supreme Court militia case (Heller vs. DC), and the Supreme Court PASPA case (Murphy vs. NCAA), just to name a few.
This year – and in the years to come – don't be surprised to see all kinds of political futures odds on Supreme Court COVID/vaccine cases, Supreme Court women's sports cases, Supreme Court voting rights cases, and similar controversial fare.
Vegas Odds On Supreme Court Decisions Of 2023
With SCOTUS cases come SCOTUS decisions. These are some of the most entertaining Supreme Court betting lines, but they're really only fun when the cases don't directly impact your life. Remember, to be a successful bettor, you always need to bet with your head, not with your heart!
Most of the time, SCOTUS decision odds will be pretty straightforward: You're just betting which way the court will go. However, if a case is particularly engaging or there seems to be a lot of momentum in one direction (as when Supreme Court oral arguments "give away" various Justices' probable decisions), you may even get more specialized wagers to choose from.
These can include betting lines on things like Supreme Court vote margins, whether or not a specific Justice will recuse himself or herself over a perceived conflict of interest, whether or not a Justice will abstain from issuing a decision at all, and so on.
Other Supreme Court Odds – Packing The Supreme Court
With Joe Biden now in office, one of the main narratives is that the Democratic Party is looking to "pack" the Supreme Court. So, what does Supreme Court packing mean? In this case, it means adding more Justices to the nine-Justice panel, allowing the current administration to nominate two, four, or even six new Justices.
Court packing would have to be done through the legislature, so any such mandate needs to originate in the US House of Representatives.
This, of course, will be hotly contested, as it's a blatant effort to create a Democratic supermajority in the court. And because SCOTUS Justices serve for life, this would be a multigenerational supermajority, shaping new liberal "interpretations" of the US Constitution "living document" in all cases brought before the court.
Naturally, once this initiative starts gaining steam (the Biden administration has already started "investigating" how to implement the new approach), you can expect the best Vegas election betting sites to have numerous odds not only on whether or not the Supreme Court will be packed, but also on how many new Justices will be added, which judges will get nominated, which judges will be confirmed, and how many votes of confirmation each one will get.
We'll keep you updated on all the Supreme Court court packing developments here, and as soon as odds are posted, we'll show you the lines and point you in the direction of the legal online sports betting sites with the best payout potentials for each one.
Current Supreme Court Justices
This is the current Supreme Court list as of 2023:
John Roberts - Supreme Court Chief Justice; appointed by George W. Bush in 2005
Clarence Thomas – Associate Supreme Court Justice; appointed by George H. W. Bush in 1991
Samuel Alito – Associate Supreme Court Justice; appointed by George W. Bush in 2005
Sonia Sotomayor – Associate Supreme Court Justice; appointed by Barack Obama in 2009
Elena Kagan – Associate Supreme Court Justice; appointed by Barack Obama in 2010
Neil Gorsuch – Associate Supreme Court Justice; appointed by Donald Trump in 2017
Brett Kavanaugh – Associate Supreme Court Justice; appointed by Donald Trump in 2018
Amy Coney Barret - Associate Supreme Court Justice; appointed by Donald Trump in 2020
Ketanji Brown Jackson – Associate Supreme Court Justice; appointed by Joe Biden in 2022
In Memoriam: Ruth Bader Ginsburg (1933-2020)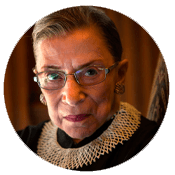 Justice Ruth Bader Ginsburg (often misspelled as Ruth Bader Ginsberg) passed away on Friday, September 18, 2020, after a protracted battle with pancreatic cancer. She was 83.
Ginsburg was the second-ever woman to serve on the US Supreme Court. Appointed by President Bill Clinton in 1993, Ginsburg – often called "The Notorious RBG" by Hollywood and her adoring media – served as an Associate Justice for her entire 27-year career on the bench. Ginsburg was considered a moderate at the time of her nomination and confirmation, but she gradually shifted to the left and was a notable progressive and feminist icon by the time of her passing.
There is currently a Trump administration push to replace Ginsburg with a conservative judge on the Supreme Court before the end of the year, and possibly before the election itself. Given the fact that state electoral odds (and plenty of national polling) suggest that there will be many contested outcomes in the aftermath of the 2020 Presidential election, it seems imperative that the US' highest court has all nine justices ready to rule on any election-related disputes.
Ginsburg herself was recently the favorite to pass away first among current SCOTUS Justices, which was a Vegas political prop that many election betting sites hosted in recent months.
Update: On Saturday, September 26, 2020, federal judge Amy Coney Barrett was chosen by President Trump to replace Ginsburg, though she has yet to be confirmed by the Senate.