Independent Candidates For The 2024 Presidential Election
For any Presidential election cycle, the focus will always mostly be on the Vegas odds for Democrats and the Vegas odds for Republicans. After all, the US operates under a two-party system, and that's probably the way it's always going to be. "Uniparty" or not, on paper, there's the DNC and the GOP, and that's basically it.
But there's another party – or group of parties – to consider in US elections: the independents. In America, there are hundreds of registered political parties, and while these are commonly all collectively referred to as "third parties," they're also technically independent parties (not to be confused with the American Independent Party, which is a distinct political entity).
Historically, third-party candidates don't do very well on the national stage. Ross Perot was the last independent to get more than 5% of the national popular vote, which he did in 1992 when he ran against Bill Clinton (D) and George H. W. Bush (R).
But that doesn't mean that election bettors should ignore third-party nominees at the state and federal levels. Even though it's a sure bet that a Democrat or a Republican will win any major race, if you want the best possible chances to win your wagers, you'll need to take independent candidates into consideration. After all, Bush Sr. would have won re-election in '92 had Perot not siphoned off so many GOP voters, and savvy bettors put money on Clinton for the upset as a result. Independents matter!
Best Online Sportsbooks For Vegas Odds On 2024 Independent Presidential Candidates
Independent Party Candidates 2024
The only Independent to ever win the US Presidency is George Washington. However, his ideas aligned with the popular Federalist party, and that was a major party at a time when there were several of them. Today, politicians who fail to receive the Democratic or Republican nomination will often run as independent candidates.
Independent candidates have to petition for placement on the general election ballots in all 50 states. Each election year, half a dozen or so independents get on at least a single state ballot, though most never appear on all of them. (The Libertarian party typically appears on all 50 ballots while the Green Party usually shows up in 30-40 states, but they aren't considered independents, as they both have comparatively large followings.) True independent parties may be better described as fringe parties, and their candidates are often people you've never heard of. 
Occasionally, of course, a celebrity will run as an independent. In 2020, the biggest star to do so was Kanye West, who filed as the Presidential candidate for the Birthday Party. He appeared on roughly 20% of all national ballots and pulled in under one percent of the national popular vote.
For the 2024 Presidential election, it's too early to tell who'll run under what banner. Old parties may be disbanded and new parties created in the meantime. Kanye will probably run again, and someone like Mark Cuban might take a shot at the White House, too. You can bet on both of these potential candidates right now, but for the full slate of 2024 independent party odds, you'll have to check your sportsbook's listings closer to the election itself.
---
Potential Independent Party Candidates 2024
There are a few potential mainstream names that could show up in the independent column for the 2024 Presidential election, and when they do, you can be sure they'll be covered on the Vegas odds boards. Of course, this list is just our best guess, as nobody has formally announced a third-party 2024 bid just yet.
Mark Cuban
Billionaire owner of the Dallas Mavericks and star of TV's Shark Tank, Mark Cuban told FOX News that he was "leaving the door open" to running for President in 2020. Presumably, he's leaving it open for 2024, as well.
While Cuban said he would run as a Republican should he ever decide to jump in the shark tank, he would have an uphill climb defeating someone like Donald Trump or Ron DeSantis for the GOP nomination.
Cuban, whose policies are largely Democratic, could run for the DNC nom, but that also seems iffy. The most likely outcome would be for Cuban to run as an independent candidate and play spoiler for whichever mainstream party he mostly aligns with.
Andrew Cuomo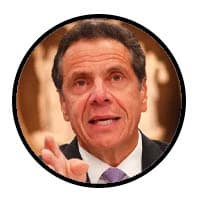 Andrew Cuomo seems like someone with a big enough ego to run for President. Even though the guy presided over the worst coronavirus response of any state as governor of New York – and even as countless sexual harassment scandals continue to dog his tenure as governor – the state likes fake mafia slimeballs, apparently. The rest of the country, however, may not.
Though Cuomo betting odds have him in the Democrat column on various 2024 Presidential futures boards, he seems simultaneously too radical and not radical enough for the hardline progressives dominating the party today. If he runs in 2024, it'll be interesting to see whether he goes mainstream or independent.
Michael Bloomberg
Michael Bloomberg spent some $600 million on his short 2020 Presidential campaign, and back then, he publicly stated that he wouldn't run on any third-party ticket.
But things change, and if he's still interested in 2024, Daddy Bloombucks might dispense with the Democratic party and embrace something a little more to his left-of-center, large-soda-hating liking.
Bernie Sanders
Bernie Sanders, the independent Senator from Vermont, was the front-runner to win the Democratic nomination for most of the 2016 and 2020 primary cycles, but his campaigns were kneecapped by the mainstream Democratic establishment.
If he's still able to run in 2024, Sanders has the fanbase to make a real difference, but three times won't be a charm for the Democratic ticket. The DNC does not like Sanders, even as the current Joe Biden administrations seems to support many of his most radical ideas. Bernie might simply be too nice a guy (comparatively speaking). And nice guys (comparatively speaking) eventually get sick of finishing last.
Vermin Supreme
As an honorable mention, we're including Vermin Love Supreme here for a few reasons. One, he's run for President in the last five elections (2004, 2008, 2012, 2016, 2020). Two, of the multitudes of independents out there, Supreme has the biggest name. You've probably even seen him on TV: He's the old man with the big white beard and the rubber boot on his head.
Also, Supreme's political platform is something we can all get behind: zombie apocalypse awareness, time travel research, and mandated tooth brushing. He also promises a free pony for every American.
---
Current Vegas Betting Odds For Independent Candidates
Right now, you won't find any Vegas odds on third-party candidates simply because these candidates have yet to announce their official runs. In most cases, the existing major third parties (like the Libertarian Party or the Green Party) are still holding their own primary elections, and until a Presidential candidate emerges from each, sportsbooks won't touch it.
Even then, you're only likely to see action for two or three Independent Presidential candidates for the November general, simply because most won't even be featured on state ballots. When the best offshore betting sites update their Vegas-style odds boards with third-party nominees, this page will be updated accordingly.  
Other Possible Third-Party Candidates 2024
There are lots of third parties in the US political sphere – far too many to include here. However, the biggest of these parties will have 2024 Presidential candidates on some states' ballots, and they will also be eligible as write-ins regardless of which state you're voting in. The following third-party candidates are likely to show up on the ballot in at least a few states come November:
Don Blankenship – Constitution Party
Howie Hawkins – Green Party, Socialist Party USA
Jacob Hornberger – Libertarian Party
Rocky De La Fuente – Reform Party
No Party Affiliation Vs. Independent
People often ask what the difference is between a politician labeled as an Independent and a politician labeled as NPA (no party affiliation). The answer is an easy one: There's no difference! In American politics, an Independent party is any party that is not the Democrat Party or the Republican Party.
Similarly, when party affiliation is discussed, it's understood as referring specifically to the two main parties: Democrats and Republicans. Thus, any politician falling outside the two mainstream parties is considered an Independent with no party affiliation. The same is true for Independent/NPA voters.
Independent Candidate Betting FAQs