Independent Candidates For The 2020 Presidential Election
November 4 Update: In the 2020 Presidential election, independent candidates performed historically poorly. Still, Libertarian nominee Jo Jorgensen took about 1.1% of the national vote, while Howie Hawkins (Green Party) earned 0.2%. Kanye West, the only other big name on multiple state ballots, reportedly earned less than 0.1% of the vote. We don't currently have any date for the Mickey Mouse write-ins. 
For most of the 2020 Presidential election cycle, the focus has been on the Vegas odds for Democrats. After all, the popular incumbent is a Republican with no credible challengers, and after its epic failure in 2016, the Democratic Party fielded almost 30 candidates to help redefine what the DNC stands for today. Of course, that amounted to nothing much, because with Joe Biden being the presumptive nominee, "mainstream establishment" (aka vanilla) is the flavor the party prefers.
But there's another party – or group of parties – to consider in the election: the Independents. In the US, there are hundreds of registered political parties, and while these are commonly all collectively referred to as "third parties," they are also technically Independents (not to be confused with the American Independent Party, which is a distinct political entity).
Historically, third-party candidates don't do very well on the national stage. Ross Perot was the last Independent to get more than 5% of the national popular vote, which he did in 1992 when he ran against Bill Clinton (D) and George H. W. Bush (R). Of course, the times, they are a-changin', and if a third-party candidate has a snowball's chance in Miami, it's now or never. The same is true for bettors, so for the best possible payouts on these longshot candidates, make sure you check in at your favorite offshore betting sites frequently.
---
Independent Party Candidates 2020
The only Independent to ever win the US Presidency is George Washington; however, his ideas aligned with the popular Federalist party. Today, politicians who fail to receive the Democratic or Republican nomination will often run as independent candidates.
Independent candidates have to petition for placement on the general election ballot for all 50 states and in Washington D.C. Below are some of the third-party candidates that have begun the process to be included as an Independent candidate in 2020. 
Kayne West
Kayne West announced his candidacy for the President of the United States on July 4th, 2020, via the popular social media platform Twitter. Even though Kayne missed the deadline to be included on the ballot in the first four states, he recently filed the paperwork and held his first rally in South Carolina.
Since the Democratic and Republican nomination has already been awarded, Kayne is likely to run as an Independent, but knowing Kayne anything is possible.
---
Potential Independent Party Candidates 2020
There are a few potential mainstream names that could show up in the Independent column for the 2020 Presidential election, and when they do, you can be sure they'll be covered on the Vegas odds boards. Of course, this list is just our best guess, as nobody has formally announced a third-party bid yet.
Mark Cuban
Billionaire owner of the Dallas Mavericks and star of TV's Shark Tank, Mark Cuban recently told FOX News that he was "leaving the door open" to running for President in 2020. While Cuban said he would run as a Republican should he ever decide to jump in the shark tank, he would have an uphill climb defeating incumbent Donald Trump for the GOP nomination.
Cuban, whose policies are largely Democratic, could run for the DNC nom, but that also seems iffy. The most likely outcome would be for Cuban to run as a third-party candidate in an attempt to take away some of Trump's centrist support and swing a few key states blue in the general.
Andrew Cuomo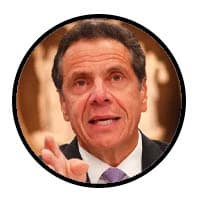 Governor of NY, Andrew Cuomo is enjoying a surge in popularity in his home state, thanks to his own media campaign in the face of the coronavirus pandemic. By sparring with the Trump administration on a daily basis, Cuomo's national profile is the biggest is ever been.
And while he said he was not running for President, bettors – and sportsbooks – seem to think that means the opposite, as Cuomo betting odds went up immediately thereafter. Currently, he is favored right behind Biden to earn the DNC nomination, but he could run third party – or threaten to do so – if he felt like it would help defeat Trump.
Michael Bloomberg
Michael Bloomberg spent some $600 million on his short 2020 campaign, and he's publicly stated that he won't run on any third-party ticket. However, he's also well-known for wanting Trump out of office, and an Independent run could help accomplish that.
As a Democrat, Bloomberg might cannibalize the wrong voting bloc, but remember – He was a Republican earlier in life and has mostly centrist policies. As such, he could pull Trump voters from the middle on behalf of the DNC.
Bernie Sanders
Bernie Sanders, the Independent Senator from Vermont, was the front-runner to win the Democratic nomination for most of the cycle, but his campaign fell apart after Super Tuesday, and he dropped out shortly thereafter.
Sanders promised not to run as a 2020 Independent candidate, and he even endorsed Joe Biden. However, the coronavirus situation is changing things, and Biden's campaign doesn't look good. With all that, Bernie might feel the burn to run third-party.
Vermin Supreme
As an honorable mention, we're including Vermin Love Supreme here for a few reasons. One, he's run for President in the last five elections (2004, 2008, 2012, 2016, 2020). Two, of the multitudes of Independents out there, Supreme has the biggest name. You've probably even seen him on TV: He's the old dude with the big white beard and the rubber boot on his head.
Finally, Supreme's political platform is something we can all get behind, like zombie apocalypse awareness, time travel research, and mandated tooth brushing. He also promises a free pony for every American.
---
Best Online Sportsbooks For Vegas Odds On 2020 Independent Party Presidential Candidates
Current Vegas Betting Odds For Independent Candidates
Right now, you won't find any Vegas odds on third-party candidates simply because these candidates have yet to announce their official runs. In most cases, the existing major third parties (like the Libertarian Party or the Green Party) are still holding their own primary elections, and until a Presidential candidate emerges from each, sportsbooks won't touch it.
Even then, you're only likely to see action for two or three Independent Presidential candidates for the November general, simply because most won't even be featured on state ballots. When the best offshore betting sites update their Vegas-style odds boards with third-party nominees, this page will be updated accordingly.  
Other Possible Third-Party Candidates 2020
There are lots of third parties in the US political sphere – far too many to include here. However, the biggest of these parties will have 2020 Presidential candidates on some states' ballots, and they will also be eligible as write-ins regardless of which state you're voting in. The following third-party candidates are likely to show up on the ballot in at least a few states come November:
Don Blankenship – Constitution Party
Howie Hawkins – Green Party, Socialist Party USA
Jacob Hornberger – Libertarian Party
Rocky De La Fuente – Reform Party
No Party Affiliation Vs. Independent
People often ask what the difference is between a politician labeled as an Independent and a politician labeled as NPA (no party affiliation). The answer is an easy one: There's no difference! In American politics, an Independent party is any party that is not the Democrat Party or the Republican Party.
Similarly, when party affiliation is discussed, it's understood as referring specifically to the two main parties: Democrats and Republicans. Thus, any politician falling outside the two mainstream parties is considered an Independent with no party affiliation. The same is true for Independent/NPA voters.
Independent Candidate Betting FAQs