2024 Vegas Election Odds For Ted Cruz
Current US Senator - Texas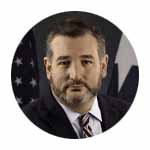 Most Recent Election: US Senator Ted Cruz won reelection to his second term in the upper chamber in 2018, defeating Beto O'Rourke 50.9% to 48.3%.
For bettors and political types, there's no need to introduce Ted Cruz. He's so popular (or infamous) that you'll always find daily lines available on the 2024 Vegas election odds for Ted Cruz, as well as plenty of political prop bets and other fares to hold you over until Cruz's name pops back up in the circuit sometime in 2023.
Of course, to make informed bets about Ted Cruz' election chances, you should know who he is, what his career looks like, and what he supports.
Rafael Edward Cruz, better known as Ted Cruz, is a sophomore United States Senator from Texas. He first took his seat in the upper chamber after winning the 2012 Senate election by crushing Democratic candidate Paul Sadler by over 1.2 million votes.
In 2018, Cruz's Senate seat was challenged by Robert Francis "Beto" O'Rourke, who ran on a strong liberal platform. Cruz narrowly defeated O'Rourke 50.9% to 48.3%. This signaled a waning in popularity for Cruz, who – before the age of Donald Trump – was the GOP sweetheart and favorite for the 2016 Presidential election.
In 2016, Cruz saw early primary success but was handily beaten by Trump, and Trump's Cruz nickname of "Lyin' Ted" was extremely effective. Whether that designation will continue to temper Cruz' political outlook remains to be seen. There's some question whether Cruz will even try to run for POTUS in 2024. Presumably, if Trump runs, Cruz won't. However, if Trump cedes the GOP torch to FL Gov. Ron DeSantis, Cruz may mount a challenge.
Best Sportsbooks to Bet on Ted Cruz Vegas Election Odds
2024 Ted Cruz Presidential Election Odds
Elected by a landslide to the Senate in 2012, Cruz was actually given a run for his money (and – if you bet on the race – your money) in his 2018 Senate reelection bid. The challenger, former punk rocker and anti-gun heartthrob Robert Francis O'Rourke, adopted the Hispanic-friendly nickname of "Beto" in an effort to make inroads with various Texas demographics, but it ultimately failed.
Since that election – the first after the Senator's 2016 showdown against Trump on the Presidential stage – Cruz seems to have strengthened his base.
Meanwhile, Beto has aligned himself with the Biden Administration, hoping to catch on as some species of "gun czar," or something. That alone should end Beta's upper-level political ambitions in the Lone Star State, and there doesn't appear to be any legitimate Ted Cruz challenger on the current docket.
Of course, whether Cruz runs for a third term (as the US Senate odds say he should) or tries his hand at another Presidential run in 2024 remains to be seen. In either case, he's sure to have strong competition, and here's how Cruz' reelection chances and Cruz' Presidential election chances are trending on the various betting boards as of Q2 2021:
Via Bovada
Is It Legal To Bet On Ted Cruz Odds?
Yes! If you live in the US and are at least 18 years of age, you can bet on Ted Cruz' chances to be President (or to win reelection to the Senate) at any legitimate international sports betting site. Unfortunately, domestic United States sportsbooks are not legally allowed to accept political wagers, so even while Sin City advertises Vegas election odds, these are marketing stunts designed to get bettors spending money in traditional sportsbooks and land-based casinos.
However, offshore sportsbooks like those listed here are all safe and legal to use, and each of them posts a selection of election and political odds on all major US and international races, as well as betting on current events in general.
Only the state of Washington disallows online gambling (including election betting), and even though all the top international bookmakers accept members from WA, you're advised to follow all local gaming mandates.
How To Bet On Ted Cruz Election Odds Online
It's easy to bet on Senator Ted Cruz at any reputable online sportsbook, and though the lines you'll see for any given political race or current event odds will differ between sites (always remember to shop lines between multiple sites to find the best values!), the process for signing up at any operator is more or less the same.
Here's what you'll need to do if you want to bet on elections and similar lines over the Internet:
Follow any link on this page to the online Vegas political sportsbook of your choice and click or tap the "Sign Up" or "Join" button.
Enter in all required personal information, taking care to use verifiable data. These sites all employ standard Know Your Customer (KYC) protocols to ensure that only you have access to your betting account and funds. All connections are secured by SSL/TLS encryption, and the top sites never share or sell your personal or financial info.
Choose a deposit method that works for you. Every site accepts credit cards, debit cards, Bitcoin, and various other cryptocurrencies. In general, we recommend using Bitcoin/crypto to top off your account, as these give you access to higher limits, better bonuses, and same-day payouts.
Choose a sports betting bonus and make sure you understand its rollover requirements. Bonuses are always optional, of course, so you can skip this part if you'd like to forego any online betting promos.
Now, you're ready to bet on Ted Cruz and any other featured potential candidates, as well as all other political and sports betting lines offered by your book of choice.
Ted Cruz Bio – Who Is Ted Cruz?
Ted Cruz – born Rafael Edward Cruz on December 22, 1970 – is a US politician of Cuban descent. While Cruz was born in Calgary, Canada, he is eligible to serve in any governmental post requiring "natural born" US citizenship, such as President.
Cruz' family moved to Houston, Texas, from Calgary in 1974. During his high school years, Cruz attended Faith West Academy and Second Baptist High School, graduating from the latter as valedictorian in 1988.
After high school, Cruz attended Princeton University and graduated cum laude with a BA in public policy (Woodrow Wilson School of Public and International Affairs).
Cruz was active in forensics (aka debate) during this time, earning recognition as "top speaker" for the 1992 US National Debate Championship and the 1992 North American Debating Championship. He also earned Speaker of the Year for these performances, with his team taking Team of the Year honors.
Following his stint at Princeton, Cruz went to Harvard Law School and graduated magna cum laude, earning his JD (1995). He was also the editor of the Harvard Law Review newspaper. Referencing his Harvard years, renowned law professor Alan Dershowitz called Cruz "off-the-charts brilliant."
After school, Cruz worked at a private law firm from 1997 to 1998 before joining the George W. Bush Presidential campaign in 1999. When Bush won, Cruz became an Associate Deputy Attorney General (US Justice Department).
From 2003 to 2008, Cruz held the appointed post of Solicitor General of Texas, and from 2008 to 2013, Cruz returned to private practice. In 2013, of course, Cruz took his seat in the US Senate, and he's served in that capacity ever since.
Business Holdings: N/A
Net Worth: $4 million
Age: 50 (as of 2021)
Spouse: Heidi Cruz (married 2001)
Children: Two (Caroline Camille Cruz, Catherine Christiane Cruz)
Religion: Baptist
Campaign: tedcruz.org
Twitter: @tedcruz
Campaign Slogan: "Together, we will win" (2016 Presidential election)
Ted Cruz Political Experience
Ted Cruz has extensive experience in politics, though most of this came as a result of his debate and private law background. Much of his work was in the capacity of Associate Deputy Attorney General in the Bush Justice Department, and he served from 2003 to 2008 as the 3rd Solicitor General of Texas.
In that time, Cruz argued nine cases before the US Supreme Court (winning five of them), and he wrote 70 US SCOTUS briefs. Cruz' biggest triumph came in DC vs. Heller, where Cruz represented 31 states in successfully challenging Washington DC's unconstitutional handgun ban and saw the Supreme Court uphold the "militia" standard as applying to all Americans.
Due to all his success behind the scenes, Cruz finally ran for – and won – elected office in 2012, taking his seat in the US Senate in 2013. Cruz is currently serving his second term as a US Senator from TX.
Ted Cruz Political Platform
Before the Trump MAGA era, Cruz was the torchbearer for the Republican Party and a strong polling and betting favorite to become President prior to Trump's entry into the 2016 race.
In general, Cruz is viewed as "hard right," focusing on fundamental constitutionalism over mainstream GOP policies. Many critics decry Cruz as a "nationalist," as he is unapologetically American.
Supports Second Amendment rights
Supports Trump border wall initiatives
Supports small-government policies
Supports flat tax
Supports Israel
Supports pro-life legislation
Opposes communism
Opposes "Critical Race Theory"
Opposes "Green New Deal"
Opposes illegal immigration
Opposes recreational marijuana
Opposes the IRS