Vegas Election Odds For US House Representative Rashida Tlaib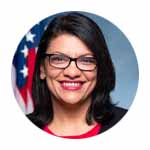 Most Recent Election: Rashida Tlaib won reelection in 2020 with 77.9% of the vote, beating her GOP opponent by nearly 60 points. 
During the contentious and volatile 2020 election season, most of the attention was naturally on Trump vs. Biden and other 2020 Presidential candidates. And that meant that most of the betting was also on that main race.
However, there were plenty of US House of Representatives odds at the top Vegas political betting sites, and savvy bettors who sought to diversify their portfolios paid attention. The same will be true for the 2022 Midterm elections, especially without a Presidential race to distract bettors from all the congressional action. Thus, if you're looking for Vegas election odds for US Representative Rashida Tlaib (D, MI), you'll be sure to find them as we get closer to November 2022.
Despite serving in just her second term in the US House, Tlaib is an intensely popular figure in Michigan, and her 13th District House seat is safe as houses. That said, her influence in the lower chamber cannot be understated, and she could have a significant impact on Michigan state electoral odds and other races in the region.
As a result, it's important to know who Rashida Tlaib is, what her political policies are, and exactly what kind of effect she has and will continue to have in the US House of Representatives. For that, our short Rashida Tlaib bio is everything you need to make informed wagers on the odds and lines this representative represents!
Best Vegas Online Sportsbooks For 2022 Rashida Tlaib Reelection Odds
Rashida Tlaib Reelection Odds 2022
As the 2022 Midterms heat up, you may find a selection of Vegas odds on Rashida Tlaib reelection chances at the best online election betting sites. However, you may also come up dry on Tlaib odds, as her Michigan seat is secure for the foreseeable future. As a member of "The Squad" in the US House, Tlaib has as long a career ahead of her as she wishes, and she's unlikely to have a credible challenger any time soon.
That said, the Michigan congresswoman could easily be the subject of Vegas political prop bets (i.e. election margin of victory), and she will certainly have some impact on other important 2022 congressional races. She may even affect odds on Nancy Pelosi's speakership!
Pelosi has been noticeably swayed by The Squad over the last congressional session, though she is still considered too centrist for The Squad's Progressive Democrat sensibilities. And that might be a very shrewd move, because current Democratic election odds appear to indicate that the DNC is digging itself a deep hole during the current "Biden administration." Right now, the GOP is favored to retake the US House and Senate in 2022.
Current Odds - Political Specials
Which Party Will Control The Senate After The 2024 Election?
Republican -200
Democratic +150
Odds Provided By Bovada
Is It Legal To Bet On Rashida Tlaib Vegas Odds?
In the United States, it is legal to bet on elections provided you do so at a trusted international online sportsbook like those listed here. There are no federal laws preventing any American from making real-money political bets with these operators, but domestic sportsbooks inside the USA are not allowed to take election bets or political wagers of any kind.
Residents of Washington are barred by state law from gambling over the Internet in any capacity (including betting on politics), but these laws are historically unenforced, and all the best online Vegas election sportsbooks will accept members from WA. Still, we advise you to follow all local legislation, no matter how unjust – just as legislator Rashida Tlaib would want!
Betting On Rashida Tlaib Reelection Online
If you're wondering about how to bet on Rashida Tlaib reelection odds, the only solution is to do so at a legitimate online Vegas-style sportsbook offering US political betting lines. But good luck actually finding any Tlaib betting odds, given that her 2022 reelection is already a foregone conclusion!
To see just how popular a figure Tlaib is in Michigan's 13th congressional district, all you need to know is how she fared in her 2020 Democratic House primary and the November general election. These results are listed below.
2020 Rashida Tlaib Primary Results
The 2020 Michigan Democratic Primary for D-13 wasn't even close. Held on August 4, 2020, the race went in Tlaib's favor by a wide margin:
Rashida Tlaib - 71,703 votes, 66.3%
Brenda Jones - 36,493 votes, 33.7%
While other members of The Squad won with higher percentages of the vote – like NY Rep. Alexandria Ocasio-Cortez (74.5%) and MA Rep. Ayanna Pressley (98.6%) – Tlaib fared better than Minnesota Rep. Ilhan Omar, who only won 58% of the vote. Still, all four members of The Squad easily won reelection in November.
2020 Rashida Tlaib General Election Results
Rashida Tlaib - 223,205 votes, 78.1%
David Dudenhoefer - 53,311 votes, 18.6%
Rep. Rashida Tlaib's Political Career
As a newer member of the US House first elected to national office in 2018, Rashida Tlaib's political experience is actually fairly well-established.
Before formally replacing John Conyers, Jr., in the US House by defeating Conyers' interim replacement Brenda Jones, Tlaib served as a member of the Michigan House of Representatives from 2009-2014.
Term-limited after her stint in the Michigan House, Tlaib ran for a seat in the Michigan Senate, though she lost to incumbent Virgil Smith, Jr., in the primary.
After taking a break (but remaining locally and nationally relevant behind the scenes),  Tlaib returned to politics and – as a member of The Squad and one of the first two Muslim women to earn a seat in the US House – has taken on a larger-than-life persona.
Bettors looking for Tlaib election odds in the US House will likely come up empty for as long as she remains in her current district, as she will always be a heavy favorite and books may not want to carry that kind of liability on the odds boards.
Who Is Rashida Tlaib?
US Rep. Rashida Harbi Tlaib, 45, is a member of the House of Representatives serving Michigan's 13th district (West Detroit). Born in Detroit on July 24, 1976, Tlaib is the eldest of 14 children. Her parents, both immigrants from Palestine, settled in the city.
Tlaib attended three different elementary and middle schools before graduating from Southwestern High School in 1994. She then attended Wayne State University, obtaining a BA degree in political science before earning her JD from the Western Michigan University Cooley Law School in 2004.
Tlaib was the first Muslim woman to hold office in the MI House, and she's one of the first two Muslim women – along with fellow representative Ilhan Omar (MN) – to be elected to the US House.
Rashida Tlaib Bio
Business Holdings: N/A
Net Worth: -96,000 - $10,000
Age: 45
Spouse: Divorced, previously married to Fayez Tlaib (1998-2015)
Children: 2 (Adam and Yousif)
Religion: Islam
Rashida Tlaib Policies
The policies of Rashida Tlaib, given that she is a member of the Democratic Socialists of America (DSA), are radically Progressive. An outspoken opponent of "former" President Trump, the primary Rashida Tlaib political platform includes the following stances:
Supports endless Trump impeachment
Opposes Israel
Supports BDS (Boycott, Divestment, and Sanctions) against Israel
Opposes Saudi Arabia
Supports Medicare For All (aka Single-Payer Healthcare)
Supports raising the minimum wage to $20 per hour
Supports open borders
Supports illegal alien amnesty
Opposes ICE (Immigration and Customs Enforcement)
Supports abortion rights
Opposes firearm rights
Supports the "Green New Deal"
Opposes oil industry, fossil fuels
Supports environmentalist causes
How To Contact Rashida Tlaib
Rashida Tlaib Email: Web Form
Rashida Tlaib Phone Numbers: 202-225-5126 (DC), 313-463-6220 (MI)
Rashida Tlaib Twitter: @RashidaTlaib
Rashida Tlaib Senate Odds
Rashida Tlaib has given no indication that she's going to run for a seat in the US Senate at this time. As a relatively recent US House rep, Tlaib is likely to spend several more terms in the lower chamber before making a run for the Senate.
However, if and when she does attempt to move to the upper chamber, you can expect Vegas election betting sites to have all kinds of US Senate odds on Tlaib's primaries and the general election itself.
Until then, of course, you can wager on various Senate races during every election cycle, just as you can on House of Representative betting odds, Presidential debate props, and current events.
Congresswoman Rashida Tlaib FAQs