Vegas Election Odds For US Representative Ayanna Pressley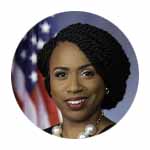 Most Recent Election: Rep. Pressley won reelection in 2020 with 87.3% of the vote, beating her challenger by nearly 75 points.
Rep. Ayanna Pressley (D, MA) is member of the US House of Representatives, unseating longtime incumbent Mike Capuano in Massachusetts' 7th Congressional District in the 2018 Midterm Elections.
While her US House odds to win that race were very low, she beat Capuano – a 10-term congressman – in convincing fashion during the 2018 primaries, 59% to 41%. The MA 7th District does not typically field a Republican challenger, and since Capuano dropped out after his primary loss, Pressley won the seat unchallenged.
As a member of "The Squad," Pressley is primed to be a force (or farce) in the US House for years to come. Thus, the Vegas election odds for US Representative Ayanna Pressley are not going to be about whether or not she wins, but about the margins of her victories.
To learn how to legally bet on all the Ayanna Pressley Vegas odds and props available at legal online election betting sites, our brief Ayanna Pressley bio should give you everything you need to make the best election bets possible and split some wigs at the sportsbooks. (She's bald. That's a bald joke.)
Top Online Sportsbooks With House Of Representatives Odds For 2022
Ayanna Pressley Reelection Odds 2022
Democratic Representative Ayanna Pressley of Massachusetts (District 7) isn't likely to generate too much interest among election betting bookmakers or fans, given her apparent untouchable status in the current political climate.
Pressley won her 2020 primary uncontested, and the general election in Massachusetts that saw her elected to her second term in Congress was a mere formality. However, as a member of The Squad, Pressley is an influential congressional candidate and may have an impact on other races in and around the state each election cycle.
Further, it's conceivable that some Vegas election betting sportsbooks will offer Ayanna Pressley bets in the form of political props, taking action on things like her margin of victory in the 2022 Midterms and similar wagers.
Additionally, given that Pressley reelection is a lock, this certainty could help bettors when placing wagers on the balance of power in the next session of the US House. She could even be influential in the selection of the next Speaker of the House – whether that's Nancy Pelosi or someone else – should the left retain control in the lower chamber. Of course, according to the current 2022 Democrat betting odds, that's far from a sure thing this time around.
Current Odds - Political Specials
Which Party Will Control The Senate After The 2022 Midterm Election?
Republican -200
Democratic +150
Odds Provided By Bovada
Is It Legal To Bet On Ayanna Pressley Vegas Odds?
Yes, it is legal to bet on Vegas odds for Ayana Pressley reelection at any of the reputable overseas betting sites listed here. In the US, domestic sportsbooks are precluded by law and/or tradition from putting up political betting lines, which means the only way to bet on Ayana Pressley or any other candidate, policy, or outcome associated with the 2022 election year is to wager online and offshore.
Because international betting sites operate outside of US jurisdiction, US gambling laws have no bearing on their activities. Further, there are no laws in America that make it illegal for individual citizens or residents to wager online with an international betting site.
Only one state actually bars residents from online betting: Washington. However, there is no record of any online gambler from the state being so much as fined for participating, and the laws are apparently unenforced. Still, you are advised to follow all local laws. That's just good politics!
How To Bet On Ayanna Pressley Reelection
While you'll have trouble finding US House of Representatives betting lines for Ayanna Pressley Midterm odds specifically, you can wager on all sorts of Vegas-style political odds and election odds at the sportsbooks listed here.
These are the top election gambling sites in the world, and they've been taking action on political races and current events issues for years.
In 2020, due to the gravity and magnitude of the Presidential election and its various sideshows (such as Supreme Court odds on Ruth Bader Ginsburg's replacement and various Presidential debate bets), there were no shortage of moneymaking opportunities at the best election betting sites online. Naturally, we expect more of the same for the 2022 Midterm elections!
2022 Ayanna Pressley Primary Campaign
While congresspersons never really stop campaigning given their short two-year terms, the 2020 Ayanna Pressley primary campaign was about as nonexistent as it gets, and you can expect more of the same in 2022.
In 2020, Pressley ran for her Massachusetts District 7 seat unopposed, and the results of that race (and the general election after it) show you exactly why Pressley betting odds will be so hard to come by in the future:
2020 Massachusetts Primary Results – US House, District 7
Ayanna Pressley – 142,108 votes, 98.6%
Other/Write-in – 1979 votes, 1.4%
2020 Massachusetts General Results - US House, District 7
Ayanna Pressley - 267,362 votes, 86.6%
Roy A. Owens, Sr. (IND) - 38,675 votes, 12.5%
Ayana Pressley Political Career
The political career of Congresswoman Ayanna Pressley took off almost overnight on the national stage with her upset win in the 2018 House of Representatives primaries. Before earning a position in the US House, Pressley spent nine years as an at-large member of the Boston City Council.
During that time, none of her politics brought national attention to the region in any significant way, though she apparently established herself by earning plenty of local recognition and winning several awards. These include the following:
2012 - Aspen-Rodel Fellow in Public Leadership
2012 – Truman National Security Project Partner
2014 – Victim Rights Law Center's Leadership Award
2014 – Greater Boston Chamber of Commerce Ten Outstanding Young Leaders honoree
2014 – Boston Magazine Power of Ideas list
2015 – Boston Magazine Power Players list
2015 – EMILY's List Rising Star Award
2016 – New York Times 14 Young Democrats to Watch
2018 – Boston Magazine 100 Most Influential People in Boston (#20)
Who Is Ayanna Pressley?
Ayanna Soyini Pressley, 47, is the current US House representative from Massachusetts' seventh district. She was elected to the position in 2018 after defeating 10-time incumbent Mike Capuano in a major political upset during the 2018 Democratic House primaries.
Pressley was born in Cincinnati, OH, and raised in Chicago, IL, where she attended the Francis W. Parker School, a prestigious and expensive institution. Pressley, though suffering from alopecia which causes baldness, was a popular student, a member of the cheerleading team, a Planned Parenthood model, a voice-over actress, and a debater. She was voted "Most Likely to be Mayor of Chicago" in her senior year of high school. As a member of the US House, she's arguably done better than her classmates predicted.
Pressley went on to further schooling at the College of General Studies at Boston University from 1992-1994, but she dropped out without a degree, getting a job at a Boston Marriott to allegedly help support her mother.
Pressley got her start in politics after leaving BU, working for Rep. Joseph P. Kennedy, Jr. In college, she had interned for Kennedy, and she later become a political director and aide to former Senator and Secretary of State John Kerry (2009).
After that short stint, Pressley was voted onto the Boston City Council in 2009, becoming the first black woman to serve in that capacity. In 2018, she became the first black woman elected to congress from the state of Massachusetts.
Ayanna Pressley Bio
Business Holdings: N/A
Net Worth: -$765,000 to $390,000
Age: 47 years old
Spouse: Conan Harris
Children: 1 (stepdaughter)
Religion: Marxism
Ayanna Pressley Policies
Ayana Pressley's political platform is considered extreme left, as she is one of the most hardline Progressive Democrats in the Democratic Party. The following list represents just a short sampling of Ayanna Pressley policies:
Opposes the administration of President Donald Trump
Supports Medicare for All (aka Single-Payer Healthcare)
Supports measures to defund police nationally
Supports reduction of US prison population by 80%
Supports marijuana decriminalization
Supports abortion rights
Supports legalized prostitution
Supports reducing voting age to 16
Opposes the border wall
Supports illegal alien amnesty
Opposes tipped minimum wage
Opposes BDS (Boycott, Divestment, and Sanctions movement against Israel)
Opposes qualified immunity for law enforcement officers and some other government officials
Supports felon voting rights
How To Contact Rep. Ayanna Pressley
Ayanna Pressley Senate Odds
Currently, Ayanna Pressley has not announced any intention to run for the US Senate, as she has served less than two terms in the US House.
While not her first political post (she was a member of the Boston City Council for nine years, 2010-2019), the Senate trajectory – even for the most popular of House representatives – typically takes establishing oneself in the lower chamber over several dominant election cycles.
As a member of The Squad with fellow hardline Progressives Alexandria Ocasio-Cortez (NY), Ilhan Omar (MN), and Rashida Tlaib (MI), this internal congressional voting bloc is just getting started, and it is unlikely that Pressley will pursue a Senatorial bid for many years.
If you're looking for US Senate odds on Ayanna Pressley, you'll have to keep looking. Fortunately, there are plenty of 2022 US House odds and props that feature Pressley and her squad mates to keep Vegas election bettors busy for the foreseeable future.