Vegas Election Odds For Senator Josh Hawley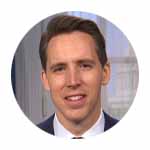 Most Recent Election: Josh Hawley ousted two-term Democrat incumbent Claire McCaskill in 2018, winning the US Senate seat in Missouri 51.4% to 45.6%.  
Missouri Senator Josh Hawley – while still a freshman in the upper chamber – has rapidly become one of the most popular conservative politicians in America. As such, there's been a lot of talk around Hawley's future plans. As Senator, the Vegas odds for Hawley reelection are so strong they might not even get top billing on the betting boards in 2024. But then there's the small matter of Hawley for President…
Because of his outsize status, Hawley – just 42 years old as of January 1, 2022 – is on everyone's short list to become President one day. Whether that day will be November 5, 2024, is anyone's guess, but it's already something you can put money on at the best election betting sites. Josh Hawley's Presidential odds might not be as high as The Donald's or The Ronald's, but he's easily one of the most prominent potential candidates for President.
Sen. Josh Hawley 2024 Reelection Odds
Josh Hawley isn't up for reelection in the 2022 Midterms, which is currently the "primary" focus of the top Vegas election gambling sites. However, many GOP politicians are, which means that Hawley will nevertheless have an impact on the 2022 Republican odds across the board.
In other words, Hawley isn't on the ballot, but his influence most certainly is. And that influence will be present not just in Missouri elections, but in a number of different states' US Senate elections and different sportsbooks' US Senate odds.
Remember, Hawley represents the strongest brand of American Constitutionalism still extant within the halls of Congress.
Hawley endorsements and Hawley support mean a great deal to many politicians seeking office at the national level, and his comments on the upcoming 2022 elections – and his various moves in the Senate in the leadup to these races – are something to which the savviest bettors should play close attention.
2024 US Senate Election Odds for Josh Hawley
While it's much too early to tell how Josh Hawley will do in the 2024 US Senate election for his Missouri seat, it's likely that he'll be an overwhelming favorite in the red state. The bigger question, of course, is whether or not Hawley will actually seek reelection or if he'll attempt to seek higher office.
The smart money is on Hawley reelection to the Senate, as – given his young age and the fact that most betting boards strongly favor Trump's chances in 2024 (and Ron DeSantis' chances if Trump doesn't run) – it's probably much smarter for the freshman Senator to stay put and build up his political clout even further.
The last thing Hawley wants to do is pull a Ted Cruz and go up against a rival he can't beat. That would imperil his status in all the major political circles and could even cost him his Senate seat.
Current Odds – Political Specials
Josh Hawley reelection isn't up until 2024, but the 2022 Midterms are nearly upon us. As such, there are plenty of elections and outcomes to wager on. And since politics is a machine with many moving parts, the Midterms can and will have an effect on the 2024 general election.
What happens regarding the Congressional balance of power – and what happens with the legislation debated and passed as a result of that likely shift – will shape the 2024 election in a big way.
By 2024, even though the GOP would have to implode catastrophically for Hawley's Missouri seat to be at risk, other factors you'll be able to wager on – i.e. political prop bets like Hawley's margin of victory – will almost certainly be on the boards no matter what.
Which party will control the US Senate after the 2022 Midterm election?
Republican -275
Democrat +200
Which party will control the US House after the 2022 Midterm election? 
Republican -450
Democrat +300
Via Bovada
2024 Presidential Election Odds for Josh Hawley
Josh Hawley isn't just viewed as a lock to win reelection in 2024, he's also being discussed as one of the possible future Presidents on the Republican side. Along with Gov. DeSantis and Arkansas Senator Tom Cotton, Hawley is a rising star with many national followers on the GOP side.
Of course, there's no telling whether Hawley – or any of the next generation of Republican hardliners – will actually run for President in 2024. Still, if Trump doesn't run, there's a good chance you'll see Hawley, DeSantis, Cotton, Cruz, and maybe even a few others (Liz Cheney doesn't count) throw their hats into the ring.
Nevertheless, as always, you can bet on Josh Hawley's chances to run for President and win, as the best Vegas sportsbooks all have plenty of entertaining election futures bets to choose from:
Is It Legal To Bet On Josh Hawley Reelection Odds Online?
Yes! However, even though Las Vegas sportsbooks offer "Vegas election odds," these are always hypothetical lines. Domestic USA sportsbooks – even in Las Vegas – cannot legally accept bets on political outcomes. However, if you place your real-money political bets online at a legitimate offshore sportsbook, you can choose from just about any series of election odds imaginable.
These sites are safe, reputable, and legal for US residents aged 18 and up, and only one state – Washington – currently bars online gambling with such operators. WA online betting laws are not historically enforced, but you're advised to follow your local mandates regardless.
As Hawley himself would say, the 10th Amendment matters. States' rights are a crucial part of America's Constitution!
How To Bet On Josh Hawley's Chances In 2024
If you want to bet politics – whether you're betting on Josh Hawley reelection odds, Donald Trump reelection odds (re-reelection?), US House of Representatives odds, Democrat election odds, or anything else, the best Vegas political sportsbooks have you covered.
Of course, you can't wager until you sign up and make a deposit, so that's the process we're here to help you get squared away:
Follow any link here to a legitimate Vegas election betting site. You can check out our Vegas sportsbook reviews to make sure you pick the best operator for your needs.
Click/tap the "Join" or "Sign Up" button and enter in all required personal information. The top betting sites all protect your privacy with cutting-edge SSL/TLS security. And unlike certain voting machines, they never share, sell, or alter your private data!
Choose a banking option to make your first deposit and select an optional online sportsbook bonus. We recommend betting on politics with Bitcoin or another supported cryptocurrency, as crypto gives you the best limits, bonuses, and access to same-day payouts with no added fees.
Hit the betting boards and wager real money on all the politics you can stomach!
2024 Josh Hawley Senate Reelection Campaign
While Hawley's 2024 Senate race is still several years away, he's basically gearing up to be a career politician. And that, of course, means that Hawley is always campaigning.
As such, you can get up to speed with Hawley's political platforms and educate yourself about Hawley's policies and Senate voting record long before you actually need to hit the polls – or the election betting sites.
And even though Hawley's 2024 chances are pretty much bulletproof in the United States Senate for the state of Missouri, it's still worth checking out his election history to date. As you can see, the guy has never really been in a truly contested election.
US Sen. Josh Hawley Political Career
Hawley's political career didn't start with the US Senate, despite his young age and the fact that he seemingly came out of nowhere to occupy the top of the Republican market's mindshare nationally.
Before being elected to the US Senate over the Democrat incumbent in Missouri, Hawley served for two years as the 42nd Attorney General of Missouri. Before that, Hawley had political experience clerking for Supreme Court Chief Justice John Roberts.
All in all, Hawley's rise – and Republican stardom – mirrors that of his contemporaries: Young, sharp, and without substantial political experience or baggage. Basically, these pols are the opposite of Hillary Clinton, Joe Biden, Elizabeth Warren, etc.
Who is Josh Hawley – Josh Hawley Bio
Josh David Hawley is lawyer and politician currently serving as a United States Senator from Missouri. Hawley, a Republican, was elected to office in 2018 and is up for reelection to the Senate in 2024.
Hawley was born on December 31, 1979, in Springdale, AK, to Ronald and Virginia Hawley. In 1982, the family moved to Lexington, MO, where Hawley attended Lexington Middle School before attending Rockhurst High School in Kansas City.
Hawley graduated from the Jesuit prep school as valedictorian in 1998, where his teachers are said to have just taken it on faith that Hawley "was probably going to be President one day."
After high school, Hawley attended Stanford University, graduating in 2002 with a BA. Following graduation, Hawley went to London for 10 months as an intern at St. Paul's School (2002-2003). Hawley then came back to the United States, attended Yale Law School, and earned a Juris Doctor degree in 2006.
For two years after receiving his JD, Hawley interned as a law clerk for Judge Michael W. McConnell (US Court of Appeals for the Tenth Circuit, 2006-2007) and then for Justice John Roberts (US Supreme Court, 2007-2008).
Hawley went on to work in a private practice until 2011, and then – between 2011 and 2015 – he worked for the Becket Fund for Religious Liberty. Hawley also became an associate professor at the University of Missouri Law School in 2011.
Naturally, the very religious Hawley has been derided as an anti-LGBTQETC terrorist or something by the SPLC.
Business Holdings: N/A
Net Worth: ~$1.1 million
Age: 42 (as of Jan. 1, 2022)
Spouse: Erin Morrow Hawley
Children: Three
Religion: Presbyterian
Twitter: @HawleyMO