Vegas Election Odds For US Senator Rand Paul
Son Of Ron, Current Republican Senator From Kentucky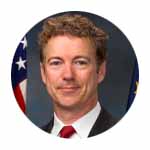 Most Recent Election: Incumbent Sen. Rand Paul (R-KY) beat Democrat challenger Jim Gray, 57.3% to 42.7%. The race wasn't close, with Gray taking only a handful of counties in the state.
Kentucky Senator Rand Paul is a notable figure in the US political scene, lately making waves due to his constant and justified criticisms of COVID czar Anthony Fauci. However, Paul was a well-respected politician before the pandemic, and if the Rand Paul Vegas election odds for 2022 are anything to go by, he's going to have more staying power than the Bad Doctor™, too. The left has no known cure for Rand Paul just yet.
Paul's KY Senate seat is solidly red, and he's actually grown his constituency since his entry into politics in 2010. It's unclear exactly how much money the left will spend to challenge Paul in KY, particularly with the current 50-50 split upstairs. Still, there will be Rand Paul election odds at the best political sportsbooks online, so if you want some easy money the free market way, let our brief guide give you an "invisible" hand!
Best Online Sportsbooks With Vegas Odds For Rand Paul 2022
Rand Paul Reelection Odds 2022
Rand Paul is running for reelection to a third term in the US Senate, and his Senate election odds are extremely strong. All major polling outlets have declared Paul's seat as safely Republican, and given the numbers in his last election (especially comparing his primary figures to his general figures), it's clear that Kentucky voters view Sen. Paul as something of a foregone conclusion.
As such, it might be difficult to find betting lines on the KY election too far out from the November general. Nevertheless, as the race approaches the finish line, you should be able to choose from a host of Paul-related political prop bets and other similar fares.
2022 US Senate Election Odds
There are currently no Vegas Senate odds for the Rand Paul race in Kentucky, as most betting sites only post lines this far in advance when races are projected to be especially close. Rand Paul is considered political "royalty" in KY, and there's very little chance he's going to lose in Nov. 2022.
That said, the best political sportsbooks online should post interesting odds as Election Day looms, with action on Rand Paul's margin of victory, over/unders on vote turnout, and more.
In the meantime, you can bet on some general Senate lines along with a few purple state showdowns. It's also important to note that the Senate election projections will impact the 2022 US House of Representatives odds and 2022 gubernatorial election odds for many races, too, so that's something to keep in mind as you strategize your best bets.
2022 US Senate Elections – Majority Party Winner
Republicans -400
Democrats +250
2022 US House Elections – Majority Party Winner
Republicans -800
Democrats +425
*Odds Provided By BetOnline
2024 Rand Paul Presidential Election Odds
While the best online sportsbooks don't have any lines on Paul reelection, they do feature the KY Senator on their Presidential election betting boards.
If you recall, Paul ran for President against Donald Trump in 2016, but he suspended his campaign immediately after the Iowa caucuses.
Thus, it is unlikely Paul would attempt to take on a hardline conservative populist like Trump in 2024 (should The Donald run as the Trump betting odds indicate he will), nor is it likely that Paul would challenge someone like Florida Gov. Ron DeSantis in the event Trump doesn't run in the next Presidential election.
Still, you can bet on Paul's chances to be elected President in 2022 at the best Vegas political gambling sites:
Is It Legal To Bet On Rand Paul's Chances In 2022?
Yes! You can legally bet on Rand Paul for Senate in 2022 (and beyond?) at any legitimate election betting site. However, the only political sportsbooks that can legally accept real-money online betting on elections are located outside US borders. While many Nevada-based casinos may advertise "Vegas election odds," these are hypothetical gimmick lines meant to attract gamblers to regular sports betting fare.
There is currently only one US state – Washington – that bars all forms of online gambling, including online political gambling. However, WA betting laws are apparently unenforced, and as a Libertarian-leaning Republican, Rand Paul thinks you should be allowed to spend your money however you want. Still, please follow all local gaming mandates.
How To Bet On Rand Paul For Senate In 2022
The only trick to betting on Rand Paul's chances – or betting on any other political lines such as US election futures, international political odds, current events odds, and so on – is that you do so with a reputable offshore operator like any vendor listed here.
Once you do that, the only thing you need to worry about is what deposit method to use (we recommend Bitcoin betting/crypto betting over Visa, Mastercard, etc.) and what lines to go on.
Here's the whole process from start to finish:
Follow any link on this page to sign up at an established online election betting site with Vegas political odds.
Follow all instructions to create your account, being sure to use only your real, verifiable information.
Select your preferred deposit option (Bitcoin, altcoins, credit/debit, check, bank wire, etc.), and choose an optional online betting bonus. We always recommend accepting these promos whenever they're offered, as the best sites always have low, fair bonus rollover requirements.
Browse the political odds and bet on Rand!
2022 Rand Paul Campaign For The US Senate In Kentucky
Rand Paul has already commenced campaigning for his 2022 Kentucky Senate reelection bid, but he hasn't undertaken an intensive campaign just yet. In fact, most analysts believe Rand Paul re-election is such a "sure thing" that he doesn't actually need to campaign very hard. At least, not in person.
With a war chest north of $8 million, Paul can afford to outspend his closest competitors – on either side of the aisle – by a factor of 10. A few catchy ad campaigns on TV, radio, and YouTube ought to do it.
Of course, Paul isn't enough of a lock to go totally uncontested on the GOP side. The following Republican candidates have declared their intent to challenge for Paul's US Senate seat, but we've never heard of any of them (and after the KY Senate primary, we'll probably never hear of any of them again):
Arnold Blankenship
Valerie Frederick
Paul V. Hamilton
John Scheiss
Tami Stanfield
On the Democrat side, the following senatorial candidates have declared as of Q1 2022:
Charles Booker
Ruth Gao
Joshua Blanton, Sr.
John Merrill
Charles Booker, as a former state representative and candidate for the US Senate in 2020 (placing second in the Democratic primary to eventual party nominee Amy McGrath, who lost to incumbent Mitch McConnell in a total wipeout despite spending over $90 million to unseat The Turtle™), will likely be the Democratic nominee for the general election.
US Senator Rand Paul Political Career
For all his name recognition, Rand Paul has only been involved in Paul-itics (ha!) for about 12 years. His 2010 Senate win – when he took the vacant seat in the US Senate for Kentucky – was his very first election, and he remains in that seat today.
The 2022 Senate election will be Paul's third, and he's considered a shoo-in to win another six-year term and keep the Bluegrass State red for the foreseeable future.
Sen. Rand Paul Bio
Randal Howard Paul was born on January 7, 1963, in Pittsburgh, PA, as the third of five children to parents Carol and Ron Paul. Ron Paul, of course, is a former politician who served as a US Representative from Texas for a total of 23 years between 1976 and 2013. As such, public service and politics were ingrained in "Randy" Paul from a young age.
Paul was baptized Episcopalian, and the family relocated to Texas in 1968. As a teenager, Paul spent a good amount of time in his father's congressional offices, studying Austrian economics and the philosophies of Libertarian icon Ayn Rand. During this time, Paul attended Brazoswood High School and competed in swimming and as a defensive back for the school's football team.
After graduating from high school, Paul attended Baylor University from 1981 to 1984, and then attended the Duke University School of Medicine. Paul earned his MD in 1988 and completed his residency in ophthalmology in 1993.
Paul moved to Bowling Green, KY, after completing his residency, and he maintains admitting privileges to two area hospitals to this day.
In 2010, Paul won election to the US Senate, largely assisted by supporters of his father. The party needed to replace outgoing Republican Sen. Jim Bunning, and Rand Paul took advantage of the then-nascent Tea Party movement to win the seat.
Business Holdings: N/A
Net Worth: $400,000 - $1.2 million
Age: 59 (as of the 2022 Senate election)
Spouse: Kelley Paul (m. 1990)
Children: Three
Religion: Christian (Presbyterian, Episcopalian)
Campaign: https://randpaul.com/
Twitter: @RandPaul
Trump Nickname: "Truly Weird"
Sen. Rand Paul Policies
Pro Tea Party
Pro Constitution
Pro Libertarian
Pro-Life
Supports Term Limits
Supports "Read The Bills Act"
Supports reduced federal spending
Supports tax reform/reduction
Supports Donald Trump/MAGA
Supports "Pathway To Citizenship"
Supports same-sex marriage
Supports police reform/body cameras
Supports end to "no knock" warrants
Opposes Border Wall
Opposes "transgender" surgeries/therapies
Opposes "neoconservatism"
Opposes Russian sanctions
Opposes foreign wars
Opposes federal marijuana legalization
Opposes warrantless surveillance
Opposes COVID vaccine mandates
Opposes Obamacare