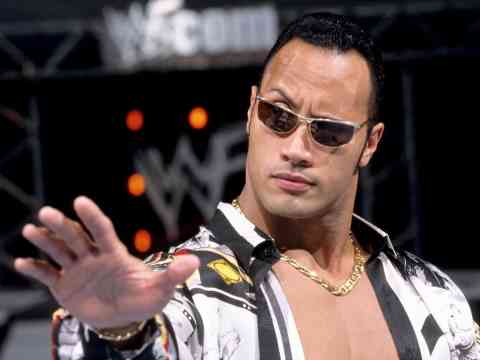 Bovada has been mostly AFK during the post-2020 election betting odds rush, as BetOnline has trounced its more popular rival across the board during 2021.
And that's still the case, as BetOnline has substantially more to choose from in the political betting category.
However, today – and maybe only today – Bovada actually has the most interesting proposition of any major Vegas election betting site:
Who will be the first of these athletes to run for the 2024 US Presidential election?
Dwayne "The Rock" Johnson +300
If you're going to bet on a potential athlete-turned-President in 2021, The Rock is the obvious choice.
The WWE wrestler and actor went on record recently saying he'd run for President if the demand was there. Per Johnson, speaking on the April 14 broadcast of NBC's TODAY show:
"I do have that goal to unite our country and I also feel that if this is what the people want, then I will do that."
The Rock's eventual candidacy is plausible, but 2024 might be a bit too soon. The smart money is to take none of these, as it's unclear if your bet would even be refunded should all potential candidates fail to declare.
2024 is also several years away, which is a long time to have your sports betting funds tied up in nonsense.
Colin Kaepernick is egotistical enough – and has enough perceived "aggrieved" clout as a biracial one-percenter – that he might indeed declare his candidacy for US President.
At +400, if you absolutely insist on betting on this line, he's a pretty solid choice.
Kaepernick-Smollett 2024!
Flopping isn't really considered to be a traditional duty of the President, but anything could happen.
In the current political climate, a pink-haired militant LGBTQ+ spokesthing could be just the ticket for the DNC ticket.
Obviously, she'd never get mainstream support, and it might be a bad look for the "community" to see the soccer star take a header in the polls.
She won't run.
Steve Largent is a former NFL player and Hall of Famer with seven Pro Bowl appearances.
Largent spent his entire career with the Seattle Seahawks, and he represented the Republican Party in the US House of Representatives (OK-1) from 1994 to 2002.
He's currently 66 and has no chance to contend for the GOP ticket in 2024.
He won't run.
Fitzmagic for President? That would be Fitztragic.
Although, the guy's a stone-cold spoiler, so maybe a third-party run is in the cards.
In 2024, Tom Brady will probably be coming off another Super Bowl win and vying for "one more year."
Plus, Brady always seemed more destined for the Senate than the presidency.
Massachusetts or California could both use a Republican in the upper chamber.
We love Tim, but no. He'd devalue his ministry with a political run.
Plus, at just 33 years old, Tebow might actually have several years of NFL tight end left in him.
Steph Curry is 33 years old and chasing a bunch of NBA records behind the line.
He's not going to retire before 2024, even if it meant running for (and not being elected) President.
We would vote for Charles Barkley for President.
But not in 2024.
Plus, there's no telling which party he'd even represent. Also, a POTUS needs to be able to swing a golf club with at least some measure of competency.
Maya Morre is a 32-year-old WNBA player.
Drew Brees managed to breeze through his NFL career with almost no scandals under his Hall of Fame belt.
He's a low-profile guy, so he's probably not interested in chasing the highest profile job on the planet.
The two-time NBA champ isn't really outspoken politically, so it's strange to see him featured here.
That said, JR Smith did famously endorse himself for President in 2016, given his disdain for Hillary Clinton and Donald Trump.
No. Peyton Manning is a doofus.
The only person who could give a better Presidential press conference than The Donald is Beast Mode.
He's all about that action, boss.
The gifted auteur behind the infamous Malice at the Palace would be a strange choice for President, but America could use someone with a fighting spirit.
He never metta guy he didn't want to punch in the face.
2021 Joe Biden Presidential Mental Fitness Test Update
Will Joe Biden complete his first term as US President?
Yes -200 (-200)
No +150 (+150)
Nobody thinks this is going to happen, and yet these odds refuse to budge.
For savvy bettors, that's good news, albeit we're a little distressed that so many gamblers are apparently just as out of touch as senile old Dementia Joe.