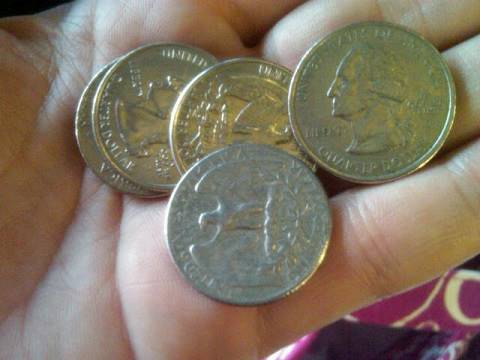 Every now and then, you can get some slam-dunk betting lines at sportsbooks. Sure things. Can't misses. That kind of thing.
And of course, that can be awfully tempting.
The best example, at least on the 2020 Vegas election betting boards, is this following wager offered by BetOnline:
2020 Presidential Election Winner
Republican or Democrat Nominee -20000
Field (any other) +2500
Here, you're basically being asked to wager on whether or not a third-party candidate (i.e. non-Democrat and non-Republican) will win the 2020 general.
The history-minded among us will know that no third-party has ever won the White House, nor has any ever come particularly close (with the exception of Teddy Roosevelt in 1912, who had already served two terms as POTUS from 1901-1909).
In the history of betting – political or otherwise – there has never been a wager as sure-fire to hit as this one. Easy money. Money in the bank. Cha-ching! Etc.
But sometimes, these lines – the guaranteed winners – aren't actually worth it.
Why?
There are two reasons.
First, look at the odds.
Here, if you think a Democrat or a Republican will win the election – and a Democrat or Republican will certainly win the election – you'd need to shell out $20,000 to win $100. Also, you'd have to have that $20K sitting in a limbo until election day, which is almost exactly six months away.
Anyone with 20 grand to dump on a wager like this can likely invest that money for a much bigger return on other betting lines or markets.
But even if you wanted to gamble $20,000 to win $100, BetOnline won't let you. That's the second reason.
See, there are limits on wagers at all sportsbooks, and the limits on political bets at offshore books vary line to line and site to site. Not only that, but they are much smaller than the typical betting maximums you get with NFL, NBA, and NCAA games.
For this particular bet, the limit is $250.
That means that you'd have to wager $250 – money that's tied up until election day and can't be used on any other bet until then – to win a measly $1.25.
That isn't even a cup of coffee.
Historically, sportsbooks simply wouldn't take action on such potential lines, deeming them not worth the liability.
You see this reality quite often in straights for college football betting. Most contests – especially those where a powerhouse is playing a conference scrub or out-of-conference "tune-up" game – are foregone conclusions where the winner is concerned. On a -10000 favorite, any upset and the book takes a bath.
But maybe for political betting – with people wagering on disruption and historic change – these gambles aren't as risky for the sportsbooks. Presumably, given that the wager exists at all, BetOnline has roughly equal money on both sides so far.
It might be a gamechanger.
Before coming across this odd political prop, we would have suggested that you likely won't find any action for Nancy Pelosi's reelection on the House of Representative odds boards. She demolished her opponent in the 2020 primary for her 12th District California seat, winning 72.5% of the vote to Shahid Buttar's 12.7%. Due to a quirk in the DNC's electoral system in California, Pelosi will be facing off against Buttar again in the general. Unless she retires unexpectedly, she's not losing this election.
But now, maybe you'll see lines on her race – and many others – particularly as political wagering is growing so rapidly in popularity thanks to endless intrigue surrounding Trump impeachment, the coronavirus, the BLM protests and Antfia riots, and so on.
Other interesting lines – that is, sure things with limited payout potential – are also available at BetOnline. A few of them are listed below:
2020 Electoral Odds
Alabama (AL)
Republican -3300
Democrat +1600
California (CA)
Democrat -2000
Republican +1000
Hawaii (HI)
Democrat -2500
Republican +1200
North Dakota (ND)
Republican -2500
Democrat +1200
Several more states are trending at similar odds in one direction or the other. But again, betting maximums make these bets far less compelling. For state lines at BetOnline, the biggest wager you can place is just $100.
A $100 bet on the Republican candidate (Donald Trump) to win in Alabama pays out a whopping $3, while a Democratic victory in California will earn you a cool five bucks. In HI, if Joe Biden wins, you'd get $4, and in ND, a Trump triumph would net you the same.
Are such wagers worth it?
On the surface, one could easily argue that they are. They're practically free money. The issue is that they aren't all that much free money, and there are so many other Vegas election lines where only slightly more risk pays out substantially more money.
While we're not touts, we do bet on politics ourselves, and one such wager – an nearly sure-thing that's worth the risk and has an attractive payout – can be found on the Joe Biden Vice President odds boards:
2020 Democratic Vice President Odds
Kamala Harris -150
Val Demings +400
Amy Klobuchar +1000
Elizabeth Warren +1000
Keisha Lance Bottoms +1200
Michelle Obama +1200
Stacey Abrams +1600
Susan Rice +1600
Tammy Duckworth +2500
Lujan Grisham +3000
Hillary Clinton +3300
Tammy Baldwin +4000
Barack Obama +6600
Cory Booker +6600
Tulsi Gabbard +6600
While Kamala Harris is the favorite by a wide margin, she's a dangerous choice for Biden. Yes, she's a black woman (which is a prerequisite at this point – don't bet on a non-woman, non-African American candidate if you value your bankroll), but she has a toxic reputation for abusing minorities on victimless drug offenses when she worked as the Attorney General of California.
This actually caused her own Presidential bid to flame out in dramatic fashion early in the 2020 election cycle.
With justice system reform becoming the biggest issue of the upcoming election, it seems unlikely that Biden will select her. Plus, Harris only guarantees Biden a victory in California, and he's already got that in the bag…er, basement.
Thus, our pick is Val Demings.
At +400 odds, the US House Representative from Florida could deliver Biden the Sunshine State (and thus the presidency), and she's got a $500 limit which would earn you $2000. It's a riskier bet, but even dropping $25 on this one pays out $100. It's definitely worth it.
Now, all that said, there is a workaround if you have oodles of cash to risk on minimum payouts: You can place the same wager multiple times.
At BetOnline, if you wait at least 61 seconds after wagering the maximum on any bet, you can wager the max again without violating the site's terms and conditions.
Still, to take advantage of these odds, you'll have to pony up a whole lot of cash just to take home enough for a nice evening out (if that).
If you like low stakes betting and have some money sitting around, by all means, take the sure thing and win a few dollars.
But if you want a meaningful payout, you'll have to dig deeper and shop lines across multiple Vegas election betting sites for the best values possible.