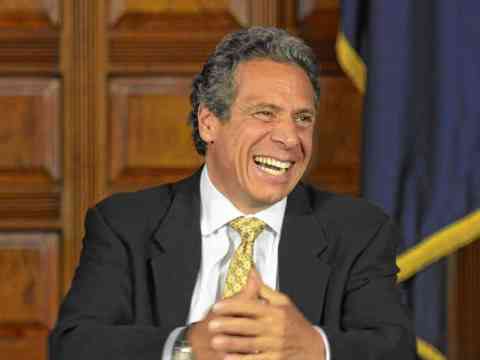 Well, that was fast.
Andrew Cuomo is officially out as governor of New York.
You know, politics really makes very little sense.
Sure, for active political bettors at the top Vegas election betting sites, the game's rules are clear and (more or less) infallible.
That makes betting and winning easy if you're paying attention.
But sometimes, people surprise you.
Take New Yorkers, for instance.
Nobody in the Empire State said a thing when Cuomo issued an executive order specifically to move a bunch of COVID-infected pensioners out of local hospital ICUs and back to their nursing homes – presumably to save…hospital beds…for those who…needed them?
Not a peep.
But this move alone is credited with spiking NY's coronavirus death toll by 12,000 to 15,000, and summary investigations have revealed that the real count was even higher – that Cuomo covered up the data.
For that, Cuomo – appropriately dubbed "Andrew Coma" by Trump – saw his local approval ratings skyrocket, signed a multimillion-dollar book deal, and was trending as a viable contender for the Democratic Presidential ticket in 2024.
But then, for some reason, the news finally decided to cover the various sexual harassment allegations long since levied against the pretend mafioso, and those – in just a couple of weeks – have effectively ended the power player's political career.
To recap, here's how the people of New York – and about half the people of America (if you can call them "people" at all) – feel about the role of the politician:
Go on record doing something completely unnecessary and actively psychotic that is directly responsible for the deaths of thousands of people: Good!
Get accused of playing cringy, selfie grabass with some assistants: Bad!
That says a lot more about Cuomo, his party, its voters, and the media than it does about the man himself, doesn't it?
At any rate, the scumbag's out, and his betting lines have been adjusted accordingly.
But first, let's take a look at the sole bet that's actually vested with Cuomo's resignation (via BetOnline Sportsbook):
Andrew Cuomo to be Governor on Dec 31, 2021?
These odds were first posted back in 2020 when Cuomo murdered those 10,000+ senior citizens. Of course, the books took them down immediately once the governor got literal plaudits for his progressive population control initiatives.
Last week, on news of the concluded investigation into Cuomo's alleged handsy misdeeds, the odds came back as you see above.
The payout on "No" at -700 wasn't great, but a win's a win.
Updated Andrew Cuomo Betting Odds
2022 New York Gubernatorial Election – Winning Party
Democrats -3300
Republicans +900
With Cuomo out, this line became relevant, and the top Vegas election betting sites were quick to post up some numbers.
Despite the state of NY now seeing its last three governors – all Democrats! – forced to resign in disgrace, bettors are savvy on the state of the state.
New York is deranged, and a Democrat is almost certain to win the government's top seat regardless of the party's decades-long track record of producing gropey, assaulty, murdery, bribe-taking filth.
Pathetic.
2022 New York Gubernatorial Primary Winner – Democratic Candidate
Letitia James +140 (-250)
Kathy Hochul -140 (+425)
Jumaane Williams +1400 (+1100)
Alessandra Biaggi +3300 (+2800)
Kirsten Gillibrand +3300 (+3500)
Bill De Blasio +4000 (+10000)
Alexandria Ocasio-Cortez +5000 (+6600)
Laura Curran +6600 (+6600)
Tom DiNapoli +6600 (+12500)
Mike Gianaris +10000 (+6600)
Steve Bellone +10000 (+10000)
Andrew Cuomo +15000 (+850)
Hillary Clinton +25000 (+25000)
Andrew Yang +30000 (+30000)
Scott Stringer +30000 (+3000)
Amazing. He's a longshot, but he's still on the boards.
2024 US Presidential Election – Democratic Nominee Odds
Joe Biden +110
Kamala Harris +200
Pete Buttigieg +1000
Amy Klobuchar +1600
Alexandria Ocasio-Cortez +2000
Beto O'Rourke +2000
Elizabeth Warren +2000
Michelle Obama +2500
Cory Booker +3300
Bernie Sanders +4000
Hillary Clinton +5000
Sherrod Brown +5000
Gretchen Whitmer +6600
Michael Bloomberg +6600
Stacey Abrams +6600
Val Demings +6600
Tulsi Gabbard +10000
Andrew Yang +15000
Kirsten Gillibrand +15000
Michael Bennet +15000
Andrew Cuomo +30000 (+30000)
Deval Patrick +30000
Tammy Baldwin +30000
Tammy Duckworth +30000
Cuomo might be utterly disgraced, but so is everyone else on the above list.
Business as usual, and the same odds as last week.
Congratulations, America.
Odds to Win the 2024 Presidential Election
Joe Biden +300
Kamala Harris +400
Donald Trump Sr. +600
Ron DeSantis +900
Nikki Haley +1600
Mike Pence +2500
Pete Buttigieg +2500
Amy Klobuchar +3300
Jeff Bezos +3300
Kristi Noem +3300
Mike Pompeo +3300
Tucker Carlson +3300
Beto O'Rourke +4000
Elizabeth Warren +4000
Ivanka Trump +4000
Michelle Obama +4000
Ted Cruz +4000
Alexandria Ocasio-Cortez +5000
Liz Cheney +5000
Mark Cuban +5000
Candace Owens +6600
Dan Crenshaw +6600
Donald Trump Jr. +6600
Dwayne Johnson +6600
Gretchen Whitmer +6600
Josh Hawley +6600
Marco Rubio +6600
Tim Scott +6600
Tom Cotton +6600
Cory Booker +8000
Bernie Sanders +10000
+ A Whole Bunch More
Andrew Cuomo +50000 (+50000)
+ More (But All At +50000)
Again, despite resigning as NY governor, Cuomo's betting odds for President are the same as they were last week.
No other lines budged on the board, either.
Of course, Cuomo is just the mainstream flavor of the day.
In many ways, his scandal is simply a distraction from the much bigger scandal that is Joe Biden's fraudulency.
To that end, we're bringing back the ongoing Biden tracker, so you can see how the guy's doing in the real political polls:
2021 Joe Biden Presidential Mental Fitness Test Update
Will Joe Biden complete his first term as US President?
Yes -225 (-200)
No +160 (+150)
We continue to be at a complete loss on this line.
Joe Biden Approval Rating On September 1, 2021
Over 50% -120 (Over 52.5% -135)
Under 50% -120 (Under 52.5% -105)
The goalposts have moved, but the juice remains the same.
We actually liked the "Over" before, given the bias of polling firm 538. Now, we like it even better.
Consider: With Cuomo resigning, the media will allow the fervor of that coverage to mollify those on the center-left who were previously concerned about Creepy Joe and his weasel of a son.
His approval ratings should easily clear 50%.
Year That Joe Biden Exits Office
2025 -150 (-170)
Not Before 2026 +320 (+285)
2023 +725 (+700)
2022 +900 (+1200)
2021 +1100 (+2800)
2024 +1600 (+1200)
There's still a good payout to be made here by putting even money on 2021, 2022, 2023, and 2024, but the margins have narrowed considerably.
Will Joe Biden leave office via impeachment?
Ah, good old Vegas impeachment odds.
Of course, there's very little chance that the left will actually need to impeach Biden, even if they desperately want to. But they don't want to.
Meanwhile, in taking back the House in 2022 (as current House of Representatives odds indicate is likely), the right could impeach Basement Joe, but the Senate odds show that the GOP hasn't got a hope of establishing the necessary supermajority in the upper chamber.
In other words, even if Biden will be impeached, he won't be removed via impeachment.