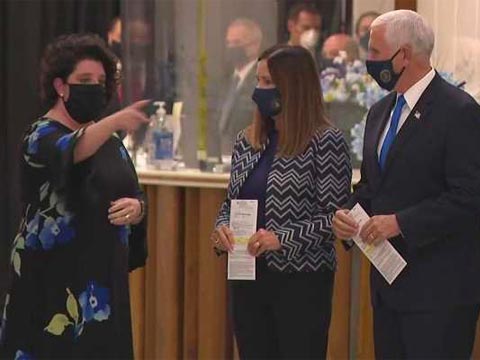 With only eight days left until the election, the presidential and vice-presidential candidates move into campaign overdrive. Donald Trump keeps his eye on Florida's 29 electoral college votes, closing the margin to only 1.7%. Joe Biden holds as the favorite in Pennsylvania, Michigan, and Arizona.
Senator Kamala Harris took a break from the campaign trail to attend the Senate confirmation hearing of Supreme Court Judge Amy Coney Barrett. Senate Democrats boycotted the weeklong confirmation hearings. Sunday afternoon, Senate Republicans voted to limit debate and confirm Barrett Monday night. Democrats protested the vote throughout all of Sunday night.
Meanwhile, Vice-President Mike Pence rallied in Tallahassee and Jacksonville, Florida. Shortly after their visits, Pence's chief of staff and other aides tested positive for Coronavirus. The Vice-President reported testing negative and refused to quarantine with just over a week left until November 3rd.
A Florida Man draws blood again.
Pence's staff's positive diagnosis comes at the dismay of White House Officials and the Trump administration. The White House suffered from Trump's covid-19 diagnosis just a few weeks ago. Democrats took the upper hand over the pandemic narrative, directing their messaging around the President's failures.
At least, that is what the presidential debate odds illustrated.
The recent outbreaks not only reinvigorate Democrats' attacks on the administration's inability to control the virus, but it also highlights what other White House officials report.
Mark Meadows, the White House Chief of Staff, told CNN, "We are not going to control the pandemic. We are going to control the fact that we get vaccines, therapeutics, and other mitigation areas."
Effectively, Mark Meadows emphasized that the White House will not enforce proactive health measures such as masks or plexiglass, and instead will prioritize finding a vaccine to combat the virus.
This news comes as coronavirus rates surge across the country. Mike Pence decided to embody this message and continued the campaign trail.
Headed back to Minnesota for another incredible #MAGA event! President @realDonaldTrump delivered on every promise he made to the great people of MN & he will continue to do so for four more years!

Become an Early Voter by finding your polling place: https://t.co/9dSJWLc2gc

— Mike Pence (@Mike_Pence) October 26, 2020
All this news ramping up the elections causes us here at VEO to question two different presidential election outcome lines, dropped by three of our top recommended sportsbooks.
Here is the first line from Bovada:
Presidential Election Winner
Joe Biden -190
Donald Trump +145
And from another top sportsbook, MyBookie:
Presidential Election Winner
Joe Biden -170
Donald Trump +130
And finally, from BetOnline:
Presidential Election Winner
Joe Biden -200
Donald Trump +175
We see above in the odds a slight disparity in how bettors think the election will turn out and reflects a broader sentiment felt across the American public of a genuine uncertainty of who will become the next POTUS.
Although Biden is the favorite across all these lines, Trump has closed the gap significantly in just a short amount of time. We expect high action in the week before November 3rd, so we suggest getting your bets in now before the lines move closer together.
Sources: