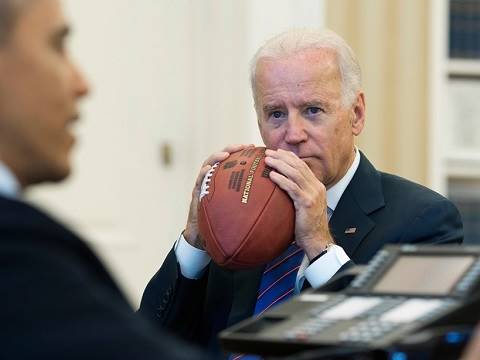 Politically, 2020 was an…abnormal time.
To say the least.
But as upside down as nearly every aspect of the year was – especially in the run-up to (and aftermath of) the November Presidential election – the NFL held steady as the singularly "normal" institution left on our calendars.
And as ever, the 2020 NFL season culminates this Sunday (6:30 PM, CBS) with Super Bowl 55.
Naturally, the big game will offer a big reprieve from the even bigger game of politics for most fans.
However, given that this was an election year, bettors will find a number of Super Bowl prop bets with a decidedly political theme.
This isn't particularly uncommon in non-election years, of course, but because this was 2020 – the ultimate election year – it's extremely not uncommon.
In other words, you've got literally dozens of politically charged Super Bowl props to choose from.
We've included some of our favorites below (all from BetOnline Sportsbook), including our touts on the wagers we're taking.  
2021 Super Bowl Political Prop Bets
Joe Biden Approval Rating On Feb. 7, 2021
Under 53.5 -140
Over 53.5 +100
"President" Joe Biden currently has an approval rating of 49%, as measured by whatever sham outfit measures such things. It seems unlikely he'll gain 4.5 points between now and February 7.
We're taking the under on this one.
What will Joe Biden say first in his CBS Super Bowl interview?
Bucs/Buccaneers -120
Chiefs -120
It would be a tactical faux pas for a progressive mouthpiece to ever utter the word "chief" in reference to anything other than an Indian Native American First Nations tribal leader. If that.
"Bucs" or "Buccaneers" is the right answer, though Biden might have trouble pronouncing the latter correctly.
Still, because this is a coin toss with a big vig for the book on both sides, we're staying away.
What word will Joe Biden say first in his CBS Super Bowl interview?
Pandemic +100
Unity +200
Healing +250
Impeach +400
Words, lies, same thing.
Don't know, don't care.
How long will Joe Biden's CBS Super Bowl interview be?
Over 229.5 seconds -160
Under 229.5 seconds +120
Can you imagine having to listen to Joe Biden for nearly four minutes when all you want to do is watch football? We like the over here, but we're hoping for the under.
Thank goodness for channel changers.
How many times will "Biden" be said during the Super Bowl broadcast?
Under 0.5 -500
Over 0.5 +300
If CBS is airing the Super Bowl – and CBS is airing a special Super Bowl interview of Joe Biden – then it's likely the CBS Super Bowl broadcast team will mention the former Vice President or his CBS Super Bowl interview at some point during the Super Bowl (on CBS).
Take the over at +300.
How many times will Joe Biden tweet during the Super Bowl?
Under 0.5 -350
Over 0.5 +225
Dementia Joe doesn't tweet. Heck, he doesn't even sign his own executive orders.
Still, someone could certainly tweet on his behalf, and that would count.
We kind of like the over at +225, but this is likely the riskiest bet we're willing to take.
How many times will "Trump" be said during the Super Bowl broadcast?
Under 0.5 -900
Over 0.5 +500
Presumably, Jim Nantz and Tony Romo want to keep their jobs.
So, zero.
Will Joe Biden call to congratulate the winning coach?
Sure, why not?
What will be higher?
Super Bowl LV Total Points Scored -150
Joe Biden Approval Rating On Feb. 7 +110
The over/under for Super Bowl LV at BetOnline is 56 points, and that seems a bit low.
But even if it's not, this contest is unlikely to be a defensive struggle, and Biden's approval rating shouldn't be much higher than 50 percent.
Take the favorite here – it's very nearly a lock.
Length of Amanda Gorman's Poem Recitation
Over 284.5 seconds -120
Under 284.5 seconds -120
Amanda Gorman is some sort of aggrieved, costume-wearing child poet wunderkind, and she recently recited some hopeless drivel at Biden's inauguration.
There are plenty of additional wagers at BetOnline (and other Vegas political betting sites) about the content of her screed, if you're interested.
We aren't.
Length Of US National Anthem
Under 1:57 -130
Over 1:57 -110
The length of the US National Anthem (as historically sung at the Super Bowl) is usually under 1:57, hence the -130 on the favorite.
We don't typically bet on esoteric unknowable things like this, but if we did, we'd actually take the over and the better payout.
That's the rule with coin flips, remember.
Will any player kneel during the National Anthem?
Not if they want to keep their Super Bowl bonus.
Will any player raise their first during the National Anthem?
Not if they want to keep their Super Bowl bonus.
What will be said first during the Super Bowl broadcast?
Since this is the COVID pandemic, "COVID" comes first. Maybe.
However, given that this wager is basically a coin flip, we're taking the underdog at +300.
What will be said first during the Super Bowl broadcast?
Mask(s) -300
Coronavirus +200
The favorite looks good here. But again, with coin flips, always take the bigger payout.
Coach To Have Nostrils Seen First During Game
Bruce Arians -200
Andy Reid +150
Funniest Super Bowl prop of the season, hands (masks?) down. And you're never likely to see its kind again.
Also, Bruce Arians has a much more trimmed 'stache than The Walrus, which gives him an extra edge. We like the Bucs coach here at -200.
What kind of couple will be shown first in a Super Bowl commercial?
Interracial -500
LGB (no T) +300
The Political Correctness Order of Operations™ dictates the favorite will be first.
Still, that's a pretty crummy payout. We're not biting.
Also, LOL at the "no T" bit. Why no T, BetOnline? Why no T? Do you deny the Settled Science™?
First Interracial Couple Shown In Super Bowl Commercial
White woman/black man -150
Black woman/white man +110
No chance of the underdog hitting on this. If you have to ask why, you haven't been paying attention.
How many Super Bowl commercials will show a person wearing a mask?
Over 2.5 -450
Under 2.5 +275
All of them.
When will Sarah Thomas first be mentioned during the Super Bowl broadcast?
First half -300
Second half +200
Sarah Thomas is Making Herstory™ as the first-ever female officiating crew member to work a Super Bowl.
If you think the NFL is pulling this shameless PR stunt without the intention of beating you over the head with it, you've already been beaten over the head a few too many times.
First half? First minute, more like.
How will Sarah Thomas wear her hair?
Down (ponytail) -300
Up (in hat) +200
In most Google Image Search results, Thomas is wearing her hair up inside her cap.
The rationale of the bettors here, however, is that the NFL will want her presence screaming out to the world, "This official is a female!"
Thus, a ponytail makes sense.
But we're not betting either way, because this whole thing is dumber than when Vanderbilt had all its kickers out with COVID, hyped up the fact that some rando girl soccer player was going to kick for them, and then only let her attempt a squib to open the second half while getting curb stomped 41-0.
Actually, that was dumber. But this is still dumb.
Will any player slap Sarah Thomas on the butt?
Not a chance. But man, we hope so.
We're also surprised there aren't any Sarah Thomas "wardrobe malfunction" props.
Will Bitcoin be up/down on Super Bowl Sunday (Feb. 7, 2021)?
Up, up, up!