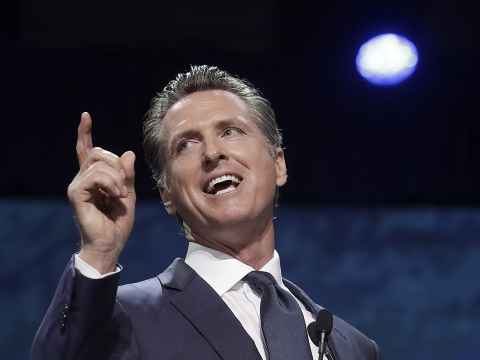 In 11 days, the people of California will vote on whether or not to remove Democratic governor Gavin Newsom from office.
Once a foregone conclusion as a meaningful potential Presidential candidate on the Vegas election odds boards, the Golden Boy has – over the last year – faced significant backlash in the Golden State.
Mostly, Newsom's taken heat for how he's crippling the California economy with outlandish COVID restrictions (which he himself doesn't follow), as well as how he's handled the state's out-of-control homeless crises.
Oh, and he's done absolutely nothing to address the state's desperate need for wildfire control.
The dry, dead brush under those powerlines isn't going to clear itself, after all.
But even as California burns, Newsom is rebounding in the polls, no doubt bolstered by a new round of pandemic fearmongering brought about by the so-called "Delta" so-called "variant" of the common cold.
So if you're thinking about tossing out your mask and heading to the polls on September 14 or – more relevantly – if you're thinking about staying home and betting against Newsom, you might want to think again.
Remember, this guy remains Democratic royalty, and the state has all the tools at its disposal – including no-custody mail-in balloting and those extremely accurate and fair Dominion voting machines – to make sure the left stays at the top of the iceberg (or, more accurately, the bow of the Titanic).
In fact, the state's upped its fraud game beyond all the shenanigans made mainstream in the 2020 general election that saw the most popular President in modern history lose to an advanced dementia patient in a mathematically impossible landslide.
Now, poll workers in California can actually see how mail-in voters voted before ever breaking the envelope seal!
Check this out:
Of course, this is all totally on the up and up. Nothing to see here (except for whether or not you voted to recall Newsom).
The #FakeNews "fact checkers" say so.
They took the obvious concern and reframed it as one of "voter confidentiality."
Never mind that that was never the issue.
Never mind that this means an envelope can be tossed in the shredder by any worker employed by and sympathetic to the regime long before it ever makes it to the counting station.
Never mind that this is the most brazen, blindingly obvious fraud in election history.
At least in 2020 they actually tried to hide the rigging behind some smoke and mirrors.
But in La La Land, left to its own devices, this is just business as usual.
And just for the record, so is this:
Anyway, the guy in charge of all this nonsense is – according to the latest polls – going to avoid recall by 10-20 points.
Incidentally, that's exactly what we've been saying since the Newsome recall betting lines first cropped up several months ago.
While the governor was never expected to lose, the odds were consistently shorter than they are today.
Below, you can see how his chances currently stand, per the only polls that matter:
2021 California Recall Election Odds
Will Gavin Newsom be removed from office in 2021?
As we've repeated ad nauseum, not a chance.
California Governor On 12/31/2021
Gavin Newsom -1000
Larry Elder +600
Kevin Paffrath +1800
Kevin Faulconer +5000
Caitlyn Jenner +10000
John Cox +17500
Doug Ose +25000
Kevin Kiley +25000
If for some bizarre reason you think Newsom will actually get the heave-ho, the only candidate that has the momentum to replace him is right wing radio host Larry Elder.
We don't even know who the rest of the people on this list are – and some of them don't even know who they are themselves!
That said, we're begging you: Save your money. Elder isn't winning this thing.
We hope we're wrong. We'd own it gladly.
But we suspect we're right.
And no, we're not happy about it.
2021 Joe Biden Presidential Mental Fitness Test Update
Will Joe Biden complete his first term as US President?
Yes -165 (-165)
No +125 (+125)
No. Seriously, how is this still the underdog?
Year That Joe Biden Exits Office
2025 +130 (+130)
Not Before 2026 +350 (+350)
2021 +400 (+400)
2022 +400 (+400)
2023 +750 (+750)
2024 +1400 (+1400)
Equal money on 2022 and 2023.
Will Joe Biden leave office via impeachment?
No -1200 (-1200)
Yes +500 (+500)
Biden impeachment odds might as well be -100000.
It's not happening.
Joe Biden Approval Rating On October 1, 2021
Over 45.5% -120 (47.5% -120)
Under 45.5% -120 (47.5% -120)
"80 million votes."