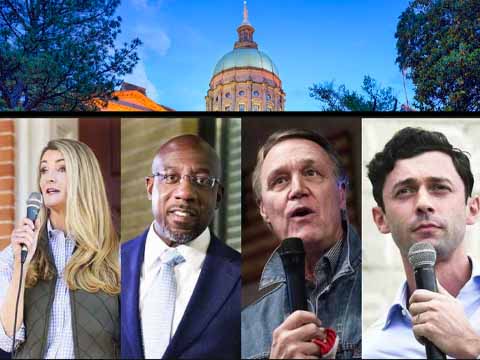 As the January 5th Georgia Senate runoff election date draws nearer, many Republican figures are coming out of the woodworks to rally in the Peach State. Now that Georgia is the national stage for the Republican party, Kelly Loeffler's and David Perdue's races turn into a proxy war for the 2024 GOP presidential nominations.
The Georgia Senate race may be far from over, but the next Republican presidential candidate's bid is already underway. Meanwhile, the two Republican Senators are still fighting desperately in a tooth-and-nail race for control of the US Senate.
So far, here are the US Senate election odds for those two Georgia seats. As we get closer to January 5th, the odds remain in Loeffler and Perdue's favor, but we can see their lead slipping ever so slightly.
US Senate Election Winner – Georgia (Special Election)
Kelly Loeffler (R) -145
Raphael Warnock (D) +110
US Senate Runoff Election Winner – Georgia (General Election)
David Perdue (R) -200
Jon Ossoff (D) +150
Republican officials now face a challenging race as Donald Trump continues to criticize the Dominion voting system and claims that the Democrats rigged the election in Georgia. That same voting system will be used in the upcoming Senate elections. After a forty-six-minute video of President Trump sharing his constant grievances, there's no evidence of the President backing down.
Republican leaders are walking a tightrope now. They are balancing a need to assuage the President's claims to retain his loyal voter base, which will become crucial now that Georgia has transitioned to a swing state, and a need not to discourage Republican voters who now distrust the election system more.
Donald Trump plans to appear in Georgia on Saturday, but his messaging can confuse Republican voters. Trump has clashed with Republican state officials such as Gov. Brian Kemp over the validity of the 2020 Presidential election vote count in Georgia.
Against that backdrop, Republican presidential hopefuls are coming to the Georgia stage to support the Senators and garner some national attention and name recognition. Among those include VP Pence, Sens. Marco Rubio and Rick Scott of Florida, and Sen. Tom Cotton of Arkansas. Others that made political contributions were Nikki Haley, Sen. Josh Hawley of Missouri, and Sen. Ted Cruz of Texas.
Here are the 2024 Presidential election odds, where many of these same names reappear.
US Presidential Election 2024 – Republican Candidate Odds
Donald Trump +400
Mike Pence +400
Nikki Haley +500
John Kasich +800
Josh Hawley +1000
Ted Cruz +1200
Tim Scott +1400
Tom Cotton +1400
Dan Crenshaw +1600
Bill Weld +2000
Paul Ryan +2000
Carly Fiorina +2500
Sources:
NPR