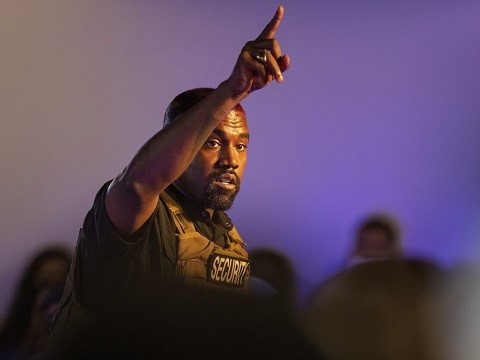 On Saturday night in Charleston, SC, Kanye West – the surprise independent Presidential candidate for the newly minted Birthday Party – held his first rally of the campaign season.
For those keeping track, that's one more than Joe Biden this election cycle, and West is tied with Donald Trump in the 2020 campaign rally department.
How serious Kanye is about his Presidential run is TBD. In fact, he kicked off his inaugural event by saying explicitly:
"I don't give a [darn] if I win the presidency or not."
That's not something a credible candidate says.
However, despite this, West is trending in the middle of the pack at most Vegas election betting sites, just beneath long-term potential winners like Hillary Clinton and Mike Pence.
The following Kanye West Presidential odds come from the three most popular international sportsbooks:
Bovada:
Joe Biden -160
Donald Trump +145
Hillary Clinton +5000
Mike Pence +6000
Kanye West +6600
Michelle Obama +8000
Andrew Cuomo +15000
Nikki Haley +15000
MyBookie:
Joe Biden -170
Donald Trump +100
Hillary Clinton +5000
Mike Pence +6000
Kanye West +6600
Michelle Obama +8000
Mitt Romney +10000
Andrew Cuomo +12500
Nikki Haley +12500
BetOnline:
Joe Biden -190
Donald Trump +160
Hillary Clinton +2500
Michelle Obama +3300
Mike Pence +6000
Kanye West +12500
Elizabeth Warren +15000
Nikki Haley +15000
Mark Cuban +30000
Obviously, if you're going to bet on Yeezy for Peezy in 2020, you should place your wagers at BetOnline, where a winning payout is just about double its total at either other outlet.
Still, that's not the real point. Instead, the actual upshot here is how seriously bettors are taking a Kanye candidacy to begin with.
Interestingly, the biggest takeaway from West's nascent run for office is how his presence on the November ballots in certain states will affect the two main candidates' campaigns and vote totals in November.
While it remains unclear how many state ballots Kanye will qualify for (he's only officially on Oklahoma's as of this writing), any third-party candidate is considered a threat to the Democrat and Republican tickets.
Such candidates have historically bled votes from one or the other side of the aisle, and in many elections, a third-party spoiler can have a profound effect on the outcome of the race itself.
Of course, Kanye himself doesn't seem to believe that his candidacy will actually hamper either side. Per his comments at the Charleston rally:
"The most racist thing that's ever been said out loud is the idea that if Kanye West runs for president, that I'm gonna split the black votes."
That seems quite the claim, given that it's neither racist nor inaccurate.
All third-party candidates split votes from a given demographic or two (or ten), and Kanye is such a celebrity that it is difficult to imagine a scenario where a meaningful number of his fans won't shift their votes to the Birthday Party.
Historically, given that black Americans by and large vote Democrat, it is not a stretch to imagine that West will indeed siphon off thousands – and perhaps tens of thousands – of erstwhile Biden votes in each state where he's on the ballot.
If that happens – and this is where bettors need to pay attention – Trump's odds to win reelection will only narrow. That means that payouts on Trump a month from now will be much lower than they are today, where they've peaked and remained for the last few weeks.
Indeed, the only reason that Trump's Vegas betting odds haven't gotten better since West's declaration on July 4 is that bettors are still incredulous that Kanye is actually going to remain in play through the general election.
Ultimately, the West candidacy is just another confusing wrinkle in the grander Bosch painting of the 2020 election cycle. There seems to be neither rhyme nor reason to the things driving this particular election, and while the hip hop icon might address the former, the latter seems in shorter supply than ever.
Kanye West's Political Platform
For those interested in Kanye's politics, they are mostly conservative, and some are arguably "extreme."
West is (or was) an outspoken Trump supporter, and while he's said he is "taking the red hat off," that doesn't mean his platform is tremendously different than The Donald's. It just means that no candidate with an ounce of sense would run for office while cheerleading for his opponent.
Kanye West's political positions include the following:
Pro-life/anti-abortion
Pro-Second Amendment
Pro-marijuana legalization
Pro-fossil fuels
Pro-"America First"
Pro-illegal immigration
Pro-prison reform
Anti-capital punishment
Anti-vaccine
Anti-welfare
Which side of the political divide will be more affected by Kanye running for President seems fairly obvious, as he should be giving Trump a big assist if he stays in the race long enough.
Of course, his new album drops in two days, so the campaign might end shortly after that.
Sometimes, the cynics and skeptics are right.
Source: Rolling Stone