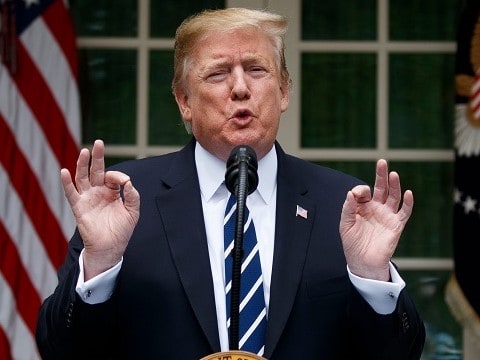 There are several engaging storylines in the 2020 Presidential election, none of which are more engaging than the main event and what it stands for.
As many analysts and pundits point out, this race represents the most gaping ideological delta of any election in modern American history.
Of course, there are plenty of other interesting political Vegas odds and props to choose from at the best international election betting sites, but the biggest news of the day – or, frankly, they last few weeks – has been President Trump's resurgence in the polls and at the odds boards.
As a point of comparison, take where Trump vs. Biden was trending at online betting sites just over a month ago:
2020 Presidential Election Odds On July 4
Via Bovada
Joe Biden -160
Donald Trump +140
Via BetOnline
Joe Biden -180
Donald Trump +150
Via MyBookie
Joe Biden -160
Donald Trump +120
2020 Presidential Election Odds On August 10
Via Bovada
Joe Biden -160
Donald Trump +135
At Bovada Sportsbook, Trump has gained only five points on Biden, though Bovada is the book with the least dramatic swings day-to-day.
In other words, the bookmakers there are very adept at staying directly on top of where the money's going and moving the lines slowly, regardless of the betting market.
Via BetOnline
Joe Biden -155
Donald Trump +125
BetOnline Sportsbook has seen the biggest upswing in favor of The Donald.
A month ago, POTUS was puttering along behind Biden, trailing by a massive 130 points on the Presidential betting boards. Now, he's closed the gap to just 80 points.
This is significant not only because Trump is picking up a head of steam again, but because BetOnline is the book that accepts US members from the most states.
Ergo, by this metric, BetOnline could offer the most complete picture of the American electorate. Only those living in NJ can't join and wager with the sportsbook.
Via MyBookie
Joe Biden -170
Donald Trump +100 (EVEN)
MyBookie's line has moved in interesting ways. While Trump has picked up 20 points on his side of the bet, Biden picked up 10 more on his.
Usually, if one side closes the gap, the other side shrinks to meet it. Still, overall, Trump has gained a net of 10 points on Biden in the last month.
Why Are The Lines Moving Back To Trump?
As you can see, with less than three months from the November 3 general, Trump's Vegas odds are starting to even out. They've got a long way to go, but the turning tide is clearly favoring the incumbent – He has the momentum. And there are several reasons why:
Better Polling Numbers
Usually, election betting odds have been better indicators than polls to inform the people – and politicians – what a given candidate's real chances are to win. However, this cycle, bettors have been going off of polls first and foremost, regardless of their veracity.
As newer polls show Trump competing or leading in swing states thought to be firmly in Biden's grasp, the betting lines are shifting to reflect that.
1619 Riots
The so-called 1619 Riots have been ongoing for months now, particularly in Democrat-controlled cities, where violent crime has doubled or even tripled year-over-year and where local pols are in outspoken support of defunding law enforcement even as their cities burn.
Trump isn't going to win Washington or Oregon, but the events in Seattle and especially Portland are making people in other states and cities prick up their ears.
Many Democratic strategists and officials have even pleaded with these protesters that their actions are producing golden ad copy for the Trump 2020 campaign.
Defund The Police
This goes hand-in-hand with the 1619 Riots, and it's wildly unpopular according to all national polling data. The more Biden (and his potential Democratic VP candidates) double down on this, the less well Biden is going to do in the Heartland.
Cancel Culture
As mainstream Democratic entertainers are faced with more and more infighting over the censorship of their work and speech, the hypocrisy of the current cancel culture is finally seeing some pushback.
Social media sites like Facebook and Twitter have also had to defend their censorship of conservatives to Congress in recent days and weeks.
Kanye West
Kanye is serious about his Presidential bit. How serious, we can't be sure, nor do we quite understand the purpose of his proposition.
However, the common consensus is that regardless of what the rapping fashionista is up to, the longer he stays in the race, the more he will help Trump and hinder Biden.
West's Vegas odds are hovering at around +10000 at most sites, but ever since he's been on the boards, Trump's been faring measurably better.
Coronavirus Executive Orders
Trump's most recent act of alleged unconstitutionality came this past Saturday when he signed a series of executive orders establishing a payroll tax holiday, a new federal stimulus of $400 per week for those who are unemployed due to the coronavirus, and a moratorium on eviction notices and student load payments.
Congress had stalled on a COVID-19 relief bill, with Democrats and Republicans reportedly trillions of dollars apart.
Trump's summary orders, deemed an affront to democracy by the left (Which is challenging the EOs in court, optics be damned), is popular with the populace and is giving Trump a boost.
NRA Lawsuit
This past week, the New York Attorney General went public with the heavily liberal state's attempt to dissolve the National Rifle Association, America's premier gun rights group.
With five straight months of record gun sales by first-time buyers, the NRA is more popular than ever, and many voters are viewing the timing as suspicious.
Further, these voters view the act as informative of what a Biden administration would do to common sporting arms (i.e. ban them all), as his "Gun Czar" is Beto "Hell Yes We're Going To Take Your AR-15" O'Rourke.
Gun registries are unpopular enough. Confiscation is a non-starter.
Barr's "October Surprise"
Democrats are starting to worry about what US Attorney General William Barr has in store when the DOJ's investigation into the alleged Russia Collusion hoax is completed and made public.
Operatives on the left are calling for the report's revelations to be tabled until after the election. Apparently, an informed voter is a dangerous voter.
The Presidential Debates
There are three Presidential debates scheduled for this cycle. The common view is that, by hook or by crook, the Biden campaign will not allow Basement Joe to come out and debate Trump on stage.
While we'd take the "No" on "Will There Be A Trump vs. Biden Debate In 2020" should any book offer such, Biden himself seems ready and willing to debate Trump. If the event(s) will be held in a live, in-person, non-pre-taped capacity, Trump's odds will skyrocket.
If you want to bet on Trump's chances for 2020, make sure to get your wagers in before the first debate is scheduled to take place on September 29 in Cleveland, OH.