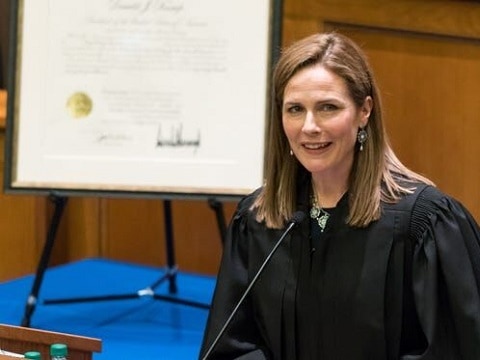 Following the passing of Supreme Court Justice Ruth Bader Ginsberg, President Donald Trump and the Republican led US Senate are moving swiftly to fill her seat with a right-leaning judge before the November 3rd elections.
Trump's potential Supreme Court selection would be his third during his first term as President, and with the Vegas election odds between the two Presidential Candidates pulling so close within weeks of votes being cast, Republican's are anxious to fill the void.
Trump plans to announce his pick tomorrow.
A quick glance at the Supreme Court's current roster of Justices reveals a heavy lean toward the GOP if we base it off of the President that nominated them. This association typically holds true but Republicans have been critical of some of the recent decisions issued by Justice Gorsuch.
Current Justices of the Supreme Court of the United States
John G. Roberts, Jr., Chief Justice of the United States (George W. Bush – 2005)
Clarence Thomas (George Bush – 1991)
Stephen G. Breyer (Bill Clinton – 1994)
Samuel A. Alito, Jr. (George W. Bush – 2006)
Sonia Sotomayor (Barack Obama – 2009)
Elena Kagan (Barack Obama – 2010)
Neil M. Gorsuch (Donald Trump – 2017)
Brett M. Kavanaugh (Donald Trump – 2018)
As you can see, the SCOTUS bench is already stacked heavily toward the right side of the political spectrum, with GOP nominations outweighing the DNC's 5-3.
Assuming Trump's eventual nomination makes their way through the confirmation process prior to November 3rd, that will give the Republicans an astounding 6-3 advantage on the Supreme Court bench.
Popular offshore sportsbook MyBookie has produced two betting lines that asks the same question two different ways – Will Trump's SCOTUS pick be confirmed prior to election day?
Will Senate Confirm SCOTUS Nominee Before November 3rd?
Will Senate Confirm SCOTUS Nominee After November 3rd?
So far, the Supreme Court betting odds suggest that the pick will indeed be confirmed by the GOP-controlled US Senate prior to November 3rd. The ethics of this expedient process has come into question, but it does present the fact that the Republicans do feel that Biden is a legit threat to take the White House just a few short weeks from now.   
We were a bit miffed when Vegas odds for the next Supreme Court nomination were not produced within 48 hours of Justice Ginsberg's passing. BetOnline has made things right with the world and satisfied the appetites of political bettors with the following line.
President Trump's Supreme Court Justice Nominee
Amy Coney Barrett -750
Barbara Lagoa +190
Joan Larsen +2000
Allison Rushing +2500
Britt Grant +3300
Amul Thapar +4000
Thomas Hardiman +6600
Ted Cruz +7500
Tom Cotton +12500
Ok, yeah – Amy Coney Barrett is a heavy favorite at -750 and seems to be a sure thing to secure the nod, but we can't get beyond Ted Cruz's appearance as a potential nominee for the Supreme Court.
After all that was said and done before and after the Presidential campaign trail of 2015-2016, Ted Cruz still remains relevant and on Trump's radar. I thought Trump said he was from Canada?
Ok, back to Barrett. You know it's bad when the New York Times has to come out and defend Barrett against inaccuracies presented by left-wing media outlets, but nevertheless, that does appear to be the case.
Even prior to Biden's selection of Kamala Harris as his VP, there seemed to be a swell of support for female candidates in 2020. This is also reflected by the SCOTUS selection odds, as the top five potential nominees are women.
The Supreme Court and its next Justice is sure to be a hot topic on the Presidential Debate circuit, as the three scheduled events will occur between now and the potential confirmation.
Vegas odds on the debates have been prominent at betting sites over the last two weeks, offering plenty of additional action outside of the verbal sparring.
The debates and the Supreme Court nomination are likely the two most important factors occurring between now and the election, and everything is riding on them.