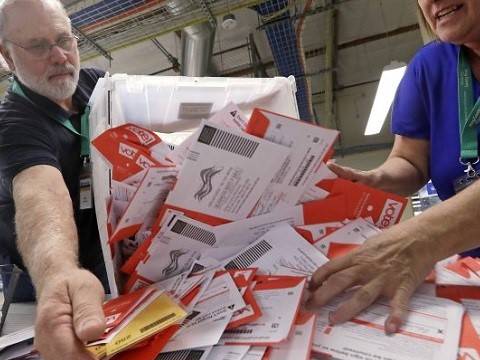 After a tumultuous half week in the wake of the passing of Supreme Court Justice Ruth Bader Ginsburg, the odds at the top Vegas election betting sites are on the move.
We've been keeping track of a few of these, particularly the lines in the swing states where the odds have been impacted less by RGB's passing and more by the procedural rulings coming down from lesser judges in those regions regarding how to handle the November 3 general.
As we previously reported, in Pennsylvania and Michigan, the deadlines to count the Presidential election votes have been extended by three days and two weeks, respectively.
Not to be outdone, a Wisconsin judge has allowed for an extra six days for votes to be counted, and North Carolina election authorities have given their polling places eight extra days to count up their votes.
In WI, as in MI, ballot harvesting – a felony under normal circumstances – will be allowed – and voters in all four states will be able to "fix" their ballots after the election if there are any "deficiencies."
(Additionally, definitively postmarked and dated ballot envelopes appear to be an afterthought all of a sudden. Stamp or no stamp, the state gives these votes its stamp of approval.)
All of these rulings favor Joe Biden and the party of Mostly Peaceful Vote By Mail™, but bettors have been slow on the uptake.
While Biden has been moderately favored in each state for most of the election cycle, he ought to be off the charts by now, given the edge granted to his campaign by the courts.
For bettors paying attention, that edge should be just as big.
Currently, here's how the state electoral odds in each of these key battlegrounds stand, with their pre-ruling numbers in parentheses:
2020 Pennsylvania Electoral Odds
Bovada
Joe Biden -190 (no change)
Donald Trump +145 (no change)
BetOnline
Joe Biden -160 (-165)
Donald Trump +130 (+135)
MyBookie
Joe Biden -190 (no change)
Donald Trump +145 (no change)
The lack of movement here may be due to an already announced court challenge of PA's rulings, though it's surprising that so little has been made of this critical state's lean towards Biden on the procedural end over the last week.
2020 Michigan Electoral Odds
Bovada
Joe Biden -250 (no change)
Donald Trump +185 (no change)
BetOnline
Joe Biden -270 (-225)
Donald Trump +210 (+185)
MyBookie
Joe Biden -225 (-250)
Donald Trump +160 (+185)
Bovada bettors are dropping the ball here, though for Biden supporters at the site, that's a good thing. Get in now, because MI's new rules benefit the left tremendously.
2020 Wisconsin Electoral Odds
Bovada
Joe Biden N/A (no change)
Donald Trump N/A (no change)
BetOnline
Joe Biden -175 (-165)
Donald Trump +145 (+135)
MyBookie
Joe Biden -150 (no change)
Donald Trump +115 (no change)
Even at BetOnline, this is a small change in the lines given the scope of what's going on behind the scenes. If you're a Biden voter, get in now, as these odds will surely move further in Biden's favor, reducing your payout potential. Trump voters, wait a bit longer to place your bets. Also, we're not sure why Bovada consistently refuses to post Wisconsin betting odds.
2020 North Carolina Electoral Odds
Bovada
Donald Trump -135 (no change)
Joe Biden +105 (no change)
BetOnline
Donald Trump -130 (-150)
Joe Biden +100 (+120)
MyBookie
Donald Trump -130 (no change)
Joe Biden +100 (no change)
Once again, the BetOnline odds seem to moving in the coherent direction given the news coming down from the state. While Trump is still favored at each site, that could change in the near future if the ruling isn't challenged by the right (or, frankly, anyone who cares about election integrity).
Overall, bettors at BetOnline seem to be getting the idea, but the lack of movement in the odds at Bovada and MyBookie are interesting. That's one reason why you should always join several books and shop lines for the best payouts.
Right now, gamblers picking Trump to win would be best served by placing their wagers with BetOnline, while Biden supporters will earn better payouts going with Bovada or MyBookie.
One place bettors do seem to universally understand the import of these swing state decisions (which are largely illegal but would have to be challenged, possibly to an evenly split Supreme Court) is on the main election odds boards.
After losing the lead to Trump a few weeks ago, Biden is back on top bigly – but not quite yugely – at all three major operators:
2020 Presidential Election Odds
Bovada
Joe Biden -130
Donald Trump +110
BetOnline
Joe Biden -130
Donald Trump +110
MyBookie
Joe Biden -130
Donald Trump +110
Naturally, the best online sportsbooks for Vegas election odds also feature Supreme Court betting lines, after bookmakers fell asleep at the wheel for the entire Weekend At Ruthie's following Ginsburg's death.
Here's how those stack up at BetOnline, which is representative of the odds across the board:
2020 Supreme Court Nominee Odds
Amy Coney Barrett -400    
Barbara Lagoa +150   
Joan Larsen +1800    
Allison Rushing +2000
Amul Thapar +3300    
Britt Grant +3300    
Thomas Hardiman +5000
Ted Cruz +7500 
Tom Cotton +10000   
While Amy Coney Barrett has interviewed for a Supreme Court seat in the past and seems qualified enough for the position, the most tactically sound pick would seem to be Barbara Lagoa.
Lagoa is Hispanic, she's a sitting federal judge in the swing state of Florida, and she'd be a hard target for any smear campaigns by the allegedly female- and minority-friendly left. Our money's on Barb.
Also, you should throw out every male on the board above, as Trump has already made clear that his pick will be a woman. Which, you know, actually means "woman" to the right.
Along with the above, you can also wager on whether or not Trump's Supreme Court pick will be confirmed by the Senate before or after the election.
Initially, the SCOTUS betting odds showed that bettors didn't think a new Justice would be appointed either before the election or before inauguration day.
However, after doing their research to understand how the GOP Senate only needs a simple majority vote to confirm, bettors finally have their heads on straight. The following odds are via MyBookie:
Will Senate Confirm SCOTUS Nominee Before 11/3/20?
Will Senate Confirm SCOTUS Nominee After 11/3/20?
While we agree that the Senate is likely to give its consent on Trump's selection before the election, the second set of odds above are intriguing.
There's a very real possibility that the nomination won't be confirmed within the 40 days until the election, but that doesn't mean that the Senate couldn't do so at any point between the end of the election and January 20.
Further, it would be weeks before any contested vote count makes its way to the US Supreme Court, so a nine-member bench could still be convened in time to decide the outcome, if necessary.
Of course, even if Trump loses – and even if the upper chamber loses its GOP majority (which the Senate betting lines show as a 50-50 proposition) – the nominee can still be confirmed. In fact, there's an even higher likelihood of confirmation under those circumstances.
As a further wrinkle, if Trump wins convincingly before his nominee is confirmed, the President can pull that nomination and select a different judge that might be better suited but less politically expedient.
Layers upon layers with this onion, folks. The only real question is which party is going to end up crying.
Taking all of the above into account, we're seeing some mighty questionable logic backing the political wagering lately. This means that there are a lot of first-timers wagering on this contentious election, which is why we've been taking steps to point out the diamonds in the very rough world of American politics.
After all, you need to win as much money as possible before Uncle Sam comes calling to take it all away.
All that said, not everything on the betting boards is quite so serious.
MyBookie, which has been absolutely killing it with the 2020 political props in recent weeks, has these fun Donald Trump lines posted if you need a break from the rigmarole. Consider them a political betting filibuster:
Will Donald Trump start a TV network if he loses the election?
Heck, this is why we thought The Donald was running in the first place, all the way back in 2016: Gin up interest and image, lose the election, and parlay that into a media empire.
Of course, after about autumn of 2015, we knew he'd win and that his television kingdom would have to wait. We're now 50-50 on this one, but we'd drop a dime on the "yes."
If Donald Trump starts a TV network, what will it be called?
MAGANet +300
TrumpTV +350
Real News +400
TNN +400
Not Fake News Network +500
"MAGANet" is out. Despite Trump's MAGA mantra and magnetism, it's not 1996, it's 2020. Why that's the favorite, we have no idea. "TNN" seems like the best choice of the bunch, though "Not Fake News Network" is the funniest. "TrumpTV" has a nice ring to it, too.
But since this is a speculative thought exercise in punsies for funsies, we're a little disappointed that the oddsmakers at MyBookie didn't get a bit more amusing with this prop. Bigly News? YugeTube? The Donald? Orange Entertainment? The Drumpf Report?
"C'mon, Man!" – Joe Biden
Will Donald Trump purchase One America News Network (OANN) if he loses the election?
We can't imagine why he would. Everyone on OANN looks like a weird alien, which would be sure to feed those Alex Jones/David Icke Reptilian conspiracies if the channel had any mainstream chops at all.
Trump would have to rebrand the whole deal, clean house, and fill the station with more visually appealing talent. He might as well start from scratch.