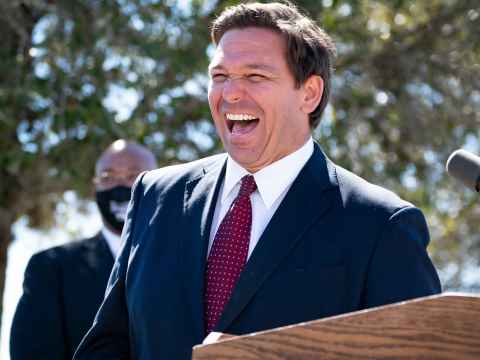 Another day, another dollar.
Of inflation.
And to make matters worse, with the German election odds off the international political betting boards, there's precious little to bet on at the moment.
That'll surely change over the course of the week as new intrigue makes its way to the sportsbooks, but for now, there's not a lot of action to be had at the best Vegas election betting sites.
As a result, we figured it'd be a good time to highlight some of the more mundane US fare you can wager on as the boards start to fill up with odds for the various 2022 races scheduled for next November.
As usual, BetOnline is the most on the ball with the following gubernatorial betting odds, even if their impeachment betting lines and indictment odds are a bit on the nose.
2022 US Governor Races
Arizona Governor Odds – Winning Party
Republican -275
Democrat +185
The fix won't be quite so coordinated for the AZ governor election, as there's comparatively little national funding for the race.
That's why a state that elected Joe Biden to office as President of the United States is strongly favored to elect a Republican as governor.
Just kidding.
Arizona clearly didn't vote for Inflation Joe.
Georgia Governor Odds – Winning Party
Republican -140
Democrat +100
Barring any evacuated polling stations and suitcases full of ballots for the DNC's candidate, the GOP should win in Georgia.
Not that it matters, the filthy turncoats.
Michigan Governor Odds – Winning Party
Democrat -180
Republican +140
If Gov. Gretchen Whitmer (D) hasn't been sent packing already, the state is immune to common sense governance.
Maybe there'll be another phony kidnap plot to ramp up her street cred before November next year.
Keep an ear out for Big Gretch's new rap album.
Nevada Governor Odds – Winning Party
Democrat -275
Republican +185
In the home of Sin City, it's Democrats all the way.
New Jersey Governor Odds – Winning Party
Democrat -330
Republican +900
Nobody cares about New Jersey. Not even the best online election betting sites.
(We kid, we kid. We all love Jersey. It's just that the best overseas sportsbooks can't currently accept bettors from the state.)
New York Governor Odds – Winning Party
Democrat -3300
Republican +900
Maybe the next Democratic governor of NY won't resign in shame.
But probably not.
Pennsylvania Governor Odds – Winning Party
Democrat -180
Republican +140
Trump won PA handily, so a GOP gubernatorial win isn't out of the question.
It really all depends on the voting machines.
Texas Governor Odds – Winning Party
Republican -500
Democrat +300
Giddy-up!
Virginia Governor Odds – Winning Party
Democrat -650
Republican +375
Patrick Henry was the first governor of Virginia.
Let that sink in for a minute.
Wisconsin Governor Odds – Winning Party
Republican -130
Democrat -110
Save your cheddar for better payouts.
Georgia Governor Odds – Republican Primary
Brian Kemp -140
Vernon Jones +225
David Perdue +350
Kelly Loeffler +3300
Kandiss Taylor +5000
Ames Barnett +10000
Herschel Walker +10000
Marjorie Taylor Greene +10000
It's still a bit early to make a really informed wager, here.
Primary odds are always more difficult to gauge than general election futures in non-federal races.
Hold off until the picture gets a bit clearer.
New York Governor Odds – Democratic Primary Winner
Kathy Hochul -175
Letitia James +175
Jumaane Williams +2000
Tom DiNapoli +2500
Alessandra Biaggi +3300
Alexandria Ocasio-Cortez +5000
Bill De Blasio +5000
Kirsten Gillibrand +5000
Andrew Cuomo +6600
Laura Curran +10000
Mike Gianaris +10000
Steve Bellone +10000
Hillary Clinton +25000
Andrew Yang +30000
Scott Stringer +30000
One stinking criminal is as good as another.
2021 Joe Biden Presidential Mental Fitness Test Update
Will Joe Biden complete his first term as US President?
Yes -175 (-175)
No +135 (+135)
At this point, the question isn't whether or not Biden will complete his first term (he won't), it's whether or not you will.
$5 gas and $10 meat.
America!
Year That Joe Biden Exits Office
2025 +110(+110)
2022 +400 (+400)
Not Before 2026 +400 (+400)
2021 +550 (+550)
2023 +750 (+750)
2024 +1400 (+1400)
2022, 2023, and/or 2024. We like equal money on all three.
Will Joe Biden leave office via impeachment?
No -1200 (-1200)
Yes +500 (+500)
ಠ_ಠ
Joe Biden Approval Rating On October 1, 2021
Over 45.5% -140 (46% -140)
Under 45.5% +100 (46% +100)
Basement Joe's average approval rating represents the basement low for any sitting President in recent history, and this is despite Democrat-friendly polling PR firms openly cooking the books in his favor.
Nevertheless, take the over if you haven't already.