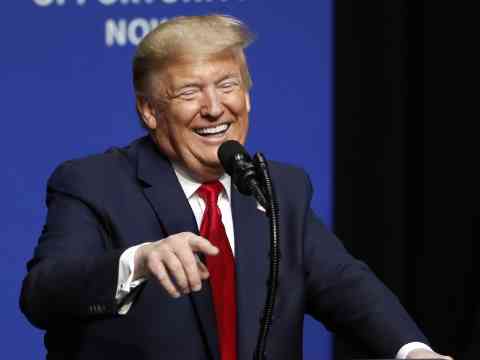 Manhattan DA Cyrus Vance has convened a grand jury to weight criminal charges against Donald Trump
Only BetOnline is currently offering odds on whether or not Trump will face charges
In the last few weeks, BetOnline has really doubled down on what promises to be a new mainstay in the realm of online political betting: indictment odds.
While the options and lines have evolved from basic props for each individual, the best Vegas election sportsbook has trimmed these down to just a few offerings.
Nevertheless, it's clear that the intrigue is spreading into something more substantial.
During the majority of the Trump Administration, it was commonplace to see Trump impeachment odds at all the major online sportsbooks with political betting lines.
However, with Trump out of office and mainstream news viewership plummeting some 70% year-to-date (LOL), the new narrative has moved from "impeachment" to "indictment."
That's only natural, as "former" President Trump can't credibly be impeached again, and the news has to have something to keep itself relevant.
So that something is indictment.
Of course, just like most of the ovine hominids among up don't know what impeachment means, they similarly don't know what indictment means.
Heck, they don't even know how to pronounce the word.
Well, we'll leave all that to Webster, because we're more interested in the Trump indictment odds (and those of his various friendlies and other celebrities that have inexplicably made the list).
The following odds are all from BetOnline, and they're sure to change by the day. So if you see a line you like, go all in ASAP.
Donald Trump Indictment Odds 2021
Will Donald Trump be indicted in 2021?
This line will hit if Trump is indicted by state or federal authorities before the end of the year.
While a federal indictment is out of the question, Manhattan DA Cyrus R Vance, Jr., has convened a grand jury to hear "evidence" about Trump's past business dealings over the next six months to see if any crimes have been committed.
There is, of course, no evidence – nor any smoking gun – of any crime, but when has that stopped the left from attacking its rivals?
We won't touch this one. Frankly, we aren't convinced New York is actually smart enough not to start a civil war.
Who will be the first person indicted in 2021?
Rudy Giuliani +100
Donald Trump +325
Glenn Dubin +500
Ivanka Trump +800
Eric Trump +1000
Leslie Wexner +1600
Alan Dershowitz +2000
Jared Kushner +2000
Roger Stone +2000
Bill Gates +2500
Donald Trump Jr. +2500
Larry Summers +2500
Leon Black +2500
Prince Andrew +2500
Bill Barr +3300
Bill Clinton +3300
Elon Musk +3300
Hunter Biden +3300
Hillary Clinton +4000
Kanye West +5000
Joe Scarborough +10000
Robert Mueller +15000
Jeff Bezos +20000
Guiliani is a good bet, here.
However, the most amusing outcome would be an Alan Dershowitz indictment.
Good luck to any prosecutor that has to deal with Dershowitz representing himself in a court of law.
2021 Joe Biden Presidential Mental Fitness Test Update
Will Joe Biden complete his first term as US President?
These Joe Biden odds remain unchanged from last week, but we don't expect the payout on the negative to remain in the positive for too much longer.
Make your move now if you're going to!