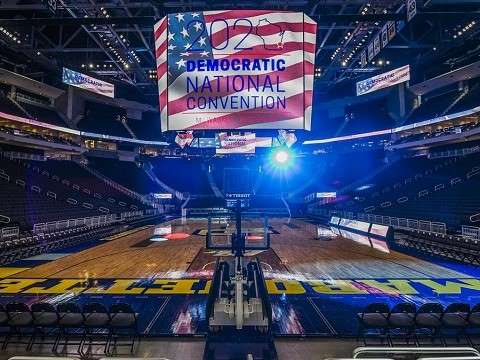 Today, the Democratic National Convention kicks off in Milwaukee, Wisconsin.
While the event is traditionally a live affair, due to the coronavirus and presumptive nominee Joe Biden's seeming inability to venture out of his basement, this year's conference will instead be mostly "virtual."
That is, various members of the political elite will be taking the stage webcam to endorse whoever will be running against President Donald Trump in November.
Primetime coverage of the convention kicks off at 7:00 PM (EST) on ABC's streaming service, with network television coverage taking place from 10-11 PM.
Why the event shouldn't be broadcast live on the east coast is anyone's guess, but the following speakers are scheduled to appear, with former First Lady turned film director Michelle Obama pegged for the keynote slot at the end of the evening:
Sen. Amy Klobuchar (D, MN)
Sen. Catherine Cortez Masto (D, NV)
New York Gov. Andrew Cuomo (D, NY)
Michigan Gov. Gretchen Whitmer (D, MI)
Rep. Jim Clyburn (D, SC)
Convention chairman Rep. Bennie Thompson (D, MS)
Former Ohio Gov. John Kasich (R)
Rep. Gwen Moore (D, WI)
Sen. Doug Jones (D, AL)
Sen. Bernie Sanders, (D/I, VT)
Former first lady Michelle Obama (D)
An interesting political prop for this show would have been whether or not a Republican would speak at the Democratic National Convention, as John Kasich has apparently changed parties – unofficially – in his bitter bid to oust his chief rival from the 2016 Republican Presidential primary.
That said, any political prop would have been interesting for this convention, because as of this writing, there are none to speak of at the three top Vegas election betting sites.
Though we're not sure what those lines could have been about, there's enough subject matter going around to at least offer fare similar to what you'd find for Presidential debate props.
These could include things like how many times "Trump" will be said, how many times "coronavirus/COVID-19" will be cited, or whether or not "Russian election interference" becomes a renewed talking point.
Perhaps there could even be props on just how badly the Bad Orange Man is trying to "rig" mail-in voting – which most Democrats incredulously claimed was an absurd impossibility until last week when the US Postal Service basically said there was no way it could handle the requisite volume of mail reliably and on time.
But more on that fresh election meddling invention later. (Or 24/7 on your mainstream cable news network or website of choice. ) 
Indeed, the only prop even tangentially related to the DNC's convention that is still on the betting boards is the following from Bovada Sportsbook:
Will Biden Drop Out Before Nov. 1, 2020?
Earlier in the election cycle, there was another popular political prop bet at the top sites that asked gamblers to choose whether or not the DNC would hold a contested or brokered convention.
Those lines are long gone, but the latter of them still has action if you got your wagers in on time.
A contested convention is no longer possible, as Biden has received far more votes than the minimum threshold to earn the nomination on the first ballot. If you chose "No" on that, you've probably already been paid out.
But a brokered convention is absolutely still in the cards, should the party convince Biden to step aside for someone with a better chance of winning. Which, of course, will only happen if the Democrats think Biden isn't a lock.
Should Biden bow out before the convention is over, the delegates would hold a vote to select his replacement.
Should Biden bow out after the convention, things get more complicated. Many voters and bettors believe that VP nominee Kamala Harris would simply become the de facto nominee.
However, that isn't the case, nor would the departing candidate be allowed to choose his or her replacement.
Instead, the DNC's old superdelegate system would be employed, wherein a few hundred party insiders gather together and choose their new ticket – including both the Presidential and VP candidates.
Thus, the prop above could be resolved within a few days, though it may also remain active up until its cutoff date of November 1.
Ultimately, given that the DNC National Convention has generated several lines during this election cycle – and due to the fact that it's still so highly anticipated – we think there ought to be more lines posted for the event.
Bookmakers, put on your thinking caps and hop to it!
Other Interesting Vegas Political Betting Lines
Aside from the Democratic National Convention and its dearth of posted odds for the avid bettor, the political pickings are generally slim at the boards this Monday morning.
Yes, Trump's reelection chances are closing in on Biden's lead by double digits in some prominent national polls, and that's finally being reflected in the narrowing gap for Biden vs. Trump, which is somewhat compelling.
But there is really only one interesting phenomenon – which is more or less unique to political betting – that you can currently see for yourself at Bovada and MyBookie (with only BetOnline straying from this peculiar trend):
US Presidential Election 2020 – Odds To Win
Via Bovada
Joe Biden -145
Donald Trump +125
Hillary Clinton +5000
Mike Pence +8000
Kanye West +10000
Michelle Obama +10000
Andrew Cuomo +15000
Nikki Haley +15000
US Presidential Election 2020 – Winning Party
Democratic Party -170
Republican Party +130
At Bovada, a wager on Joe Biden to win pays out -145, or $69 on a $100 bet. However, if you simply vote for Biden's party to win, you get much worse odds (-170) that pay out $58.80 for the same $100 bet.
Similarly, if you bet on the GOP to win rather than on Trump himself, you'll get an extra $5 for your $100 wager.
So, if you think Biden and Trump will be their parties' nominees come November 3, you should wager on Biden if you believe the left will win and on the GOP itself if you believe Trump will win.
2020 Presidential Election Winner
Via MyBookie
Joe Biden -170
Donald Trump +100
Hillary Clinton +5000
Mike Pence +8000
Kanye West +9000
Michelle Obama +10000
Mitt Romney +10000
Andrew Cuomo +12500
Nikki Haley +12500
Oprah Winfrey +15000
2020 Presidential Election – Winning Party
Democrat -170
Republican +135
At MyBookie, a similar disparity is in play, with a wager on Trump himself paying out at even odds (+100) but a wager on his party paying out 35% more at +135.
Thus, if you're going all in on Trump, you should instead go all in on the Republican party. For the same outcome, you'll get substantially more winnings to pad your bankroll.
And just for fun, the final interesting development on the Vegas odds boards is that despite sitting at the middle of the pack at both Bovada and MyBookie, Birthday Party candidate Kanye West is nowhere to be found on BetOnline's Presidential Election betting lines.
It seems bettors are saying "Oh, pleasy" to Yeezy for Peezy.