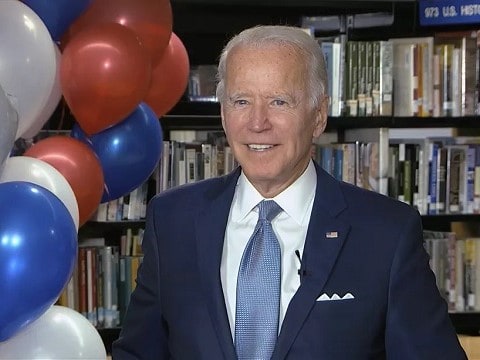 As the second round of the Democratic National Convention came to a close last night, the 2020 Presidential race – and its talking points – are coming more into focus.
For one thing, through a cringey webcam roll-call vote, Joe Biden was finally confirmed as the Democratic nominee for President.
Unfortunately, if you bet on Basement Joe to creep up the boards and take the DNC nod at any time in the last few months, you won't have made much money.
However, if you laid out some cash on the former Vice President around the beginning of the year, you're probably reading this as you wait for you local bank to open so you can LOL all the way to it.
Once pulling odds well north of +1000, Biden is now going to take on incumbent President Donald Trump mano y mano. Maybe.
Indeed, you can still wager on his chances to do that at Bovada, though the other big Vegas election sportsbooks are cleaning house and have taken most such odds down for the moment.
2020 US Presidential Election Odds
Via Bovada
Will Biden drop out before November 1, 2020?
Will Trump drop out before Nov. 1, 2020?
Right now, as far as compelling odds for the upcoming November general go, these are the best of the bunch.
That said, BetOnline seems to have taken most of its odds offline, likely working a revamped betting menu to reflect new realities. Meanwhile, MyBookie has only a single political wager posted on its website as of Wednesday morning:
Which party will win the popular vote in 2020?
Democrats -500
Republicans +275
Until last night, MyBookie had among the most Vegas political odds of any site, but these have each been taken down. Typically, when a sportsbook does that, they're calculating big shifts and require a pause in the betting action to adjust the lines adequately.
Given that MyBookie had lines for every single state's electoral outcome posted for months now, this is a curious development. Folks could be flooding either side as a result of the DNC convention.
Of course, if we had to bet (and you know we do!), we'd say that Trump is on the rise in many of the states previously favoring Biden by wide margins.
There are a few indicators that Trump's resurgence is – or could be – taking root.
First, the Wuhan coronavirus is apparently starting to wither in its (admittedly already low) infection and death rates.
Along with these drop-offs, the CDC has updated its COVID-19 testing protocol to suggest that – surprise! – repeated testing (and indeed, testing itself) may not be the most useful way to go about organizing virus-related lockdowns or quarantines.
For many onlookers, this jibes with Trump's comments from months ago, when the POTUS deemed the "testing" narrative to be politically – rather than scientifically – motivated.
Secondly, the stock market is surging, erasing all losses suffered since the onset of the coronavirus-related drop-off that began in February.
Given that the current administration's chief strength is economic in nature, this could offer a major boost to Trump's reelection odds.
And then, of course, Trump signed an executive order for more financial support to victims of the COVID-19 layoffs after a legislative bill to similar effect was railroaded by congressional Democrats.
Still, the above developments are all aspirational and indirect. Voters could view them as evidence of – or useful for – either candidate's potential surge.
The virus is dying down? Trump's strategy worked! Or, alternatively, Biden's strategy would have caused it to wane even sooner.
The stock market is at pre-coronavirus levels? Again, Trump's strategy worked – He's the man to lead the US economic recovery! Or, alternatively, the market never would have tanked in the first place under Biden.
So forth and etc.
One thing that definitely doesn't bode well for Biden's Presidential chances and that isn't measured by polls or betting lines is this data from the first evening of the three-day "virtual" affair: the Democratic National Convention ratings.
Ratings often paint an accurate picture of the popularity of or support for a candidate, and Monday's DNC convention opener – coming at a time where more people than ever are glued to their television screens – are not encouraging for the left.
On the first night, a mere 19.7 million people tuned in to the glorified chat session.
That number may seem enormous, but it's actually 24% lower than the ratings for the first night of the 2016 Democratic National Convention, which 26 million Americans watched on cable and network TV.
Given that the (apparently) hugely popular Michelle Obama anchored the first day's set of appearances and speeches this year, that could spell trouble for Biden's ability to galvanize undecided voters, which could spell trouble for his chances to actually win the race.
People, it seems, aren't all that excited by Sleepy Joe and his VP pick, Kamala Harris.
Nevertheless, the race is at least somewhat more in focus.
Hopefully, there will be no excuses or cancellations or any other shenanigans that might derail the upcoming Presidential debates, as those events will be where the rubber really hits the road.
And even more hopefully, all the best election betting sites will have plenty of debate props ready to go ASAP.
Sources: DeseretNews, Breitbart, CNBC