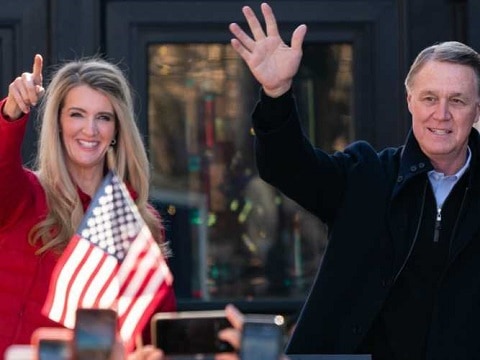 With the 2020 Presidential election behind us (kind of, sort of, maybe), all eyes are now on the pair of Senate runoff races in Georgia that will determine the balance of power in the upper chamber of congress.
And surprisingly, despite what happened in the wee hours on November 4, both Republican candidates are trending better on the Vegas election odds boards than their Democratic counterparts.
For their part, most pollsters are again showing leads for both Jon Ossoff (D) and Raphael Warnock (D), though the Trafalgar Group – 2020's most accurate polling firm – has Warnock behind Republican incumbent Kelly Loeffler by six points (52-46), while Republican incumbent David Perdue is two points up on Ossoff.
Of course, Trafalgar had President Donald Trump up in Georgia for the entire duration of the 2020 cycle, and that didn't pan out.
These Republican leads, too, are unlikely to pan out.
The simple reality is that the rules have changed, and only one party is positioned to take full advantage.
And it ain't the GOP.
They say an elephant never forgets, but we're beginning to have our doubts. Otherwise, the current Georgia Senate odds wouldn't look like this:
2021 Georgia Senate Runoff Odds
Via Bovada
Kelly Loeffler (R) -145
Raphael Warnock (D) +110
David Perdue (R) -200
Jon Ossoff (D) +150
Via BetOnline
Kelly Loeffler (R) -150
Raphael Warnock (D) +120
David Perdue (R) -190
Jon Ossoff (D) +155
Via MyBookie
Kelly Loeffler (R) -200
Raphael Warnock (D) +150
David Perdue (R) -220
Jon Ossoff (D) +155
Interestingly, since we last reported on the Georgia odds a week ago, the lines at Bovada and MyBookie haven't budged at all. They're exactly the same.
Meanwhile, bettors at BetOnline appear to have gotten the memo, at least partially.
At BetOnline, Loeffler has dropped 15 points in the last week, while Warnock has gained 15 points, for a 30-point swing. The delta remains a healthy 70 points, but it was 100 points, and there's still another week to go.
Similarly, Perdue has dropped 10 points as Ossoff has picked up five points, with the underdog closing the gap by 15 points. The delta there is 145 points, yes, but that's smaller than Trump's apparent lead going into Election Day.
Honestly, we don't really understand the bettors, here.
Heading into the November general, there were plenty of unknowns. We had no frame of reference against which to measure the impact of mass mail-in voting, nor did we have any history to draw from in terms of illegal executive and judicial rule changes to the processes in states like Wisconsin, Pennsylvania, and…Georgia.
But now we know.
And with that knowledge, if we were putting money on the GA runoffs, we'd take Warnock and Ossoff in a heartbeat.
They both have a massive edge: They don't need to actually win to actually win.
In gambling, playing against a stacked deck is a loser every time, and this deck is as stacked as any you'll ever see.
Of course, in a sane world, the bettors would probably have it right. While Loeffler isn't the most popular GOPer out there, she doesn't have the baggage that Warnock does.
She's not on camera with her then-spouse claiming persistent abuse to police responding to a domestic violence call, and she didn't preside over a religious summer camp rife with credible allegations of child molestation. She's also not an avowed socialist or race profiteer.
With Ossoff, there's less baggage, but in a non-hypocritical world, he'd have already disqualified himself by refusing to disclose his private company holdings and tax returns.
We all just spent four years listening to how wildly unethical his own party claims such secrecy is, but with the shoe on the other foot, it's a total non-story.
But regardless of these candidates' fitness for office, that's irrelevant. Such rules only matter for the party that plays by them, and the party that plays by them still hasn't learned not to.
Truly, we can't fathom why anyone would vote for either Republican in the Georgia races, but if you absolutely insist on doing so, you'll want to take Loeffler at Bovada (-145) and Perdue at BetOnline (-190) for the best payouts on either candidate.
You're going to lose, but you might as well go on the best possible odds.
On the other hand, if you're savvy, you'll put money on Warnock (+150) and Ossoff (+155) at MyBookie.
If you learn nothing else from all this, at least you'll see the value of shopping lines between different online political betting sites. Sometimes, where you bet is more important than how you bet.
With that out of the way, there are a few more political props remaining on the boards that may be of interest to those still sticking around for this unending fiasco.
At Bovada, you can wager on which party will control the Senate in the next session, with the GOP at -250 against the Democrats at +185. If you think Warnock and Ossoff are locks, this is the line you should be betting on, as it has the highest payoff.
Conversely, if you still believe that the GOP is on track, you're better off putting money on the individual candidates themselves.
That said, only one Republican has to win to seal the deal for the GOP, while the left needs a sweep. So taking the right here is a bit safer, albeit with a very high premium on that insurance.
BetOnline has a few margin-of-victory props posted for the GA runoff, and their balance of power odds re the Senate are even better than Bovada's, if you're picking the Democrats.
There, the left is trending at +220, so we recommend placing your bets with BetOnline if you plan to take this route.
Interestingly, MyBookie doesn't have any props posted, save for the 2024 Presidential election where Dementia Joe is the favorite to win (+100), while Trump isn't even on the boards.
You can get more reasonable futures at Bovada and BetOnline, where Trumps Sr. and Jr. are both represented.
At any rate, you have our advice, and we hope you take it.
After all, if you bet on the left and the left wins, you win. And if you bet on the left and the right wins, you also win.
That's the only win-win scenario in what's been a miserable 2020, and fittingly, it's going to have to happen in 2021.
Source: Qorvis Communications