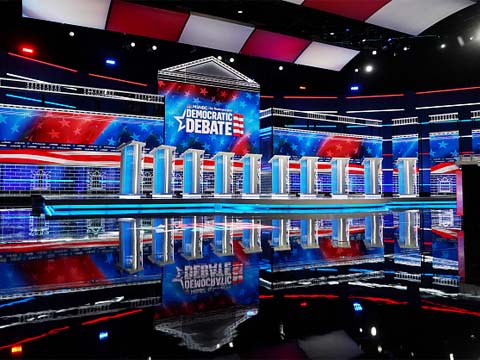 The last Democratic debate of the year (and decade) is set for this Thursday. Hosted by PBS NewsHour and Politico, the December 19 event will be held at Loyola Marymount University in Los Angeles.
This field will be the smallest of the 2020 campaign with only seven Democrats qualifying for the December debate.
December debate qualifiers with their odds of winning the nomination
Former Vice President Joe Biden (+275)
Sen. Bernie Sanders (+425)
Sen. Elizabeth Warren (+450)
South Bend Mayor Pete Buttigieg (+450)
Entrepreneur Andrew Yang (+1400)
Sen. Amy Klobuchar (+3500)
Activist Tom Steyer (+12500)
Sen. Kamala Harris previously qualified for the December debate but chose to drop out of the race earlier this month.
This debate, due to its small size, has drawn criticism for the lack of candidates of color. Every candidate from the debate, except the Asian-American Yang, is white. Even if Harris stayed in the race, that would only give the field a 25% mix of diversity.
Rep. Tulsi Gabbard (+5000), former Massachusetts Gov. Deval Patrick (+7500), Sen. Cory Booker (+10000), and former HUD Secretary Julian Castro (+12500), all candidates of color, missed the DNC-sanctioned thresholds of 200,000 unique donors and 4% support in four national polls or 6% in two early-state polls.
As a result, Booker wrote a letter to the Democratic National Committee asking that the requirements be relaxed in order to foster greater diversity on upcoming debate stages. Supported by eight other Democrats, the letter asks that candidates need only to meet the donation or polling requirements and not both.
The DNC remains steadfast in their practice, however. Responding to the letter, the party released a statement that said they will not consider making any changes.
"The DNC will not change the threshold for any one candidate and will not revert back to two consecutive nights with more than a dozen candidates. Our qualification criteria is extremely low and reflects where we are in the race."
There's still a chance that the debate may not even happen due to labor disputes between Unite Here Local 11 and foodservice giant Sodexo on LMU's campus.
According to Unite Here, the organization has been negotiating with Sodexo since March working towards a collective bargaining agreement. With no resolution having been reached, Unite Here has picketed on campus since November.
Starting with Warren on Twitter, all seven debate participants have expressed solidarity with Unite Here and have even said they will skip the debate if no agreement is reached between the two parties.
With or without a December debate, the political betting odds will be available for wagering. As of right now, Biden leads all Democrats with +275 odds of earning the Democrat nomination followed by Sanders at +425.
The full list of the candidates and their odds are below.
Democratic nomination odds
Joe Biden +275
Bernie Sanders +425
Elizabeth Warren +450
Pete Buttigieg +450
Michael Bloomberg +900
Hillary Clinton +1100
Andrew Yang +1400
Amy Klobuchar +3500
Tulsi Gabbard +5000
Deval Patrick +7500
Cory Booker +10000
Tom Steyer +12500
Julian Castro +12500
John Delaney +15000
Marianne Williamson +15000
Michael Bennet +20000