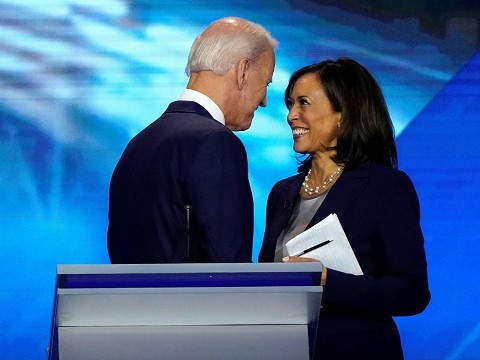 There seem to be a lot of sure things this election season, especially as we get closer to the November general.
Typically, bettors go all-in on a sure thing, and sports betting – of which politics is a part – always been an industry driven by hot tips and can't-miss wagers.
Except, of course, that they often miss. Bigly.
With that in mind, here are three political betting lines you probably think you should put a stack of cash on but that you almost certainly shouldn't:
Sure Thing Number One: Biden 46
Right now, there are two scenarios getting "foregone conclusion" status at most Vegas election betting sites. The first, of course, is the most tenuous: the winner of the 2020 Presidential election.
With more negative press than ever – and more coronavirus and protest/riot turmoil than even the most ardent supporter of "burn it all down" could have hoped for – Donald Trump's betting odds have taken a brutal turn for the worse.
At Bovada and MyBookie, Trump is down 80 points to Biden on the odds boards. At BetOnline, Trump is trailing Biden by 100 points. These are Hillary Clinton circa 2016 numbers.
Of course, Hillary had the disadvantage of not having race riots, protests, and a pandemic taint the Obama administration to the point where she could play savior. Biden – at least theoretically – has that.
But even though Biden seems like a sure thing, there are a few things going against him.
First and foremost, he is obviously in an age-related or medically-related mental decline. Even in left-leaning states, the majority of polled voters express doubt that he has the intellectual fortitude to carry out the duties of the Presidency.
Secondly, Biden is literally hidin.' He hasn't had a press conference in months, and he's rarely been seen outside of the occasional livestreamed townhall – which always seems beset by "technical difficulties" the moment he flubs a line or cites a statistic that's off by a factor of 10.
While the Vegas Biden odds are at their apex (we think), the thing that can crush him in the polls and on the betting boards are the three tentative debates scheduled between himself and The Donald.
We're of the opinion that these debates will not be held (which is a betting line we'd like to see offered) – that they'll be moved to a prerecorded "virtual format" where cutaways can hide unfavorable Biden remarks or that they'll be canceled outright. T
here are plenty of excuses the Biden campaign could use, from the threat of COVID-19 to the fear that the debates will invite protesters to spread the disease and/or destroy nearby buildings and monuments to the simple gambit that debating Trump would be "beneath" Biden's dignity.
The one thing the Biden 2020 campaign can't afford is to let Big Don roast him alive on the debate stage.
Of course, that might give Trump the opening to speak for Biden via ads, op-eds, and similar avenues, painting him exactly as he wants the American people to view Creepy/Sleepy/Basement/Dementia Joe.
Debating Trump will cause Biden's odds to crash. Not debating Trump will probably cause Biden's odds to crash.
A Biden presidency, to many Americans, seems like a sure thing. The #Biden2020Landslide hashtag is trending better than the #Trump2020Landslide hashtag on Twitter.
But before you put any money on Uncle Joe – especially with unfavorable odds like the -150 he's pulling at Bovada – you need to think long and hard about how long he's going to be so elevated.
Sure Thing Number Two: Kamala For Vice President
The second sure thing is a Kamala Harris VP selection.
As Joe Biden already committed to picking a female Vice President, there's never been much doubt that he'd maintain that. And indeed, his campaign is only interviewing and vetting women. Specifically, black women.
Harris, as a California Senator and former Presidential candidate herself, is the most high-profile such politician around. She's an enormous favorite:
2020 Democratic Vice-Presidential Nominee
Via Bovada
Kamala Harris -110
Val Demings +600
Susan Rice +700
Elizabeth Warren +1000
Tammy Duckworth +1400
Keisha Lance Bottoms +2000
Michelle Obama +2200
Michelle Lujan Grisham +3000
Stacey Abrams +3500
Karen Bass +4000
Hillary Clinton +8000
Catherine Cortez Masto +10000
Gretchen Whitmer +10000
Tammy Baldwin +10000
Andrew Cuomo +15000
Tulsi Gabbard +15000
Harris has been atop the Vice Presidential odds boards for months. However, she's also not a sure thing, despite her 710-point lead on Florida congresswoman Val Demings.
Harris, in a word, has baggage, and she won't be able to outrun it.
Given the political climate and anti-police movement circulating in America, these skeletons are pretty damning and would give the Trump campaign significant ammunition should Harris be Biden's selection:
Harris' Presidential campaign never recovered.
A Harris VP nod would come under similar fire, amplified by the current discord between the black community and law enforcement.
Remember: All Harris does is give Biden California. He doesn't need her. Yes, she's now teamed up with BLM to declare her support for reforming a criminal justice system she led as Attorney General in California, but again, the baggage is heavy.
Demings is the far better pick, and if Uncle Joe opts for the Biden-Harris bumper sticker, you should probably bump your bet to the other side before the odds collapse under their own weight.
Sure Thing Number Three: A Democrat or Republican Presidency
Get a load of this, care of BetOnline:
2020 Electoral College Winner
Republican or Democrat Nominee -20000
Field +2500
This is the only real sure thing that's ever been posted on any betting site in the history of the entire institution of online gambling.
No US third party candidate has ever come remotely close to winning a Presidential election, and lovable as he might be, Vermin Supreme 2020 isn't happening. The Libertarian candidate nobody ever heard of is also not going to win in November, nor is whichever vote leech the Green Party gets onto the ballots.
Of course, in the theme of sure things that aren't, this is a bet absolutely not worth taking.
Why?
Well, you can certainly make money on this wager, but you can't make very much of it.
BetOnline has a $250 betting limit here, which means that if you bet the maximum on a Republican/Democrat candidate to win the election, you will earn a whopping $1.25.
As an investment – which sure things ideally ought to be – this is a hard pass. If you've got $250, chances are you can turn that into $251.25 by any of a million more immediate means.
That said, if you've accepted a sports betting bonus at BetOnline, you may be able to apply this $250 wager to your rollover requirements, making it valuable in that regard.
But as a bet to place for a proper payout, it's the most useless sure thing going.
Ultimately, when wagering on politics or sports, you need to be careful concerning anything that looks like a dead cert. Favorites have cost more bettors more money than underdogs ever will, and the 2020 Presidential election is no different.