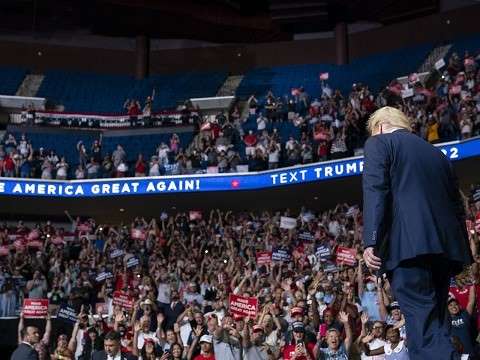 Oof.
KAG is off to a bad start.
The yugley anticipated Tulsa Trump rally, which had nearly a million tickets requested for a venue that holds only 19,000 people, was, by most reports, only filled to two-thirds capacity.
While the mainstream media celebrated the lack of attendance it actively sought to discourage with coronavirus fearmongering (strangely absent from their coverage of the nationwide anti-police protests), foreign social media platform TikTok also seems to have played a role, with thousands of users around the world claiming to have put in fake ticket requests with the Trump campaign.
At the same time, of course, there is the competing idea that Trump is simply no longer popular enough to sell out the domes. And for Americans putting money on the line at Vegas election betting sites, that seems to be the most compelling argument.
Try as he might to walk down the ramp, Trump is slipping like crazy.
2020 US Presidential Election Winner
Via Bovada
Joe Biden -130
Donald Trump +115
Hillary Clinton +5000
Mike Pence +5500
Michelle Obama +8000
Andrew Cuomo +10000
Nikki Haley +12500
2020 Odds to Win the Presidential Election
Via BetOnline
Joe Biden -160 
Donald Trump +130    
Hillary Clinton +1600
Andrew Cuomo +5000   
Michelle Obama +7500 
Mike Pence +10000    
The Rock +10000
Mark Cuban +12500    
Elizabeth Warren +15000   
Nikki Haley +15000   
The delta between Trump and presumptive Democratic nominee Joe Biden – who hasn't been seen or heard from in weeks – is the largest it's ever been at the two biggest online political betting sites.
At Bovada, Trump is trailing Biden by 45 points on the odds boards, while he's trailing Biden by a whopping 90 points at BetOnline. Only MyBookie still has Trump up on Biden, -120 to -110, where he's held steady for weeks.
Of course, this groundswell of change isn't reflected only in the Presidential election odds.
After being a bona fide lock to maintain Senate control in 2020, the Republicans are now trailing the Democrats by 30 points at Bovada, while BetOnline has taken down its Senate election odds altogether:
2020 US Senate Control
Democrats -130
Republicans +100 (EVEN)
2020 House And Senate Balance Of Power
Democratic House, Democratic Senate -125
Democratic House, Republican Senate +175
Republican House, Republican Senate +500
Republican House, Democratic Senate +6600
Though these lines are favorable for Democrats, they're not favorable for Democrat bettors, and the Trump odds currently available will give Vegas election gamblers their biggest payouts to date if the Teflon Don is able to weather the COVID-19 and protest/riot storms gripping the country.
Naturally, there are some reasons to believe he will do just that.
The biggest issue, for the time being, is neither the new asymptomatic coronavirus cases spiking in Trump-dominated states, nor is it the impending release of the already-leaked John Bolton "memoir" (aka Pee-Pee Dossier 2: Wetter and Better).
While the latter will surely lead to more fruitless investigations in the US House (and perhaps another pre-election Trump impeachment effort), the protests and riots – and the summary lawlessness that is actively being supported by certain elected officials in leftist-dominated municipalities – may have the biggest election ramifications for the 2020 general in November.
In Seattle, the CHOP Zone – formerly dubbed the CHAZ – has already seen multiple shootings, beatings, robberies, and rapes, and police are being blocked from investigating or responding to these.
For the right, this is a microcosm of what America can expect from such Democratic initiatives as defunding law enforcement, and people are waking up to the reality that it's a scary sight.
In the past, Trump has implored Seattle and Washington leadership to restore order to the Third Precinct area where the CHOP is installed. But at his Tulsa rally, he opined that perhaps it was more beneficial to let the "experiment" continue.
"I may be wrong, but it's probably better for us to just watch that disaster."
There's another experiment worth watching, too.
The George Floyd/BLM protests have moved beyond the history revisionism of defacing and tearing down Confederate monuments to doing the same to statues of Abraham Lincoln, George Washington, Thomas Jefferson, Teddy Roosevelt, and even famous abolitionists like Matthias Baldwin and John Greenleaf Whittier.
The narrative is no longer about alleged systemic racism in the US – it is now about reducing American history to a falsity in order for a new political system to take root.
That system has a name, and American voters are still by and large fundamentally against its implementation as a governmental structure in the US. Allowing the foot soldiers of said system to run amok could be a major coup for the Trump campaign heading into 2020.
Finally, there is the issue of Joe Biden's apparent cognitive decline, which a majority of Americans on both sides of the aisle believe to be related to early stages of dementia.
The influential Joe Rogan even chimed in on the problem with the candidate via his popular podcast:
There is ample reason to believe that Trump voters are staying quiet for now but will show up en masse at the voting booths in November.
If you want betting advice – and not political advice (as we all have different ideas in that realm, and friends shouldn't ever discuss politics!) – we suggest jumping on anything and everything Trump at the betting boards ASAP.
His odds have already fallen past where we expected them to bottom out, so waiting a day or two might not be a bad idea, but the payouts are compelling where they stand right now.
We're not yet sold on Biden, and we're certainly not sold on him at -130 to -160 odds.
If you think the Trump Train is the money train, today's a good time to invest.
But whatever you do, get those bets in before the first Presidential debates.