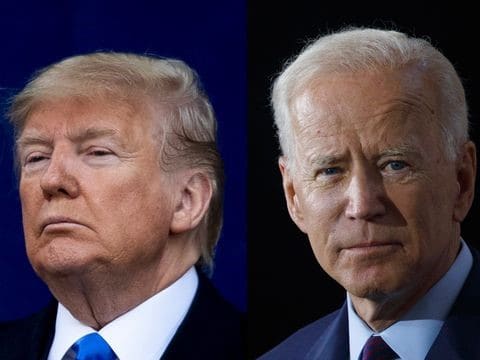 Today marks the first time in the 2020 Presidential election cycle that Joe Biden has tied or led Donald Trump at all three of the major US sportsbooks that offer Vegas election odds.
It took a month or so, but MyBookie finally has Biden tied with Trump on the odds boards after the latter was holding steady at about 10 points out in front.
Meanwhile, the deltas between the challenger and the incumbent have grown at Bovada and BetOnline, to 60 and 90 points, respectively:
2020 Presidential Election Winner
Joe Biden -140
Donald Trump +120
Joe Biden -160
Donald Trump +130
Joe Biden -120
Donald Trump -120
We've written before about this being a buyer's market for those bettors who think Trump will win reelection, and that's reinforced by the above numbers and Trump's continued decline.
On the other hand, Biden's decline – the obvious cognitive one – has seemed to have no impact on public polls and betting odds.
Of course, that's because Hidin' Biden hasn't been seen or heard from in several weeks. As long as he does literally nothing, his odds go up. This should be the easiest, most relaxing campaign ever.
But Biden won't be able to do literally nothing for much longer.
Eventually, Sleepy/Creepy/Basement/Uncle/Alzheimer's Joe will have to get on the stage and debate Agent Orange in front of a national television audience.
The three Presidential debates are scheduled for the following dates and venues, and you can be sure that every betting site will have Vegas political props posted on the events:
September 29, 2020 – University of Notre Dame, South Bend, IN
October 15, 2020 – Adrienne Arsht Center for the Performing Arts, Miami, FL
October 22, 2020 – Belmont University, Nashville, TN
The Trump campaign, for its part, had requested more showdowns than the trio scheduled by the Commission on Presidential Debates, with relaxed rules giving the candidates more time to respond and ask on-the-spot questions to one another.
This was rejected by the commission, meaning that – as ever – moderators will decide every topic and frame every answer in a narrative of one kind or another.  
There are a couple of interesting takeaways to be gleaned from the above debate schedule and the pending locations that bettors need to be aware of.
Trump, obviously, is banking on mopping the floor with a doddering, befuddled Biden in these events, which is why we recommend wagering on The Donald's odds before the debates are actually held. His odds will likely go up after them, provided he's able to expose Biden's Achilles' brain.
But will the debates actually even happen?
We're still not convinced, and with the much-hyped fears of the coronavirus "second wave" – particularly in red states like Florida and Tennessee – it's easy to see how these venues could cancel the functions at the last minute, putting the brakes on the Trump vs. Biden televised arguments.
In fact, we've just seen it with the University of Michigan, which was the original host of the October 15 debate.
Trump won Michigan by 0.23% of the vote in 2016, and the state has seen a shift to the right – at least in some areas – due to Gov. Gretchen Whitmer's handling and enforcement of COVID-19 lockdown mandates. But it's largely favored as a blue bloc in 2020 – a foregone conclusion for the Democrat Party (-340 at Bovada).
The state – from a political standpoint – had nothing to gain by hosting a Presidential debate, especially with the current tumult in the local government. Thus, the venue was moved to Florida, which is the crown jewel of the current cycle.
But moving venues is only part of the equation.
Under normal circumstances, the fact that all three debates are being held in Republican-controlled states would be a red flag for the GOP.
Because the news networks hosting these events can determine their audience makeup, anyone suspicious of meddling and interference can see just how easy it would be to pack a leftist crowd into the hall to boo and hiss the right's candidate in a state that is mostly right-leaning.
This paints the picture of a shifting landscape, convincing many onlookers – and thus, many election bettors – that the boots on the ground in their neck of the woods are marching the other way. It's not an unusual tactic.
But this year, it might be a useless one. There is virtually no chance these debates will have live audiences of any kind – left, right, or center.
And again, that's if they happen at all.
If the best Vegas election betting sites were willing to put up a prop asking whether or not these Presidential debates would go on as planned – as opposed to, say, being held via Zoom conferences where any uncomfortable stumble or faux pas could be cut immediately by way of "technical difficulties" – we'd probably take the "no."
In any case, the debates are about three months away. Maybe.
So between now and then, how much farther can Trump fall, and how much bigger can his payout get?
Today, that's the chief question, and the right answer could pay out a nice chunk of change.