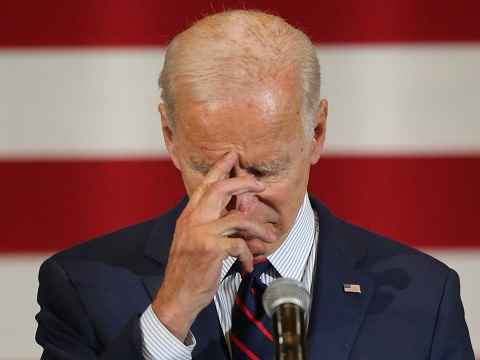 It may only be a few months into the Joe Biden "Presidency" (or "Joe Biden" Presidency – take your pick), but the buzz is already building bigly for the 2024 election.
Of course, Vegas political bettors aren't the only ones interested in the 2024 race, as House and Senate Democrats are busy rewriting federal election laws to make mail-in voting mandatory in all 50 states.
This, despite the Constitution leaving such elections – and the rules thereof – to the purview of individual state legislatures.
The rationale, of course, is that "voter suppression" must be addressed.
Odd indeed that this would be a priority after voter turnout in 2020 was allegedly higher than any other US election ever by a wide margin, in some areas even settling in at well over 100%, which seems tough to beat.
But alas, here we are.
On the flipside, more than a few states are busy passing their own voter reform laws, as the general consensus among the actual populace is that mass voter fraud is actually kind of a problem.
And if these states don't get their own houses in order, the narrative is that the GOP will never be a part of those houses again.
Gamblers, for their part, don't seem quite ready to believe that all is lost for the right, however.
But they overwhelmingly seem to believe that if the right's ship is to be righted, it'll be Cap'n Don to do it (last week's odds in parentheses):
2024 Presidential Election Odds
2024 Presidential Election Winner
Kamala Harris +450 (+450)
Joe Biden +550 (+550)
Donald Trump Sr. +800 (+800)
Nikki Haley +1200 (+1200)
Mike Pence +1600 (+1600)
Michelle Obama +2000 (+2000)
Alexandria Ocasio-Cortez +2500 (+2500)
Pete Buttigieg +2500 (+2500)
Ron DeSantis +2500 (+2500)
Andrew Yang +3000 (+3000)
+ More
2024 Republican Candidate
Donald Trump +250 (+250)
Ron DeSantis +600 (+600)
Nikki Haley +800 (+800)
Mike Pence +1000 (+1000)
John Kasich +1400 (+1400)
Ted Cruz +1400 (+1400)
Tom Cotton +1400 (+1400)
Dan Crenshaw +1600 (+1600)
Josh Hawley +2000 (+2000)
Mike Pompeo +2000 (+2000)
+ More
2024 Presidential Election Winner
Kamala Harris +400 (+400)
Joe Biden +450 (+450)
Donald Trump Sr. +650 (+700)
Ron DeSantis +1000 (+1200)
Nikki Haley +1200 (+1200)
Mike Pence +1400 (+1400)
Alexandria Ocasio-Cortez +2500 (+2500)
Michelle Obama +3300 (+3300)
Candace Owens +4000 (+4000)
Donald Trump Jr. +4000 (+4000)
+ More
2024 Republican Candidate
Donald Trump Sr. +300 (+300)
Nikki Haley +500 (+500)
Ron DeSantis +500 (+500)
Mike Pence +600 (+600)
Kristi Noem +1800 (+1800)
Ted Cruz +1800 (+1800)
Candace Owens +2000 (+2000)
Donald Trump Jr. +2000 (+2000)
John Kasich +2000 (+2000)
Josh Hawley +2000 (+2000)
+ More
As you can seen, most candidates haven't budged in the last few days.
However, odds for former President Donald Trump and rising star Ron DeSantis have crept upward at BetOnline, and there are even rumors that DeSantis would be Trump's favored running mate in 2024.
Further, if Trump doesn't run, DeSantis seems to be the betting favorite to win the GOP ticket (though we still like a Trump-DeSantis ticket for Don Jr., who is a very compelling pick at the above Vegas election sportsbooks given his longshot odds).
In any case, Trump The Elder has been making waves over the past several weeks, endorsing various politicians for various posts and calling on the RNC to stop bandying his name about when he hasn't vetted a cause or signed off on a candidate.
This indicates that The Bigger Guy™ might be mounting a challenge to The Big Guy™ come the inevitable Round 2.
That said, Biden probably may not even be around in 2024, as evidenced by the betting boards at BetOnline.
Of the three main election odds sites, only BetOnline AG has a running line on whether or not the current POTUS will "complete" (i.e. survive) his first term.
While Biden impeachment odds were once prominent when it seemed as though the Burisma scandal would come back to bite the old guy in his Depends, that ship has apparently sailed.
The Democratic Party and its lapdog media no longer need such a Sword of Damocles hanging high, as Father Time is ultimately better situated to get the placeholder out of the White House.
2021 Biden Presidential Mental Fitness Test Update
Via BetOnline Sportsbook
Will Joe Biden complete his first term as US President?
Yes -175 (-150)
No +135 (+110)
After settling closer to a rational line slightly more reflective of obvious reality, bettors seem to now think Basement Joe will remain in lockdown long enough to make it through his first term.
After all, the current Commander in Chief has set a couple of modern era records in his first two months in office, as he's become the first US President in over 100 years to neither hold a press conference nor deliver a State of the Union Address (or Join Session of Congress Address) within his first 30 days in office.
Those records are fast approaching the 60-day mark, and with each passing day, Biden is losing the actual ability to stand in front of a podium and speak even remotely cogently.
For the American people, that's unfortunate enough, but for gamblers, it's even more salt in the wound. Historically, SOTU political props are often the highlights of non-election years for political bettors.
Still, the lack of these events makes sense when viewed in context. Here's some recent footage of President Magoo:
Uh, uh, uh, uh…
This guy's Butt-Head impersonation is better than his American President impersonation.
But unlike the classic cartoon characters Biden physically resembles, he won't withstand the test of time.
And neither will those favorable betting odds for those who can see the writing on the wall.
Source: The Gateway Pundit