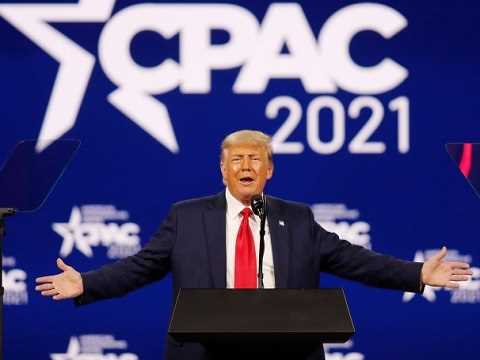 This weekend, a few events transpired that directly impact the political and entertainment betting markets.
Of course, these markets are, for all intents and purposes, the same thing – at least in the political "offseason."
First, we had CPAC 2021, which took place on Sunday afternoon.
Former President Donald Trump, the candidate who got both the most incumbent votes and the most Republican votes in United States history but still lost to a shadow campaign helmed by a primary dropout and a doddering old shell of a grifter, was on hand to deliver a speech.
In it, as expected, he let slip something of his future plans.
First, Trump put the lid back on any talks of forming his own political party.
While this is a curious strategy, it is presumably a branding issue and nothing more.
Infrastructurally, it may be easier to simply transform the majority of the GOP into an America First™ party for the everyman than it would be to start an entirely new party and erode the GOP away over a generation.
It'd certainly be faster, if not better.
Plus, the time to start a new party (or two) was actually 2016, when we could have seen an organic Presidential race between the Democrats (Hillary Clinton), the Republicans (Ted Cruz), the Trump Populists (Trump), and the Socialists (Bernie Sanders).
Hillary would have won with something like 30-35% of the vote, and double-digit support would've come in for all four candidates. The uniparty would be dead, we'd never have a fake partisan "mandate" ever again, and the new party alignment would trickle down to the local level almost immediately.
Today, four years on, we'd all be comfortable and familiar with the "new normal" of four distinct political parties.
We'd also not be faced with the New Normal™ of COVID masks, closed schools, record unemployment, record welfare enrollment, etc.
Without a bogeyman in office for a partisan media to hammer during an election year, the coronavirus is just a swine flu (H1N1, H1B, etc.), a bird flu, SARS, Zika, Mad Cow, etc. In the headlines for a couple of weeks, and then everyone gets on with their lives.
The sheer mendacity of it all is enraging.
Nevertheless, at CPAC, The Donald has implied that he may very likely run for office in 2024:
"I may just decide to beat them for a third time."
An informal straw poll taken after Trump's speech indicates that the voters would like to see a Trump-DeSantis ticket, after the latter – Governor Ron DeSantis of Florida – has become the fastest-rising star in the party, taking no lip from the FUD/FUDD media.
Birds of a feather, and whatnot.
Indeed, DeSantis' skyrocketing popularity is reflected in the following Vegas election odds for the 2024 Presidential race, and you can see that he's trending right behind Trump on the GOP side.
The following fresh Presidential odds are listed with their previous odds (posted prior to CPAC 2021) in parentheses.
2024 Presidential Election Odds
2024 Presidential Election Winner
Kamala Harris +450 (+450)
Joe Biden +550 (+550)
Donald Trump Sr. +800 (+800)
Nikki Haley +1200 (+1200)
Mike Pence +1600 (+1600)
Michelle Obama +2000 (+2000)
Alexandria Ocasio-Cortez +2500 (+2500)
Pete Buttigieg +2500 (+2500)
Ron DeSantis +2500 (N/A)
Andrew Yang +3000 (+3000)
+ More
2024 Republican Candidate
Donald Trump +250 (+400)
Ron DeSantis +600 (+1800)
Nikki Haley +800 (+600)
Mike Pence +1000 (+500)
John Kasich +1400 (+900)
Ted Cruz +1400 (+1200)
Tom Cotton +1400 (+1400)
Dan Crenshaw +1600 (+1600)
Josh Hawley +2000 (+2000)
Mike Pompeo +2000 (+2000)
+ More
2024 Presidential Election Winner
Kamala Harris +400 (+400)
Joe Biden +450 (+500)
Donald Trump Sr. +700 (+1200)
Nikki Haley +1200 (+1400)
Ron DeSantis +1200 (+2500)
Mike Pence +1400 (+1200)
Alexandria Ocasio-Cortez +2500 (+2500)
Michelle Obama +3300 (+3300)
Candace Owens +4000 (+5000)
Donald Trump Jr. +4000 (+4000)
+ More
2024 Republican Candidate
Donald Trump Sr. +300 (+650)
Nikki Haley +500 (+500)
Ron DeSantis +500 (+1400)
Mike Pence +600 (+200)
Kristi Noem +1800 (+2000)
Ted Cruz +1800 (N/A)
Candace Owens +2000 (+2000)
Donald Trump Jr. +2000 (+2500)
John Kasich +2000 (+2000)
Josh Hawley +2000 (+2000)
+ More
Interestingly, MyBookie Sportsbook currently doesn't offer any lines on Presidential candidates, as they've taken their odds down since CPAC.
This, presumably, is to recalculate their listings, as the site had (in)famously left Trump – now the undisputed 2024 GOP favorite – off their boards since January.
We expect Trump to be at the front of the pack once MyBookie election odds are posted again.
Another interesting event took place right after CPAC, when the 78th Golden Globe Awards aired Sunday evening.
Now, despite not seeing a single show or film featured in any of the 2021 Golden Globe categories, we offered some general advice using our political betting strategies.
For our rationale on each pick, please check out our article on the politics of entertainment betting, where we've also got all the pre-show odds (courtesy of Bovada LV) for each individual award. Winners are in bold.
So, let's see how we did.
2021 Golden Globes Results
Best Film Comedy/Musical
Hamilton -175
Borat Subsequent Moviefilm +175
The Prom +700
Palm Springs +1500
Music +5000
Here, we picked Hamilton, but the illegal anti-Trump Borat "in kind" campaign contribution was rewarded for its "help" to oust the Bad Orange Man.
We banked on that election assistance to help Sacha Baron Cohen win Best Actor (Comedy), but we figured Hamilton would get a fresh shot in the arm.
Best Film Comedy/Musical Actor
Sacha Baron Cohen (Borat Subsequent Moviefilm) -175
Lin-Manuel Miranda (Hamilton) +275
Dev Patel (Personal History Of David Copperfield) +600
Andy Samberg (Palm Springs) +800
James Corden (The Prom) +2000
We nailed this one, but since it was the favorite, it's hard to take too much credit.
Best Film Comedy/Musical Actress
Maria Bakalova (Borat Subsequent Moviefilm) -400
Michelle Pfeiffer (French Exit) +450
Anya Taylor-Joy (Emma) +800
Rosamund Pike (I Care A Lot) +1600
Kate Hudson (Music) +2000
We picked Maria Bakalova, but the category had very little political prominence given the similarities of all parties nominated.
Best Film Director
Chloe Zhao (Nomadland) -500
David Fincher (Mank) +550
Aaron Sorkin (The Trial Of The Chicago 7) +850
Regina King (One Night in Miami) +1600
Emerald Fennell (Promising Young Woman) +1800
Our words, verbatim:
"With Nomadland, we have a Chinese lady directing a 'neo-Western drama' about an empowered woman leaving behind her small-town life to become a nomad or something.

If that's not good enough for Best Director in 2021, nothing is."
Duh.
Best Film Drama
Nomadland -170
The Trial Of The Chicago 7 +150
Promising Young Woman +850
Mank +2000
The Father +5000
We liked the runner up, as it ticked all the right boxes for politics in film. This was a tough loss.
Best Film Drama Actor
Chadwick Boseman (Ma Rainey's Black Bottom) -850
Anthony Hopkins (The Father) +650
Riz Ahmed (Sound Of Metal) +1100
Gary Oldman (Mank) +1600
Tahar Rahim (The Mauritanian) +3000
Chadwick Boseman was the most obvious pick after Chloe Zhao, and we said as much:
"Since his passing, Boseman has been lauded as some sort of groundbreaking icon. That narrative will continue…"
Best Film Drama Actress
Carey Mulligan (Promising Young Woman) -200
Viola Davis (Ma Rainey's Black Bottom) +260
Frances McDormand (Nomadland) +400
Vanessa Kirby (Pieces Of A Woman) +2500
Andra Day (United States Vs. Billie Holiday) +4000
While we picked Viola Davis at +260, we added this: "And to hedge your bet, throw a few bucks on Andra Day while you're at it."
If you did that, you made out like a bandit with those +4000 odds.
This one piece of advice – this One Neat Trick™ – makes up for all the losses we incurred betting on this thing.
Sometimes, a longshot is a lock.
Best Film Supporting Actor
Daniel Kaluuya (Judas And The Black Messiah) -140
Leslie Odom, Jr. (One Night in Miami) +250
Sacha Baron Cohen (The Trial Of The Chicago 7) +350
Bill Murray (On The Rocks) +1400
Jared Leto (The Little Things) +2000
We picked Daniel Kaluuya at -140, as the Fred Hampton story – likely filled with embellishments and blatant fantasy in this rendition – is nevertheless timely.
When a movie is literally made to win awards, it usually wins awards.
Best Film Supporting Actress
Amanda Seyfried (Mank) -130
Olivia Colman (The Father) +300
Glenn Close (Hillbilly Elegy) +333
Helena Zengel (News Of The World) +1200
Jodie Foster (The Mauritanian) +1200
This one was another reasonably apolitical grouping, and without a clear political narrative to drive a good pick, we just took the biggest dog of the bunch.
It was, unfortunately, the wrong biggest dog of the bunch.
But the strategy was mostly sound, so we're happy.
With the Golden Globes out of the way for another year, we close with our running Biden Mental Fitness Tracker.
Here's how the Biden odds look for his chances to complete his first term. The previous odds, from last week, are in parentheses.
Spoiler alert: They're falling.
2021 Biden Presidential Mental Fitness Test Update
Via BetOnline
Will Joe Biden complete his first term as US President?
Yes -150 (-175)
No +110 (+135)
After another classic episode of Weekend At Biden's, the currently installed POTUS is quite obviously in the later stages of dementia or some other roughly equivalent brain disease.
The guy is just gone, and the media can't hide it anymore. If you have a soul, this stuff is only going to get harder and harder to watch.
Elder abuse is a pretty heartless thing.
But they trotted him out there, so here's the latest Biden flubfest, replete with every kind of confusion you can imagine. It's a good thing those Nuclear Codes™ aren't actually a thing, or else we'd be in real trouble…
Source: The Gateway Pundit