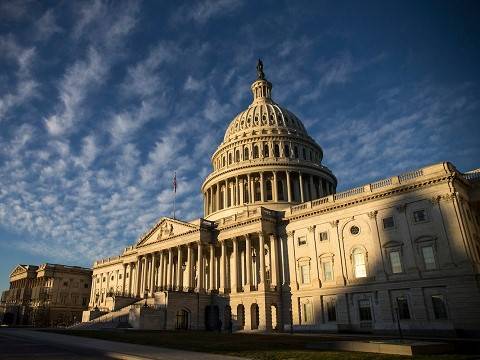 Finally!
For most of the 2020 election cycle, sportsbooks have been focused on the main event – the Presidential race. And for good reason.
However, there are plenty of important Congressional races – particularly in the United States Senate – that could have just as much bearing on the immediate political future of America as the Presidential election itself.
And bettors have been trying to put money on those for months.
Now, they can.
This morning, BetOnline unveiled its first batch of US Senate betting odds, focusing on races that either feature prominent incumbents or on seats that are actually up for grabs.
Remember, the Democratic Party only needs to pick up three or four seats to take majority control of the Senate. And given that they're likely to retain the US House, the Senate is the path to power for the party – perhaps even more so than the presidency itself.
Per the Washington Post, nine of the following 11 races could flip one way or the other, while two of them – Kentucky and South Carolina – should easily go to the incumbents and are merely included due to the popularity (or unpopularity) of the candidates involved.
2020 US Senate Election Odds
Via BetOnline
Kentucky Senate Race
Mitch McConnell -1000   
Amy McGrath +550 
South Carolina Senate Race
Lindsey Graham -400   
Jaime Harrison +250
Alabama Senate Race
Tommy Tuberville -1200   
Doug Jones +750
Arizona Senate Race
Mark Kelly -500   
Martha McSally +300 
Colorado Senate Race
John Hickenlooper -900   
Cory Gardner +500 
Iowa Senate Race
Joni Ernst -140   
Theresa Greenfield +100    
Kansas Senate Race
Roger Marshall -500   
Barbara Bollier +300   
Maine Senate Race
Sara Gideon -300   
Susan Collins +200   
Michigan Senate Race
Gary Peters -425   
John James +265   
Montana Senate Race
Steve Daines -175   
Steve Bullock +135   
North Carolina Senate Race
Cal Cunningham -200   
Thom Tillis +150
Of the above, McConnell and Graham are definitely solid bets, for what little they pay out.
The biggest upset could be Sen. Martha McSally's in Arizona, where her challenger – an anti-gun astronaut who uses his brain-damaged wife as a political prop – is outraising and outspending her substantially.
Still, that AZ seat is expected to turn blue, much the same way that the AL seat is expected to turn red with an easy touchdown for Republican challenger Tommy Tuberville.
The other races are all tossups, per the Washington Post's analysis. For whatever that's worth.
While the above lines on individual races are interesting, BetOnline currently isn't offering odds on the balance of power in the upper chamber.
Fortunately, Bovada is, and the GOP is closing the gap.
Just a month ago, the Democrats were leading by a wide margin at the boards, trending at -185 to the Republicans' +140. The race is closer now, according to the money coming in from bettors:
2020 US Senate Control Odds
Via Bovada
Democrats -130
Republicans +100 (EVEN)
It's truly refreshing to finally get some congressional action, and the lines on these contested Senate races are interesting and germane, especially given their import re Senate control and the idea of a Trump or Biden "mandate" in November.
However, the most interesting bet of the day – and one that might only be up for a day, given the shelf life of election prop bets (so wager now!) – is this Presidential debate prop from Bovada:
2020 Election Special
Will Joe Biden Boycott Any Of The 3 Scheduled 2020 United States Presidential Debates?
Rarely is the underdog side of a wager a sure thing, but this sure looks like just such a thing.
At +220 odds, this line carries a maximum bet limit of $250, for a potential payout of $550.
We're not suggesting betting the max here, but if you've got 20 bucks burning a hole in your Bovada wallet, this seems like a safe wager. There is very little chance that Biden will actually participate in all three debates.
The only issue here is the wording of the proposal.
What exactly does "boycott" mean?
Here's the official definition from Oxford Languages:
boy·cott /boiˌkät/

verb

withdraw from commercial or social relations with (a country, organization, or person) as a punishment or protest.
If the bet's asking whether Biden will refuse to debate Trump on the grounds that the Bad Orange Man is an illegitimate President beneath the dignity of a reasoned back and forth with a "real" politician, that's a boycott.
Similarly, if there's some coincidental, not-at-all-suspiciously-well-timed-and-coordinated outburst of civil unrest at the debate site to which Sleepy Joe can point and say "I refuse to debate because I stand in solidarity with these aggrieved people," that's also a boycott.
However, if the Biden campaign simply uses the excuse of the coronavirus' "second wave" to back out of the debates, that likely won't be viewed as a boycott, and the wager might not pay out.
As such, you are encouraged to contact Bovada customer service and get the full qualifiers for this wager before going all in.
Fortunately, Bovada has a long-standing reputation of acting in good faith on such bets should any borderline ambiguities arise.
If only the government did, too.
Source: The Washington Post