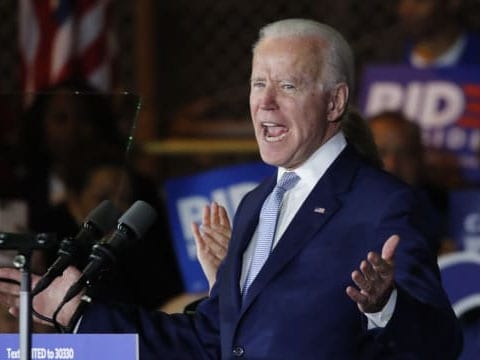 You can no longer say it ain't so for Joe after Super Tuesday.
Because the #Joementum is officially real and you only need to look at the latest 2020 election odds from Las Vegas to see why.
Democratic Presidential Nomination Odds
From Bovada
Joe Biden -700
Bernie Sanders +600
Hillary Clinton +1800
Michelle Obama +5000
Tulsi Gabbard +20000
Former Vice President Joe Biden is once again the Democratic nominee betting favorite at Bovada sportsbook, with their Vegas oddsmakers listing him at -700. At those odds, a $700 wager would payout $100 if Biden wins the nomination.
Sen. Bernie Sanders was heavily favored to receive the presidential nomination from the Democratic Party before Super Tuesday.
However, after Biden won ten states on Super Tuesday compared to four for Sanders, the odds for the U.S. senator from Vermont have since plummeted to +600, meaning a $100 bet will now win $600 if Sanders can mount a comeback.
But how likely is a comeback? Can Biden sustain the #Joementum long enough to hold off Sanders for the nomination?
According to the most recent delegate count at RealClearPolitics, Biden currently leads with 638 delegates compared to Sanders' 563 delegates.
A total of 1,991 pledged delegates are needed to seal the deal for the 2020 Democratic presidential nomination on the first ballot.
Biden and Sanders, who are now the only two Democrats left in the race, will next compete in six Democratic primaries on March 10, which will award 352 pledged delegates—approximately 9% of the 3,979 total up for grabs throughout the nomination process.
According to Vegas' state primary betting odds, Biden is favored to win four states (Michigan, Mississippi, Missouri, North Dakota) while Sanders is projected to come out on top in two contests (Idaho, Washington).
Below are the current odds for next week's Democratic primary. In addition, an early look at the Vice Presidential prop bets for Biden and Sanders immediately follows.
March 10 Democratic Primary Betting Odds
From Bovada
Idaho Democratic Primary
Bernie Sanders -130
Joe Biden +100 (EVEN)
Michigan Democratic Primary
Joe Biden -650
Bernie Sanders +400
Mississippi Democratic Primary
Joe Biden -10000
Bernie Sander +1400
Missouri Democratic Primary
Joe Biden -1200
Bernie Sanders +600
North Dakota Democratic Caucuses
Joe Biden -215
Bernie Sanders +160
Washington Democratic Primary
Bernie Sanders -120
Joe Biden -110
Biden/Sanders Vice President Prop Bets
From Bovada
Who Will Bernie Sanders Choose To Be His Vice Presidential Running Mate?
Stacey Abrams +185
Nina Turner +275
Julián Castro +450
Tammy Baldwin +450
Kamala Harris +650
Tulsi Gabbard +1000
Who Will Joe Biden Choose To Be His Vice Presidential Running Mate?
Amy Klobuchar +200
Kamala Harris +300
Stacey Abrams +325
Elizabeth Warren +550
Pete Buttigieg +750
Catherine Cortez Masto +1400
Michelle Obama +1800