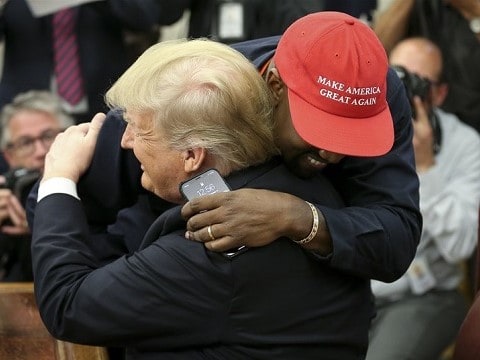 After a surprise announcement on the Fourth of July that he was officially running for President, the Internet was immediately ablaze with the news of Kanye West's candidacy and its implications.
Pundits and analysts speculated on West's intentions, broke down how his candidacy could alter the landscape of the 2020 elections, and mocked his desire to actually win. And all of this was born of a single tweet:
Many called it a publicity stunt and little else, while others decried West as a Donald Trump operative hell-bent on taking the "Black vote" away from Joe Biden.
This, of course, led to controversy of its own, with many – including Bernie Sanders' former campaign manager – saying that no candidate "owns" that particular demographic.
Of course, the campaign was short-lived. Kanye West apparently bailed on the idea just 10 days after his social media missive went viral.
According to election specialist Steve Kramer, who was hired to help with the West campaign's strategy, the rapper gave up after missing several key electoral deadlines, ensuring that he wouldn't appear on ballots in Florida or South Carolina.
The Intelligencer got in touch with Kramer about West's status, reporting that the initiative fell apart almost as quickly as it began.
"He's out," Kramer told the magazine. "I'll let you know what I know once I get all our stuff canceled. We had over 180 people out there today."
Those people were volunteers eager to help with the late #2020Vision push, and while early word was that they were disappointed with the campaign suspension, that disappointment may have been premature.
Kanye West is still running for President.
Indeed, the West campaign got its candidate on the Oklahoma ballot, confirmed Wednesday in a tweet from the OK State Election Board:
Yesterday, news emerged that the West campaign is moving full speed ahead.
West submitted the necessary documents to the Federal Election Committee, including Statement of Organization and Statement of Candidacy papers.
West's party affiliation is listed as BDY, which stands for Birthday Party, and his campaign is officially called "Kanye 2020."
It is difficult to divine exactly what West's intentions are. The critics and cynics all have a point: This could be a publicity stunt, it could be a strategy to bleed votes from the left to ensure a Trump reelection (a la the Green Party), or it could be a genuine fever dream of a questionably sane superstar. Only time will tell.
In the meantime, however, Kanye West 2020 odds are already up at all the best Vegas election sportsbooks. Before news of his campaign suspension hit, West was actually trending just behind Trump and Biden on the odds boards, though he has since slipped.
However, with today's news, we expect West to go north on the books and settle in behind the two mainstream candidates. So if you think West actually has a chance to win the November election, you can get the best bang for your buck betting on him right now.
2020 US Presidential Election Winner
Via Bovada:
Joe Biden -150
Donald Trump +135
Hillary Clinton +5000
Mike Pence +6000
Kanye West +6600
Michelle Obama +8000
Andrew Cuomo +15000
Nikki Haley +15000
Via BetOnline:
Joe Biden -190 
Donald Trump +160    
Hillary Clinton +2000
Michelle Obama +3300 
Mike Pence +4000
Kanye West +12500    
Elizabeth Warren +15000   
Nikki Haley +15000   
Mark Cuban +30000
Via MyBookie:
Joe Biden -150
Donald Trump +100
Hillary Clinton +5000
Mike Pence +6000
Michelle Obama +8000
Andrew Cuomo +8000
Mitt Romney +10000
Nikki Haley +12500
Kanye West +15000
While West clearly isn't going to win the presidency, the massive delta in odds between books demonstrates the importance of shopping lines across several providers before placing a bet on elections or any other market.
For example, if you placed a $100 bet on Kanye at Bovada, you'd win $6600 if he takes the White House in November. Meanwhile, the exact same bet would pay out almost twice as much – $12,500 – at BetOnline, while MyBookie would give you $15,000.
You might be a fool to wager on West, but you'd be an even bigger sucker if you did so with Bovada instead of MyBookie.
Of course, this isn't always the case, as Bovada often has the highest value lines out there, and these odds are representative not of what a sportsbook thinks, but of where bettors at those books are putting their money.
Remember, shopping around is not often a luxury you'll get with Presidential candidates, but it's one you'll always have at offshore sportsbooks.
That said, there is a bigger issue with West's odds at these sportsbooks, and that's how they will affect the Trump odds and Biden odds.
Since every third-party run takes votes from the main two parties, candidates like West are often considered "spoilers," whether or not that's their actual intent.
Should Kanye stay in the race – and all signs suggest he will – then it's reasonable to ask how his presence will impact the Democratic and Republican tickets.
Naturally, the current calculus is that West would extract votes from the left, giving the GOP the edge in the general. As a result, you can expect the incumbent's odds to improve even before the Trump vs. Biden debates, as bettors analyze the playing field and wager accordingly.
In other words, the longer West stays in the race – regardless of his rationale or expectations – the better Trump's odds should get.
Source: Fox News