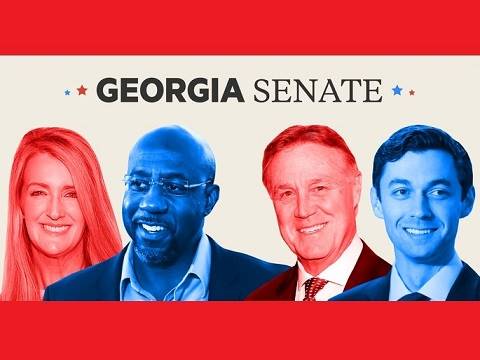 Well, it's that time again: Election Day.
And though the election is specifically for the two contested US Senate seats in Georgia, more money has poured into this pair of races than any other runoff in US history.
Additionally, polling (for whatever that's worth) indicates that more votes will be cast in the runoffs (for whatever that's worth) than ever before.
Naturally, at the best Vegas election betting sites, you can wager on the latter metric and a host of other election props, too.
While BetOnline has taken down their Georgia Senate odds, Bovada has doubled down on them, posting lines on things like margin of victory, which candidate will earn the most votes, and which candidate will earn the fewest votes.
Of course, setting these lines is a challenge in itself, as there is really no precedent to draw from.
It seems like Bovada has simply done the same math that we did here and has based their opening numbers on that data.
But with tens of thousands – if not hundreds of thousands – of new GA voters primed to participate in the runoffs, your guess is as good as ours about how things will pan out, at least in terms of granular statistics.
Generally, it seems like a safe bet to take both Democratic challengers in their races against Georgia's Republican incumbents, particularly given what happened in the November general.
However, outside of that, there are interesting arguments to be made for and against the favored outcomes in the other political prop categories.
Right now, these are the Senate runoff odds you'll find at Bovada with just a few hours to go until the polls open and counting starts.
(When that counting will finish, though, is another matter. And after November, even the best election betting sportsbooks won't touch that prediction.)
2021 GA Senate Runoff Election Odds
US Senate Election Winner (Special)
Raphael Warnock -200
Kelly Loeffler +150
Here, Democratic challenger Raphael Warnock was trending at -220 a day ago, while GOP incumbent Kelly Loeffler was sitting at +165.
Today, however, Loeffler has closed the gap a small amount, as late money seems to be balancing out her odds.
Still, Loeffler is the biggest underdog of these runoffs, based on the simple fact that she pulled the fewest votes of any candidate listed here back in November.
Take Warnock at -200.
US Senate Election Winner (General)
David Perdue -130
Jon Ossoff +100
Republican Senator David Perdue briefly lost his lead against Democrat Jon Ossoff, who was up -135 to +105 at Bovada just yesterday.
However, in the last 24 hours, a substantial amount of money seems to have poured in on Perdue, giving him a 30-point advantage heading into the election itself.
We're skeptical it will hold up, and at even odds, Ossoff pays out slightly better in what amounts to a tossup.
Take Ossoff here for a decent payout.
Which Party Will Control The Senate After 2020 Election?
Republican Party -145
Democratic Party +110
This one is interesting.
Even when both Democratic candidates were well ahead of their GOP rivals on the Vegas election odds boards, bettors still favored the Republicans to maintain control of the Senate once all the smoke and mirrors cleared.
On the surface, that seems a bit strange, but it's actually sensible, as many gamblers are using this betting line to hedge their other wagers.
Remember: To keep the Senate, the GOP needs to win just one of these two races, while the Democrats must sweep the GA runoff and then prevail in the contested Presidential election to have the party tiebreaker in the form of a Vice President Kamala Harris.
We still think that's the most probable outcome, though, so we're taking the Democrats at +110.
Loeffler vs. Warnock Total Votes
3.8 To 3.99 Million +150
4.0 To 4.19 Million +175
4.2 To 4.39 Million +525
3.6 To 3.79 Million +725
4.4 To 4.59 Million +1600
3.4 To 3.59 Million +3000
4.6 To 4.79 Million +5000
3.0 To 3.19 Million +10000
3.2 To 3.39 Million +10000
4.8 To 4.99 Million +10000
5 Million Or More +10000
Less Than 3 Million +10000
When we crunched the numbers, the total votes cast in November for Georgia's special election tallied 4,915,001.
By all metrics, and given the outsized campaigning and spending (and mail-in voting and ballot harvesting) in Georgia, most pundits believe both runoffs will accrue more votes in toto than the same elections on the November ballot.
By that measure, "5 million or more" at +10000 seems like a whole lot of easy money.
But bettors pay attention to details, and there's a big one here: This was a stacked ballot in the general, and not all participants were mainline Democrats or Republicans.
With several Independent candidates, a Libertarian candidate, and a Green Party candidate all in the mix, there's a real question whether their supporters will even bother voting in the runoffs.
History suggests they won't, as such votes are typically "protest votes," with supporters understanding that their choice has no chance to win.
Third-party voting is viewed as a rejection of the two main parties in US politics. Such voters probably won't bother with a ballot comprised of nothing but the uniparty.
And since these voters accounted for 109,929 votes, that's a big delta to make up to break the 5 million mark.
The prop for 4.6-4.79 million votes at +5000 seems like your best chance for a big payday here.  
Loeffler vs. Warnock Winning Margin
Warnock By Less Than 1% +375
Warnock By 1% – 1.99% +400
Warnock By 2% – 2.99% +500
Loeffler By Less Than 1% +625
Loeffler By 1% – 1.99% +850
Warnock By 3% – 3.99% +950
Loeffler By 2% – 2.99% +1500
Warnock By 4% – 4.99% +1800
Warnock By 6% Or More +2000
Loeffler By 3% – 3.99% +3000
Loeffler By 4% – 4.99% +3000
Warnock By 5% – 5.99% +3000
Loeffler By 6% Or More +5000
Loeffler By 5% – 5.99% +10000
In November, Warnock beat Loeffler by seven percent of the vote.
But GOPer Doug Collins secured 20% of that same vote, putting a big dent in Loeffler's earlier totals.
Advantage Loeffler, right?
Not so fast.
In our previous breakdown (linked above), when accounting for all the other candidates on the ballot and their voters' historical party alignments, this one was dead even at 50-50.
It's a total tossup at this point, but if we had to bet (and we don't, so we won't), we'd take Warnock by 1-1.99% for that +400 payout.
Perdue vs. Ossoff Total Votes
4.0 To 4.19 Million +150
3.8 To 3.99 Million +175
4.2 To 4.39 Million +425
3.6 To 3.79 Million +800
4.4 To 4.59 Million +1500
3.4 To 3.59 Million +5000
3.0 To 3.19 Million +10000
3.2 To 3.39 Million +10000
4.6 To 4.79 Million +10000
4.8 To 4.99 Million +10000
5 Million Or More +10000
Less Than 3 Million +10000
Here, things are a bit clearer, number-wise.
Perdue got 2,462,617 votes (maybe) and Ossoff got 2,374,519 votes (also maybe). Libertarian Shane Hazel allegedly took 115,000 votes.
Libertarians are generally more likely to vote for the "lesser of two evils" than more fringe third party members, but that's no guarantee.
If they do, adding up all the numbers, you get a total of 4,952,136.
Given that today's turnout is expected to surpass that of the November general, the prop for "5 million or more" at +10000 could be a savvy bet. But in all likelihood, those LPers won't vote in quite as large numbers.
On the other hand, the Democratic vote mobilization machine could render it all a moot point, anyway.
Still, we like the big payout, and that's what we'd choose here, though there's plenty of opportunity to pick several outcomes and come out on top if any one of them hit.
Perdue vs. Ossoff Winning Margin
Ossoff By Less Than 1% +350
Ossoff By 1% – 1.99% +400
Perdue By Less Than 1% +475
Perdue By 1% – 1.99% +550
Ossoff By 2% – 2.99% +850
Perdue By 2% – 2.99% +850
Perdue By 3% – 3.99% +1500
Ossoff By 3% – 3.99% +1600
Ossoff By 4% – 4.99% +3000
Ossoff By 5% – 5.99% +5000
Ossoff By 6% Or More +5000
Perdue By 4% – 4.99% +5000
Perdue By 5% – 5.99 +5000
Perdue By 6% Or More +10000
In November, Perdue beat Ossoff by 1.8% of the vote, while Hazel took 2.3% of the vote.
The latter might account for another percentage point in Perdue's favor, so if the vote goes exactly as it did before, Perdue by 2-2.99% (+850) seems like the best bang for your buck.
But we all know the vote won't go exactly as it did before, so it's anyone's guess.
Interestingly, the top two favorite outcomes here are both for Ossoff to eke out a victory, which is divergent from his underdog status on the line for the straight-up win.
Curious.
Which Georgia Senate candidate will win the fewest runoff votes?
Kelly Loeffler -130
Jon Ossoff +225
David Perdue +700
Raphael Warnock +850
Clearly, Loeffler is favored to garner the fewest votes in the runoffs.
But given that her race against Warnock has been the more contentious contest (and because inflamed emotions result in more voter galvanization), there's a chance that more folks will vote in her race than in the Perdue-Ossoff showdown.
Should that happen, she might still lose and pull more votes than either Ossoff or Perdue.
Still, if you have to pick, Loeffler definitely got the fewest votes in November, so that might be as good a metric as any.
We're staying away from this one, as there are simply too many variables and unknowns.
Which Georgia Senate Candidate will win the most runoff votes?
Raphael Warnock +105
David Perdue +170
Jon Ossoff +500
Kelly Loeffler +1200
This one's just as tough as the above.
Perdue got more votes than anyone in November, but weighing for third-party alignment (and assuming all those voters cast ballots this time around, which they certainly will not), the picture looks like this:
Perdue – 2,577,617
Loeffler – 2,462,191
Warnock – 2,452,810
Ossoff – 2,374,519
If the above holds up, Perdue at +170 is a nice payout, but Warnock as the favorite feels right. And that's what politics are all about, now: the feels.
Again, his is the more contentious race, he's the only black candidate on the GA ballot, and his campaign spent bigly over the last month or so.
All those things should translate well in terms of turnout, but your guess is as good as ours.
Or possibly much better, since we're not biting on this one.
Good luck to you all.
We're all going to need it.