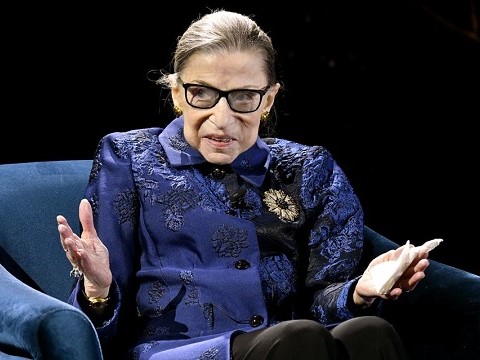 We all know what happened this weekend. And we all understand what it means for the upcoming election.
What we fail to understand, however, is why there are no betting odds on the list of potential Supreme Court Justice picks or whether the US Senate will actually confirm President Trump's SCOTUS nominee.
Some might argue that this lack of lines is a matter of respect or taste, but that's out the window when you consider that MyBookie runs celebrity death pools (and recently featured one with the late Ruth Bader Ginsburg – congrats to the winners!) and the fact that "taste" rarely rears its pretty head in politics to begin with.
So what's the holdup?
That oddness aside, RBG's death will certainly have a trickle-down effect on the various Vegas political props that are currently posted, as it's sure to garner a bit of galvanization with the mythical undecideds. So be on the lookout for that.
As yet, the lines haven't moved at the main election betting sites regarding Trump's 2020 chances or Joe Biden's odds, but they will.
In other news, right after we posted our assessment of the Pennsylvania high court's rulings extending the state's federal election balloting timeline by three days and all the shenanigans thereof, Michigan courts came out swinging with a set of even more preposterous election guidelines.
For those who are unaware, here's what MI is allowing to happen this November:
Postmarked Vote By Mail™ ballots can be counted for 14 days after the November 3 election, all but guaranteeing a litigated outcome in the state, a la Florida 2000.
Advantage Biden.
The state, by judicial decree, is allowing ballot harvesting – that is, strangers may deliver ballots for others from October 30 through November 3. Normally, this is a felony in MI. Only California legally allows ballot harvesting, while the 49 other US states explicitly bar the practice. Well, 48, now.
Advantage Biden.
There is no limit to the number of ballots a third-party may return "on behalf" of another person, nor are there any vetting policies or any chain of custody guidelines.
Advantage Biden.
All that said, these rulings are sure to be challenged in court, as has already happened in Pennsylvania.
And to make matters even more interesting, it is not unlikely in either case that the issues will be fast-tracked to the Supreme Court. Of course, if the SCOTUS is deadlocked at 4-4, the rulings of the lower courts stand.
This makes it all the more crucial that the Supreme Court has its full nine-member complement of judges even before so many of the November general's results get challenged.
But back to the betting.
When PA announced its illegal election reform, sportsbooks were slow to give Biden the edge in the state, which is why we advised bettors to get in on the lines as they stood on Friday.
So, have they taken our advice? Shifting lines will tell the tale (with Friday's odds in parentheses):
2020 Pennsylvania Electoral Odds
Bovada:
Joe Biden -190 (-190)
Donald Trump +145 (+145)
BetOnline:
Joe Biden -160 (-155)
Donald Trump +130 (+125)
MyBookie:
Joe Biden -190 (-190)
Donald Trump +145 (+145)
Amazingly, the lines have not budged an inch on this election-altering news, save for five points in Biden's favor at BetOnline.
For bettors, this is good news, because it means falling asleep at the wheel hasn't cost you a bundle. Get in on this action now!
In the case of Michigan, voters have had all weekend to process the state's even more illegal election directives, which means those lines should also have seen some shifts in favor of Biden's election odds.
The current MI state odds are listed below, with their previous numbers in parentheses:
2020 Michigan Electoral Odds
Bovada:
Joe Biden -250 (-250)
Donald Trump +185 (+185)
BetOnline:
Joe Biden -225 (-225)
Donald Trump +185 (+185)
MyBookie:
Joe Biden -225 (-250)
Donald Trump +160 (+185)
Incredible.
These lines haven't moved an iota at either Bovada or BetOnline.
Even more incredibly, the odds have actually improved for Trump and worsened for Biden at MyBookie on the heels of this brazen election fraud taking place in Michigan.
Maybe political bettors just tune out over the weekend, especially now that the NFL is back and doing its best to bleed our bankrolls on can't-miss parlays where the garbage Minnesota Vikings somehow manage to lose to the Indianapolis Colts.
Or maybe bettors believe these rulings will be overturned the second they're appealed.
Regardless of the reasons why these lines remain stagnant, consider this a reprieve – a second chance to get in on Biden's betting lines while they still offer a reasonable payout in Pennsylvania and Michigan.
And be on the lookout for those Supreme Court props.
Source: Breitbart