Despite a number of things we ought to be able to bet on given all the political upheaval and current events intrigue afoot of late, the boards at the best Vegas political gambling sites are surprisingly thin.
Seriously, things like the ongoing Russian "invasion" of totally-innocent-for-sure Ukraine (which was definitely not involved in any pay-to-play scandal with Hunter Biden and Joe Biden during the latter's stint as VP, even though both parties openly admit to all of it on camera and in print, and which – after years of decrying the region as a fourth-world human-trafficking and money-laundering crime hub is now the literal shining jewel of Western civilization in Europe according to the likes of Sean Hannity who, if you didn't know, does martial arts, so he knows what he's talking about) and gas prices and food prices and general out-of-control inflation aren't getting any love on the odds boards at all.
In fact, the only current events odds getting any love are Elon Musk odds, and even then, the pickin's are slim.
With the recent revelation that Elon Musk is making actual headway in his "hostile takeover" of Twitter with the stated goal of taking the company private, one site has actually posted a couple of related betting lines.
But only a couple.
At MyBookie, you'll find a single betting line about Musk's chances of actually buying Twitter outright. You'll also find a Donald Trump betting line that is logically – if not directly – related to that potential purchase.
Here they are, courtesy of MyBookie AG, which is the only site with any Elon Musk odds at all:
Will Elon Musk be able to take Twitter private?
The timeline on this is unclear, but you can assume that the line applies to the 2022 calendar year. And if so, the "No" might actually make some sense. Clearly, with a going rate of somewhere in the neighborhood of $40-50 billion, Musk can afford to buy Twitter.
Musk – worth $269.2 billion per Forbes' real-time billionaires list – is the richest person on the planet by almost $100 billion (if you ignore the Rothschild dark money pipeline, which is unmeasurable anyway), so there's no issue on the financial side.
It might even be a done deal already.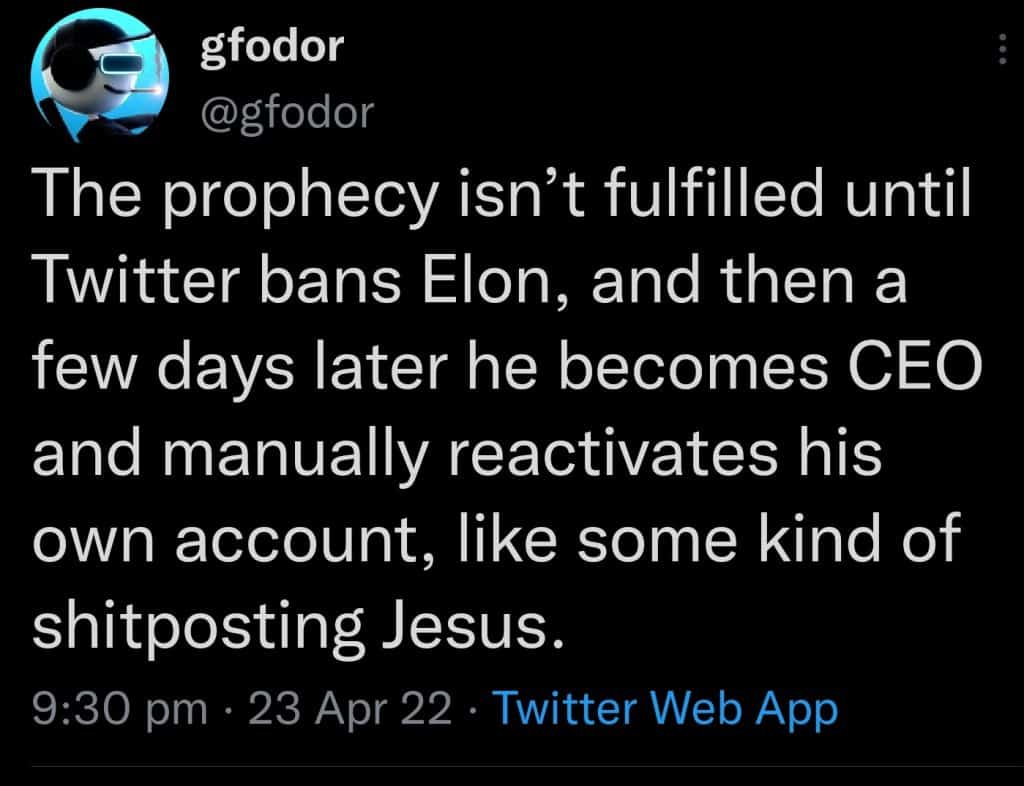 The only questions, then, are whether Musk can formally conclude the purchase of Twitter and if he'll be able to privatize the site in the timeline suggested by MyBookie.
Of course, as to the latter, Musk may not ultimately want to take Twitter private in the end, as the brand is likely worth far more as a public company than a private entity. After all, Musk's supernatural wealth is derived almost entirely from stock valuations (notwithstanding however many spare billions he has in cryptocurrency).
Will Donald Trump be reinstated to Twitter by 12/31/2022?
This one is a bit more straightforward, particularly since it has a published cutoff date.
Here, you should bet on "Yes" if you're going on "Yes" in the previous line, as it seems only natural that Musk would unlock Trump's Twitter account in the event that the lefty gatekeepers of the platform get their walking papers.
Regardless, of course, if Musk buys Twitter, Trump will almost certainly be invited back with enough time to organize his 2024 bid on the only social media platform that matters.
2022 Joe Biden Presidential Mental Fitness Test Update
Biden Approval Rating On May 1, 2022
42.0-42.99% +130 (+200)
41.0-41.99% +170 (+450)
43% or Higher +325 (-120)
40.0-40.99% +800 (+800)
Under 40% +1800 (+2800)
Biden To Win Second Term?
No -700 (-700)
Yes +400 (+400)
Joe Biden Exit Date
2025 -225 (-180)
Not Before 2026 +450 (+450)
2022 +500 (+400)
2023 +550 (+550)
2024 +1400 (+1400)
Will Biden Complete Full First Term?
Yes -220 (-220)
No +155 (+155)