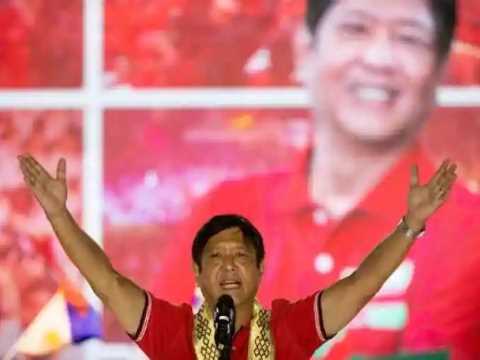 Normally here at Vegas Election Odds, we talk about American Vegas election odds. There's just more of them, and they're generally available year-round. And given the current political climate in The Colonies™, that's unlikely to change anytime soon.
That being said, there are still some compelling current events elsewhere that generate odds from time to time (or not, as in the Russian borderlands RFN), and there are other elections to bet on, too.
Today, one such election just wrapped up, as the Philippine Presidential election polls just closed following the big nationwide vote.
While the official results aren't in yet, about half the vote has already been counted.
At the time of this post, favorite Ferdinand "Bongbong" Marcos, Jr., appears to have not just won the 2022 Philippine Presidential election, he seems to have done it in spectacular fashion.
Basically, he looks like he's beating the runner up – outgoing Vice President Leni Robredo – by Trump vs. Biden margins circa November 2020.
The difference here, of course, is that the people of the Philippines are unlikely to tolerate any late-night suspensions in vote counting only to see the election swing overnight by impossible margins after the cameras were turned off and the watchers were sent home.
"Only in America" still means something, folks.
At any rate, the election appears to be a total wipeout, and it's going exactly as the odds predicted.
While BetOnline Sportsbook took down their Philippines-centered international election odds on Monday morning, here's where those odds stood before they came off the boards and everyone in the islands headed to the polls:
2022 Philippine Presidential Election Odds – Final Odds
Bongbong Marcos -10000
Leni Robredo +1600
Manny Pacquiao +5000
Isko Moreno +20000
Alan Peter Cayetano +30000
Antonio Trillanes +30000
Bong Go +30000
Sara Duterte-Carpio +30000
If you went in on Marcos (hopefully much earlier, when he was trending at -400 to -800), you may still have to wait a while to collect your winnings.
Because of the size of the country – and general remote nature of some of the farther-flung voting facilities in countless rural Philippine jurisdictions – it could be a few days before the election is called.
Per the NY Times:
"Vote counting will start Tuesday at 1 p.m., and a winner is expected to be announced in the coming days. In previous elections, officials from rural provinces with poor internet connections have had to physically transport counted ballots to Manila, the capital."
Of course, even before this thing, the outcome was something of a foregone conclusion.
In fact, the same can be said for the Philippine Vice Presidential election (which is actually contested on a different ticket than the Presidential election).
Sara Duterte-Carpio – daughter of outgoing President Rodrigo Duterte and herself the outgoing mayor of Davao City – should easily win election to the post. In fact, Mayor Sara was such a strong favorite in the VP election that legit online betting sites never actually published odds for that particular race.
But if Duterte-Carpio was running for Vice President of the Philippines and not President of the Philippines, you might be wondering why she was featured on the Presidential election odds boards for the entire duration of the cycle.
Unfortunately, this is something of a "trick" to snag bettors who haven't educated themselves on the particulars of a given election or region's election laws and standards.
To be clear, when Filipino Presidential candidates were just throwing their hats into the ring, Duterte-Carpio's name came up virtually every day. There was rampant speculation that she'd run for President, and as such, all the best sportsbooks had her name among other potential candidates on the political futures boards.
But after she declined to run for President and instead announced her candidacy for Vice President, the books didn't remove her name from the Presidential odds boards. Her odds to win President slowly lengthened, of course, but people were still putting money on Mayor Sara to win that race.
And a sportsbook is never going to take a moneymaker off the boards. So they didn't.
Remember, it is ultimately up to you to understand exactly what you're betting on, not up to your sportsbook to make sure you don't waste your money.
You know, by betting on Manny Pacquiao for President, or something.
2022 Joe Biden Presidential Mental Fitness Test Update
Via BetOnline Sportsbook
Biden Approval Rating On June 1, 2022
41.00-41.99% +200
42.00-42.99% +200
43% or Higher +275
40.00-40.99% +500
Under 40% +900
I paid $4.39/gal. for gas yesterday.
Biden to Win Second Term?
No -700 (-700)
Yes +400 (+400)
I paid $22 for a $12 breakfast at my local diner yesterday.
Joe Biden Exit Date
2025 -225 (-225)
Not Before 2026 +450 (+450)
2022 +500 (+500)
2023 +550 (+550)
2024 +1400 (+1400)
2022 and 2023.
Will Biden Complete Full First Term?
Yes -220 (-220)
No +155 (+155)
The very idea.