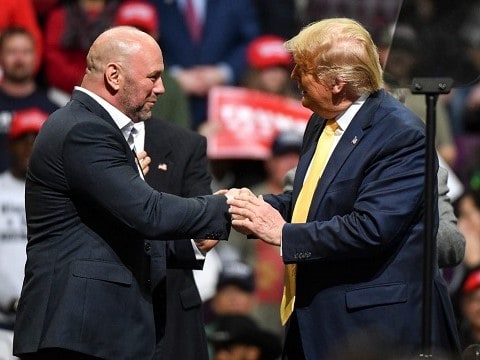 Last week, the Democratic National Convention held a much-maligned and ridiculed "telethon" of a four-day event celebrating party nominee Joe Biden.
Largely pre-taped and oddly lethargic, even Democratic allies panned the proceedings as something less than lukewarm.
This time, it's the GOP's turn.
Today kicks off the Republican National Convention, which is being held in Charlotte, North Carolina, albeit in a limited capacity.
Only 336 delegates will be on hand for the event, and President Donald Trump is scheduled to give his Thursday acceptance speech from either Gettysburg, Pennsylvania, or the White House itself.
With less reliance on pre-taped segments and more live appearances at the Charlotte venue, it will be interesting to see how the Republican convention matches up ratings-wise with the Democratic convention, which saw a roughly 20% drop in viewers compared to the 26 million who tuned in during 2016.
While polling has narrowed in battleground states and Vegas election betting has rebounded Trump's way after the DNC's showing, the most significant development was the post-convention polling.
In 2016, after Hillary Clinton's DNC extravaganza, the candidate received a three-point bump in the immediate aftermath, with support growing from 40% to 43%. Meanwhile, Trump's support shrank from 44% to 40%, a four-point drop-off.
For Biden in 2020, polling just after the conclusion of the DNC National Convention grew from 51% to 52%. Obviously, Biden is more likable than Clinton ever was.
But for the Trump campaign – and for election bettors looking for every edge at the Vegas political betting boards – the more relevant metric might be this:
Trump suffered no statistical drop in polling after this year's Democratic nomination party. He was sitting at 43% both prior to and after the event.
Thus, in terms of favorability, Trump is better positioned this time around than he was in 2016 at the same time in the election cycle.
Naturally, The Donald – showman and firebrand that he is – is looking to capitalize on that boosted standing with a more celebratory RNC.
Unfortunately, if you're looking to bet on RNC political props, you've probably missed your window.
Last week, for about two days, such props were available at BetOnline Sportsbook, one of the leading US election betting sites.
However, every single one of the 16 props posted have been taken down, and while 15 of them are still in play, one betting line has already been settled.
Incidentally, it's one of the few we recommend against going on. Here's that prop, from our recent article on the RNC betting odds:
Who will be official RNC speaker? (August 21, 2020)
Scott Baio +200
Kid Rock +300
Antonio Sabato Jr. +400
Ted Nugent +600
Diamond and Silk +700
Mike Ditka +800
Conor McGregor +900
Dennis Quaid +1000
Stephen Baldwin +1000
Stacey Dash +1200
Tito Ortiz +1200
Dana White +1400
Our expert recommendation here was to take "None of the above."
With that in mind, here's the list of speakers scheduled to present at the 2020 Republican National Convention:
RNC Day One Speakers
Sen. Tim Scott
Rep. Steve Scalise
Rep. Matt Gaetz
Rep. Jim Jordan
Nikki Haley
RNC Chair Ronna McDaniel
GA state Rep. Vernon Jones
Amy Johnson Ford
Kimberly Guilfoyle
Natalie Harp
Charlie Kirk
Kim Klacik
Mark and Patricia McCloskey
Sean Parnell
Andrew Pollack
Donald Trump, Jr.
Tanya Weinreis
RNC Day Two Speakers
First Lady Melania Trump
Sec. of State Mike Pompeo
Sen. Rand Paul
IA Gov. Kim Reynolds
FL Lt. Gov. Jeanette Nunez
KY AG Daniel Cameron
Pam Bondi
Abby Johnson
Jason Joyce
Navaho Nation VP Myron Lizer
Mary Ann Mendoza
Megan Pauly
Cris Peterson
John Peterson
Nicholas Sandmann
Eric Trump
Tiffany Trump*
RNC Day Three Speakers
VP Mike Pence
Second Lady Karen Pence
Sen. Marsha Blackburn
Sen. Joni Ernst
SD Gov. Kristi Noem
Rep. Dan Crenshaw
Rep. Elise Stefanik
Rep. Lee Zeldin
Richard Grenell
Kellyanne Conway**
Keith Kellogg
Jack Brewer
Sister Dede Brown
Madison Cawthorn
Scott Dane
Clarence Henderson
Ryan Holets
NAPO Pres. Michael McHale
Burgess Owens
Lara Trump  
RNC Day Four Speakers
President Trump
HUD Sec. Ben Carson
Sen. Mitch McConnell
Sen. Tom Cotton
Rep. Kevin McCarthy
Rep. Jeff Van Drew
Ivanka Trump
Ja'Ron Smith
Ann Dorn
Debbie Flood
Rudy Giuliani
Franklin Graham
Alice Johnson
Wade Mayfield
Carl and Marsha Mueller
Dana White
*Tiffany Trump, alleged by the mainstream media as being the "neglected" or "forgotten" Trump daughter, is making her political debut at the RNC, putting to bed rumors of any discord with or dissociation from the Trump family.
**Kellyanne Conway recently announced that she will be leaving her White House post to focus on family matters, but she has stated her intention to speak at the RNC as scheduled.
Barring any surprises, the list of RNC speakers is now finalized.
With the names above in mind, we can look back at the original prop bet and see which unlucky bettors are out a few bucks:
Who will be official RNC speaker?
Scott Baio +200
Kid Rock +300
Antonio Sabato Jr. +400
Ted Nugent +600
Diamond and Silk +700
Mike Ditka +800
Conor McGregor +900
Dennis Quaid +1000
Stephen Baldwin +1000
Stacey Dash +1200
Tito Ortiz +1200
Dana White +1400
So, if you bet on the longest longshot on the boards and took UFC President Dana White, you might be in for a juicy payout given his +1400 odds.
Or maybe not.
You see, there's a potential snag.
Remember, whenever you wager on anything – whether it be politics, entertainment, sports, current events, or any number of other betting odds available at your sportsbook of choice – the devil's in the details.
Dana White is scheduled to speak, and he is an "official" speaker. But he is not the official RNC speaker, and there's some question as to what the wording of the BetOnline prop actually meant.
Essentially, the prop – and your hefty Dana White payout – will hinge on whether BetOnline's list was for an official speaker or for the official speaker.
Given that there is no single official speaker as such, the book could declare the wager "no action" on the heels of the speaking schedule's announcement. This would result in the refunding of all wagers on the line in question.
Still, it is not clear whether or not that will be the case.  
Typically, sportsbooks will not offer futures that can have multiple winners all trending with positive moneylines, as such would ruin their narrow odds of turning a profit on the prop.
Put another way, if every single person listed in BetOnline's prop were scheduled to be RNC speakers, would the sportsbook pay out on each line?
Obviously, a book couldn't stay in business very long with that sort of strategy.
Of course, given that only one person from the list actually made the cut, BetOnline should pay the winners, and we expect that they will. They'd clear more money this way than they'd net by refunding all action on the prop.
Nevertheless, this semantic peculiarity demonstrates an important lesson for the bettor.
That is, it's crucial to always look for any "catches" or "loopholes" that may not be evident on the surface of a given wager.
If you come across lines with such unintentional obfuscatory potential, as a general rule, you should not wager on them without seeking and receiving clarification from your sportsbook.
Of course, the savvy bettor knows that the best online sportsbooks – like BetOnline, Bovada, MyBookie, etc. – all have 24/7 live help lines that will answer any questions you might have about any wager on offer. Further, you are always encouraged to contact your operator if there's anything you need cleared up before laying your money down.
If you wagered on this prop and chose White, drop us a line on Twitter and let us know how BetOnline handled your bet.