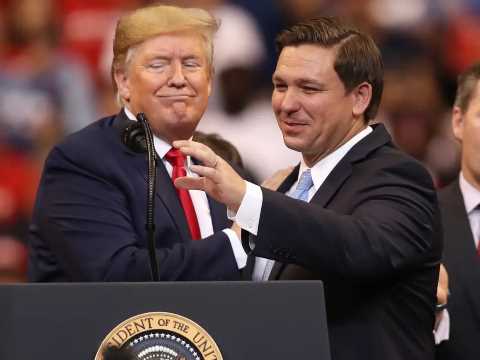 We're three months away from the 2022 Midterm elections, and as you might expect, that means the best Vegas election betting sites are starting to ramp up their offerings.
Of course, some are populating their political gambling menus faster and more completely than others right now, with BetOnline Sportsbook having the most current political prop bets and political futures odds to choose from.
That said, it's only a matter of time before Bovada and MyBookie hop back on the politics betting bandwagon and offer a robust selection of their own election fare.
Regardless, given the current political temperature in America – which, according to the greenies out there, no doubt mirrors this year's annual Hottest Summer on Record™ – there's plenty to either look forward to or utterly dread. It all depends on your point of view.
But your POV notwithstanding, betting can lighten the mood a bit, because the activity isn't about who you want to win, it's who you think will win.
This, by itself, makes US politics almost bearable again.
Almost.
Current US Political Odds
2022 US House of Representatives Odds
Arizona-02 Republican Primary
Eli Crane -800
Walter Blackman +425
Arizona-06 Democrat Primary
Daniel Hernandez Jr. -120
Kirsten Engel -120
Arizona-06 Republican Primary
Juan Ciscomani -2500
Kathleen Winn +800
Michigan-03 Republican Primary
John Gibbs -450
Peter Meijer +275
Michigan-13 Democrat Primary
Adam Hollier -275
Shri Thanedar +200
Portia Roberson +800
Sharon McPhail +3000
Missouri-01 Democrat Primary
Cori Bush -4000
Steve Roberts +1000
Missouri-04 Republican Primary
Mark Alford -550
Rick Brattin +400
Taylor Burks +700
Kalena Bruce +2800
Missouri-07 Republican Primary
Eric Burlison -800
Jay Wasson +425
Tennessee-05 Republican Primary
Andy Ogles -200
Kurt Winstead +200
Beth Harwell +450
Robby Starbuck +4000
Alaska-AL Special Election
Sarah Palin -200
Nick Begich III +175
Mary Peltola +875
Who will control the House in 2022?
Republicans -600
Democrats +350
2022 US Senate Elections Odds
2022 Missouri Democrat Primary
Trudy Valentine -500
Lucas Kunce +300
2022 Missouri Republican Primary
Eric Schmitt -1500
Eric Greitens +700
Vicky Hartzler +2200
Ron Johnson to be re-elected in Wisconsin?
2022 Wisconsin Republican Primary
Tim Michels -200
Rebecca Kleefisch +150
Lisa Murkowski to be re-elected in Alaska?
2022 Arizona Republican Primary
Blake Masters -5000
Jim Lamon +1200
Mark Brnovich +6500
Justin Olson +25000
Michael McGuire +25000
2022 Florida Senate Race
Republicans -2500
Democrats +800
2022 New Hampshire Senate Race
Democrats -250
Republicans +170
2022 Wisconsin Senate Race
Republicans -230
Democrats +160
2022 Arizona Senate Race
Democrats -150
Republicans +110
2022 Colorado Senate Race
Michael Bennet (D) -1000
Joe O'Dea (R) +550
2022 Iowa Senate Race
Chuck Grassley (R) -5000
Michael Franken (D) +1200
2022 Nevada Senate Race
Adam Laxalt (R) -130
Catherine Cortez Masto (D) -110
2022 Georgia Senate Race
Raphael Warnock (D) -180
Herschel Walker (R) +140
2022 North Carolina Senate Race
Ted Budd (R) -700
Cheri Beasley (D) +400
2022 Ohio Senate Race
J.D. Vance (R) -350
Tim Ryan (D) +225
2022 Pennsylvania Senate Race
John Fetterman (D) -300
Mehmet Oz (R) +200
2022 US Senate Elections – Majority Party
Republicans -140
Democrats +100
2022 US Governor Odds
2022 Arizona Governor Race
Republicans -130
Democrats -110
2022 Wisconsin Governor Race
Democrats -180
Republicans +140
2022 Georgia Governor Race
Brian Kemp (R) -500
Stacey Abrams (D) +300
2022 Kansas Governor Race
Derek Schmidt (R) -165
Laura Kelly (D) +125
2022 Maine Governor Race
Janet Mills (D) -400
Paul LePage (R) +250
2022 Nevada Governor Race
Steve Sisolak (D) -135
Joe Lombardo (R) -105
2022 New York Governor Race
Kathy Hochul (D) -5000
75127 Lee Zeldin (R) +1200
2022 Texas Governor Race
Greg Abbott (R) -900
Beto O'Rourke (D) +500
2022 Pennsylvania Governor Race
Josh Shapiro (D) -500
Doug Mastriano (R) +300
2022 Michigan Governor Race
Democrats -500
Republicans +300
2022 Michigan Governor Race – Republican Primary
Tudor Dixon -5000
Kevin Rinke +1400
Ryan Kelley +5000
Garrett Soldano +10000
James Craig +10000
2022 Arizona Governor Race – Republican Primary
Kari Lake -600
Karrin Robson +350
2022 Donald Trump Odds
Total Characters in First Tweet After Return?
Over 22.5 characters -120
Under 22.5 characters -120
Joint Vaccine Statement With Biden?
Officially Launch 2024 Campaign?
Public Meeting With Xi Jinping?
To Be Indicted?
To File For Bankruptcy
To Get Divorced?
To Visit China?
To Visit Russia?
To Be Elected at Mid-Terms?
Hillary Clinton Odds
Hillary Clinton To Endorse Non-Biden Democrat?
Hillary Clinton To be Indicted?
Hillary Clinton To Run in 2024?
Trump v Clinton in 2024?
US Political Specials
Dr. Oz for US Senate?
Trump to become Speaker?
Female President in 2024?
Trump v Biden in 2024?
Steve Bannon to be Trump Campaign Manager?
Beto O'Rourke for Texas Governor?
Greg Abbott Re-Elected in Texas?
Herschel Walker to Win Georgia Senate Race?
Howard Stern to Run for US President in 2024?
Any Trump to win in 2024?
Now, we don't have much of an opinion about most of the above elections. This is a gambit to preserve what little remains of our sanity.
That said, we do have some thoughts on the 2024 Presidential race:
2024 US Presidential Election Odds
Republican Nominee for the 2024 Election
Ron DeSantis +125
Donald Trump Sr. +130
Mike Pence +1100
Nikki Haley +2200
Mike Pompeo +2500
Tom Cotton +3000
Josh Hawley +4000
Kristi Noem +4000
Ted Cruz +4000
Tim Scott +4000
Mitt Romney +5000
Tucker Carlson +5000
Glenn Youngkin +7000
Ben Carson +8000
Donald Trump Jr. +8000
+ More
The Ronald has overtaken The Donald at the sportsbooks for the first time. This is in stark contrast to all the most recent polling, which still has Trump as the first choice for most voters.
For his part, DeSantis is in an interesting position. There is a time limit – and a rather short one, at that – on one's political capital when it comes to the presidency. That is, if you don't strike while the iron's hot, you might not have another chance. Case in point: Ted Cruz circa last decade.
But because he's the current governor of Florida, DeSantis' massive popularity might actually be something of a speed bump here. There's no doubt that conservatives across America view DeSantis is the heir apparent, but they still want Trump. Trump was unjustly denied his second term, and the revenge factor among his supporters is very real. But more than that, Trump remains the most popular politician in the country – and arguably the world.
If DeSantis runs for President in 2024, he will do so only if Trump decides to bow out and sit behind the scenes as kingmaker. If Trump runs, Trump gets the nomination. DeSantis will not run against Trump under any circumstances. It's that simple.
Meanwhile, let's say DeSantis sits this one out.
He'll win his second term as Florida Governor in 2022 and be out of politics for two years by the time 2028 rolls around. The drop-off in national attention and big, bold, headline-grabbing politics during this lull would be enough to let another contender take up the mantle of MAGA's next bigshot.
The best strategy here is for DeSantis to be reelected as Governor of Florida, hand off the governorship to the Lieutenant Governor in 2024, and run for Vice President on a blockbuster Trump-DeSantis ticket. After election, DeSantis would handle a significant portion of the front-facing press stuff on behalf of the GOAT as the latter trains him on how to deal with a radically hostile national press. Finally, by 2028, DeSantis would take over as the natural standard-bearer for the GOP.
Easy peasy.
Democratic Nominee for the 2024 Election
Joe Biden +175
Kamala Harris +270
Gavin Newsom +400
Elisabeth Warren +1200
Michelle Obama +1600
Pete Buttigieg +1600
Amy Klobuchar +1800
Hillary Clinton +1800
J.B. Pritzker +3000
Gretchen Whitmer +3300
Cory Booker +4000
Michael Bloomberg +5000
Alexandria Ocasio-Cortez +6000
Bernie Sanders +6600
Tom Wolf +6600
+ More
None of the above.
It's our opinion that the Democrat Presidential nominee for 2024 is not yet on anyone's radar. At least, not seriously. Somebody like Mark Cuban seems like a solid choice. Not that it'll matter.
2024 Presidential Election Winning Party
Republicans -150
Democrats +110
Any Other Party +3300
GOP.
Odds to Win the 2024 Presidential Election
Donald Trump Sr. +300
Ron DeSantis +300
Joe Biden +525
Gavin Newsom +1000
Kamala Harris +1100
Mike Pence +2000
Michelle Obama +2500
Elizabeth Warren +3000
Nikki Haley +3300
Dwayne Johnson +4000
Mike Pompeo +4000
Pete Buttigieg +4000
Amy Klobuchar +4500
Hillary Clinton +4500
Tom Cotton +5000
+ More
Yes.
2024 US Presidential Election Props
To Progress Further: Trump v Pence
Donald Trump Sr. -300
Mike Pence +200
Trump.
To Progress Further: Buttigieg v Warren
Elizabeth Warren -140
Pete Buttigieg +100
Boot Edge Edge.
To Progress Further: DeSantis v Harris
Ron DeSantis -280
Kamala Harris +190
DeSantis.
To Progress Further: Haley v Warren
Elizabeth Warren -165
Nikki Haley +125
Haley.
To Progress Further: Sanders v Cruz
Ted Cruz -150
Bernie Sanders +110
Sanders, actually.
To Progress Further: Trump v Biden
Donald Trump Sr. -250
Joe Biden +170
Trump.
To Progress Further: Trump v Harris
Donald Trump Sr. -180
Kamala Harris +140
Trump.
To Progress Further: DeSantis v Yang
Ron DeSantis -300
Andrew Yang +200
DeSantis, Moderate Party™ notwithstanding.
2024 Party Leader Double
DeSantis v Biden +500
Trump Sr. v Biden +525
DeSantis v Harris +725
Trump Sr. v Harris +750
DeSantis v Warren +2800
Trump Sr. v Warren +2850
Pence v Biden +3000
DeSantis v Buttigieg +3600
Trump Sr. v Buttigieg +3750
DeSantis v Klobuchar +4000
Pence v Harris +4250
Trump Sr. v Klobuchar +4250
Haley v Biden +6000
Haley v Harris +8000
Carlson v Biden +13750
Pence v Warren +15500
Carlson v Harris +18500
Pence v Buttigieg +20000
Pence v Klobuchar +22500
Haley v Warren +29500
Haley v Buttigieg +38500
Haley v Klobuchar +43500
Carlson v Warren +66000
Carlson v Buttigieg +85000
Carlson v Klobuchar +96500
None of the above. It'll be Trump vs. somebody, but the eventual Democrat candidate isn't on the board yet.
2022 Joe Biden Presidential Mental Fitness Test Update
Will Biden Complete Full First Term?
No.
Joe Biden Exit Date
2025 -250
Not Before 2026 +535
2022 +650
2023 +700
2024 +700
2023.
Biden to Win Second Term?
No.
Biden Approval on September 1
39.00-39.99% +300
40.00-40.99% +300
38.00-38.99% +350
41.00-41.99% +425
Under 38% +600
42.00-42.99% +1000
43% or Higher +1600
LOL.
Year That Kamala Harris Becomes President
Not Before 2026 -425
2022 +725
2023 +725
2024 +725
2025 +1100
2023. Sigh.