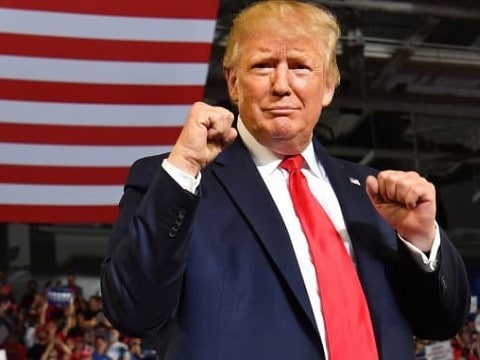 It's been an interesting week in the US fight against coronavirus and all the political wrangling going on behind the scenes.
If nothing else, the COVID-19 pandemic has proven unequivocally the age-old adage that no politician should ever let a good crisis go to waste.
Gamblers, too, should use some of that advice, and it seems that many have. Political odds have been booming at offshore betting sites, where you can get lines on anything and everything having to do with the 2020 Presidential election, the Trump administration's coronavirus response, and more.
2020 Political Odds Impacted By Coronavirus
The following Vegas-style election odds – all available at offshore sites like Bovada – paint an interesting picture of how the American public views such pressing current events. Several lines in particular are worth a closer look, so lean in and take a gander with us. Just remember to stay six feet away…
2020 US Presidential Election Winner
Donald Trump -115
Joe Biden +140
Andrew Cuomo +1000
Bernie Sanders +1800
Mike Pence +6000
Hillary Clinton +6600
Nikki Haley +10000
Michelle Obama +20000
Tulsi Gabbard +50000
A week or two into the hype and FUD about the coronavirus in the US, Trump was actually the underdog to Biden, sitting at +100 to Biden's -105.
Things have changed a lot since then, as Trump's primetime press briefings have bypassed many news censors and put him directly in front of the American audience. Apparently, when there's nobody to edit the clips and soundbites, folks seem to think this guy isn't exactly the bogeyman he's made out to be.
Of course, it's difficult to expect the press' paint to stick when Trump is already covered in an orange Teflon coating of his own.
US Presidential Election 2020 – Democratic Candidate
Joe Biden -450
Andrew Cuomo +700
Bernie Sanders +1000
Hillary Clinton +2000
Michelle Obama +5000
A month ago, after curb stomping Bernie in the primaries like he was a rusting up a good straight razor at the pool, everyone was Ridin' With Biden. Now, not so much.
Uncle Joe, already clearly infirm and mentally diminished, has been in perpetual quarantine, giving a few rambling "town halls" via webcam and generally letting the field back in.
Interestingly, Bernie's odds were +2500 before this, and he's back to +1000. Still a long shot to be sure, but much better positioned for some cold November reign.
The real surprise, though, is Andrew Cuomo. As governor of New York, despite the place being a major coronavirus hotspot, his approval ratings are Giuliani-esque circa September 2001. He's been admonishing the Trump administration daily for not putting "the most important state" in America ahead of every other.
We can barely handle the coronavirus – the Cuomovirus might kill us all.
Unfortunately, there is no "Other" option on the Democratic odds boards, which is where our money would go on a prop like this.
US Presidential Election 2020 – Republican Candidate
Donald Trump -2500
Mike Pence +1400
Nikki Haley +3300
Mitt Romney +8000
Paul Ryan +10000
Ben Sasse +15000
John Kasich +15000
William (Bill) Weld +15000
Before the coronavirus crisis came to US shores, Trump's odds to be the 2020 GOP nominee were sitting at -4000 or so. They've fallen off since then, but he's still a heavy favorite.
Perhaps a few bettors think he'll contract the virus and be too sick to run, or that he'll be forced out of office over his administration's handling of the WuFlu. Neither of those outcomes seems likely, as the Trump Train keeps on rolling.
Trump is the obvious nominee, which is why it'll cost you $2500 to win $100. Hard pass on this one.
US Presidential Election 2020 – Winning Party
Democratic Party -115
Republican Party -115
Prior to the COVID-19 scare, the GOP had a slight edge here. Now, it's a tie. Interestingly, if you check the Vegas election odds above, you'll see that Trump is now heavily favored to win (other books have him as high as -140).
Since he's a Republican, why would this line have both parties in a dead heat?
That's a good question, and there don't seem to be any compelling answers. Perhaps bettors think there's a slight chance Trump won't win the GOP nomination?
Next White House Cabinet Member To Leave Administration
Alex Azar (HHS) +120
Robert Wilkie (Veterans Affairs) +500
Wilbur Ross (Commerce) +600
Sonny Perdue (USDA) +1100
William Barr (Attorney General) +1400
Mike Pompeo (State) +1600
Steve Mnuchin (Treasury) +1600
Betsy DeVos (Education) +2500
Elaine Chao (Transportation) +2500
Ben Carson (HUD) +3500
Eugene Scalia (Labor) +3500
Mark Esper (Defense) +4000
David Bernhardt (Interior) +5000
Every now and then, sportsbooks and bettors anticipate a cabinet shakeup. Trump likes firing people, after all.
Naturally, Alex Azar is the favorite to get handed his walking papers, seemingly due to the fact that his department – Health and Human Services – is more aligned with the coronavirus narrative than any other. Except maybe Housing and Urban Development, albeit Ben Carson seems to be a genuine Trump ally.
Next Justice To Leave Supreme Court
Ruth Bader Ginsburg -250
Clarence Thomas +450
Stephen Breyer +700
Sonia Sotomayor +1500
John Roberts +2200
Samuel Alito +2400
Brett Kavanaugh +6600
Elena Kagan +8000
Neil Gorsuch +8000
This wager comes and goes, but it's catching on thanks to coronavirus because the disease primarily targets the elderly and infirm.
The Notorious RBG, being about 207 years old and coming off cancer treatment, is now the heavy favorite to be the next Justice to leave the highest court in the land. Violating social distancing protocols and stay-at-home orders to lift mad weight in the gym is probably helping her remain atop the boards, too.
Will Trump Complete His First Term?
While President Trump was being tried in the Senate after being impeached by the House, the Wuhan coronavirus was spreading like wildfire across the globe (unless it already was for months before that, unbeknownst to the austere "scientists" and "experts" out there, which is likely).
In fact, before Trump was even acquitted, he addressed the virus by shutting down all travel from mainland China. For this, of course, Trump was decried as "racist" and "xenophobic" by Joe Biden and the same media that two weeks later lamented that he should be impeached for not closing the border sooner.
You can't make this stuff up, hence the above odds.
Today's news that House Speaker Nancy Pelosi is opening an investigation into the Trump coronavirus response adds even more fuel to the fire, so you should probably expect to see a new batch of Trump impeachment odds hit the sportsbooks in relatively short order.
Will There Be A Recession In Trump's 1st Term?
This political prop bet didn't exist before about three weeks ago. And because a common disease sickening a fraction of a percent of the US population – and killing a fraction of a percent of that – has been able to put six million people out of work and force the government into signing a crippling $2 trillion bailout for workers, small businesses, and corporations nationwide, there's every chance in the world that "recession" is an understatement.
This one seems like a gimme, and the only way it doesn't pay out is if money isn't real. Which is why you should probably use Bitcoin when you make this wager.
Will The US Presidential Election Take Place On November 3rd, 2020?
This is the most "coronavirus" prop on any odds board, and it's the direct result of the disease shutting down most of the country, cancelling primary elections, and leaving everyone in limbo nationwide.
Many politicians are naturally using it to call for insecure Internet-based elections going forward, but that likely won't happen in time for the 2020 general.
Of course, given the COVID-19 trajectories, the malady should be well in the rear-view – and in embarrassingly clear perspective – by the time November rolls around. Unless 150 million people go completely insane in quarantine and all break out into Civil War 2, the election is going to go ahead as planned. "Yes" is a safe bet.
Will @TheRealDonaldTrump Be Kicked Off Of Twitter Before 2022?
This has been trending for about three years, but it's picked up steam lately. Early in the coronavirus story, a piece of news was going viral about how Trump called the coronavirus a "hoax," which Snopes readily debunked.
Nevertheless, the mainstream media – of which Twitter is a fundamentally entrenched part – has doubled down on the narrative that Trump's public statements are a threat to public safety, with some even suggesting that the President is guilty of "war crimes."
As a result, an army of talking heads is appealing to Twitter to kick the President off the platform. (They probably haven't considered what they'd report on if that actually happened, but they'd doubtless make something else up to pass the time.)
Since Twitter wants to stay in business, this one's a solid "no" in our book. And it should be at yours, too.
And if you don't have a sportsbook, sign up at one ASAP, because these political bets are just getting warmed up.