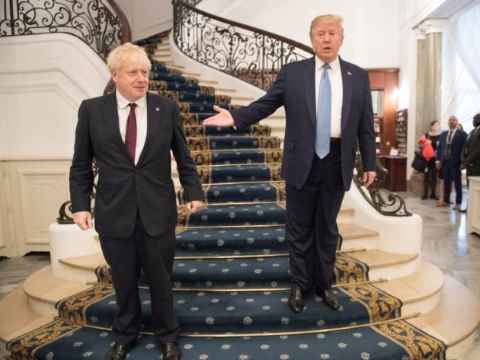 If we've learned one thing about Vegas election odds, it's that you've got to get your wagers in as soon as you see a line you like.
If you wait until tomorrow, the odds will have either shifted significantly, or they'll be off the boards entirely.
This is especially true with political prop bets.
That's why it was so surprising to see the sheer number of election odds posted at BetOnline AG.
Usually, BetOnline and Bovada compete to provide the most comprehensive political gambling selections, but lately, it's been all BetOnline.
Bovada has a few items up (which you should definitely check out, if for no other reason than to shop lines), but BetOnline has really outdone itself for a mid-week slate.
Meanwhile, MyBookie – which absolutely killed it during the run-up to the 2020 Presidential election, is nowhere to be found. All you'll get there are 2024 election odds, and Donald Trump's not even on the boards. Also, Joe Biden is the favorite at +100.
Seriously, MyBookie, WT actual F?
MyBookie notwithstanding, the main reason BetOnline has so many different political gambling lines posted is because unlike the other two legal election sportsbooks, only BetOnline serves a comprehensive global clientele. And right now, things are afoot across the pond.
There's definitely the usual intrigue in the once good old US of A, but the bulk of the odds are on international politics.
We don't pay much attention to those markets, but since many of you do, we figured it was worth a post. And as usual, we'll even give you some advice. Where we can, anyway.
All that said, we're going to start with the current American political odds, since America – despite everything that's happened since November – is still number one!
Oh, and get ready for a lot of scrolling:
United States Election Odds
2024 Presidential Election Winner
Joe Biden +375
Kamala Harris +375
Donald Trump +700
Nikki Haley +1400
Ron DeSantis +1800
Mike Pence +2000
Alexandria Ocasio-Cortez +2500
Dwayne Johnson +3300
Ivanka Trump +3300
Michelle Obama +3300
Tucker Carlsson +3300
Josh Hawley +4000
Kristi Noem +4000
Mike Pompeo +4000
Pete Buttigieg +4000
Ted Cruz +4000
Tom Cotton +4000
Candace Owens +5000
Dan Crenshaw +5000
Donald Trump Jr. +5000
Elizabeth Warren +5000
Amy Klobuchar +6600
Beto O'Rourke +6600
Marco Rubio +6600
Mark Cuban +6600
Stacey Abrams +6600
Charlie Baker +7500
Andrew Cuomo +8000
Andrew Yang +8000
Bernie Sanders +8000
Joe Rogan +8000
Michael Bloomberg +8000
Paul Ryan +8000
Tammy Duckworth +8000
Chris Christie +10000
Cory Booker +10000
Elon Musk +10000
George Clooney +10000
George P. Bush +10000
Greg Abbott +10000
Gretchen Whitmer +10000
Hillary Clinton +10000
Joe Kennedy III +10000
John Kasich +10000
Jon Stewart +10000
Julian Castro +10000
Kanye West +10000
Lindsey Graham +10000
Mark Zuckerberg +10000
Mitt Romney +10000
Nancy Pelosi +10000
Sherrod Brown +10000
Tammy Baldwin +10000
Tim Scott +10000
Tulsi Gabbard +10000
Rand Paul +12500
Deval Patrick +15000
Kayleigh McEnany +15000
Michael Bennet +15000
Tommy Tuberville +15000
Ben Shapiro +20000
Bill Gates +20000
Chelsea Clinton +20000
Condoleezza Rice +20000
Eric Garcetti +20000
Eric Holder +20000
Gavin Newsom +20000
Howard Schultz +20000
Jamie Dimon +20000
Jared Kushner +20000
Jeff Flake +20000
Kirsten Gillibrand +20000
LeBron James +20000
Meghan Markle +20000
Mitch McConnell +20000
Oprah Winfrey +20000
Tom Steyer +20000
Val Demings +20000
This is the most amusing list of odds we've seen in some time. Mostly a whole bunch of nobodies who think they're somebodies. Embarrassing.
Ignoring the posers, we'll risking some cash on Kamala Harris, Donald Trump, and Ron DeSantis. Given Kamala's +375 odds as the favorite, if any of those three hit, we're guaranteed a decent payout.
Politics is all about hedging your bets, folks. Learn it, live it, love it.
And hate it. To the max.
2024 Democratic Presidential Nominee
Kamala Harris +150
Joe Biden +175
Alexandria Ocasio-Cortez +1400
Elisabeth Warren +2000
Pete Buttigieg +2000
Michelle Obama +2200
Amy Klobuchar +3300
Andrew Yang +3300
Bernie Sanders +3300
Beto O'Rourke +3300
Cory Booker +3300
Stacey Abrams +4000
Tammy Duckworth +4000
Andrew Cuomo +5000
Deval Patrick +5000
Gretchen Whitmer +5000
Hillary Clinton +5000
Michael Bennet +5000
Michael Bloomberg +5000
Tammy Baldwin +5000
Sherrod Brown +6600
Tulsi Gabbard +6600
Kirsten Gillibrand +10000
Val Demings +10000
Hillary. Definitely Hillary.
LOL.
Kamala at +150 for "re-election" is the best bet here.
2024 Republican Presidential Nominee
Donald Trump +300
Nikki Haley +600
Ron DeSantis +650
Mike Pence +900
Ted Cruz +1500
Mike Pompeo +1800
Donald Trump Jr. +2000
Josh Hawley +2000
Kristi Noem +2000
Tom Cotton +2000
Tucker Carlsson +2000
Candace Owens +2500
Marco Rubio +2500
Charlie Baker +3300
Dan Crenshaw +3300
Mitt Romney +3300
Chris Christie +5000
George P. Bush +5000
Greg Abbott +5000
Paul Ryan +5000
Condoleezza Rice +6500
Kayleigh McEnany +6600
Lindsey Graham +6600
Rand Paul +6600
Tim Scott +6600
Tommy Tuberville +7500
Jared Kushner +10000
Jeff Flake +10000
John Kasich +10000
It'll be Trump, Trump, or Trump, Jr.
Maybe DeSantis.
We're putting money on The Donald and The Ronald. If either wins, we'll be in the black.
2022 US Senate Majority Winning Party
Democrats -130
Republicans -110
The GOP just needs to flip a single seat. If they can ensure a fair election, that shouldn't be too difficult, given the current climate.
That -110 payout is reasonable, too.
Will any Trump win the US presidency in 2024?
Given the fact that no Trump has formally declared a run yet, we like the flexibility offered by this line, so we're taking the "Yes" at +500.
However, we're not betting the farm on it. DeSantis' star is rising bigly.
Will Caitlyn Jenner be elected?
To dog catcher? No. Xe's probably not fast enough anymore.
To anything else? Also no.
Even at -2000.
Will Andrew Cuomo be re-elected as NY governor in 2022 if he runs?
New York loves its Italian-style mafiosos. Some things never change.
"Yes" all day long in The City that Never Sleeps.
Will Joe Biden leave office via impeachment?
Not a chance in the world. And at -2000 odds, there's actually surprising value here.
The line should be set at -100000.
Who will run for President in 2024?
Donald Trump +125
Donald Trump Jr. +400
Ivanka Trump +400
Tucker Carlsson +500
Lara Trump +600
Dwayne "The Rock" Johnson +1000
Kimberley Guilfoyle +1200
Jeff Bezos +2000
Roger Stone +2000
Michael Moore +2500
Mark Zuckerberg +3300
Lebron James +4000
Meghan Markle +4000
Tom Hanks +4000
James Woods +5000
Oprah Winfrey +5000
Scott Baio +5000
Henry Winkler +6600
Meryl Streep +6600
Rosie O'Donnell +10000
Four of the first five people on this list are Trumps. As we've said many times before, the family is dynasty building.
The Trumps are the new Kennedys.
Also, DeSantis isn't featured here, surprisingly.
Will Senator Ron Johnson be re-elected in Wisconsin?
Not if they're still using Dominion voting machines, he won't be.
UK Political Betting Odds
2021 Hartlepool By-Election
Conservatives -160
Labour +120
Northern Independence Party +10000
Reform UK +10000
Liberal Democrats +15000
They country misspelled "Labor."
Amateurs.
Next Conservative Party Leader
Rishi Sunak +200
Michael Gove +900
Elizabeth Truss +1000
Jeremy Hunt +1100
Dominic Raab +1200
Priti Patel +1600
Matthew Hancock +2200
Tom Tugendhat +2200
Jacob Rees-Mogg +2500
Robert Jenrick +2500
Sajid Javid +2500
Ben Wallace +3300
Gavin Williamson +3300
Johnny Mercer +3300
Grant Shapps +4000
Mark Harper +4000
Penny Mordaunt +4000
Steve Baker +4000
Tobais Ellwood +5000
Esther McVey +6600
Kwasi Kwarteng +6600
Andrea Leadsom +10000
Graham Brady +10000
Nigel Farage +10000
Ruth Davidson +10000
George Osborne +20000
The odds here resemble what you'd find at a horse race: no clear favorite and small deltas between top contenders.
Next Labour Party Leader
Andy Burnham +600
Angela Rayner +900
Lisa Nandy +900
Sadiq Khan +900
Rosena Allin-Khan +1000
Yvette Cooper +1600
Nick Thomas-Symonds +2200
Clive Lewis +2500
David Lammy +2500
Rachel Reeves +2500
Anneliese Dodds +3300
Dan Carden +3300
Dan Jarvis +3300
Jess Phillips +3300
David Miliband +4000
Dawn Butler +4000
Ed Miliband +4000
Wes Streeting +4000
Zarah Sultana +4000
Anas Sarwar +5000
Hillary Benn +5000
Janet Daby +5000
Jim McMahon +5000
Jonathan Ashworth +5000
Lucy Powell +5000
Seema Malhotra +5000
Stella Creasy +5000
Stephen Kinnock +5000
Emily Thornberry +6600
John McDonnell +6600
Laura Pidcock +6600
Richard Burgon +6600
Rebecca Long-Bailey +8000
Diane Abbott +10000
Jeremy Corbyn +10000
Jonathan Reynolds +10000
Tony Blair +15000
Ditto.
This must be what a party that lacks leadership looks like.
Boris Johnson Conservative Leader at Election?
Will BoJo be the Conservative leader by election time? Will he be the Conservative leader after the election? And which election is being referenced, anyway?
We don't really know what BetOnline is asking, here.
But since it's a coin toss with the same odds on both sides, our policy is to abstain regardless.
Will Scotland vote for independence before 2025?
They didn't before, and they won't again.
Or maybe that was Ireland.
Same thing.
Subjects of the Crown, one and all.
Will the SNP win a majority of seats?
We don't know what that is.
London Mayoral Election Winner
Sadiq Khan -25000
Brian Rose +2800
Shaun Bailey +2800
Lawrence Fox +10000
Sian Berry +15000
Niko Omilana +25000
Piers Corbyn +30000
David Kurten +50000
Kam Balayev +50000
Luisa Porritt +50000
Mandu Reid +50000
Max Fosh +50000
Nims Obunge +50000
Peter Gammons +50000
Richard Hewison +50000
Steve Kelleher +50000
Valerie Brown +50000
Vanessa Hudson +50000
Count Binface +100000
You should obviously bet for anyone except the guy with -25000 odds.
Do it.
Do it!
French Political Betting Odds
Next Elected New York City Mayor 2021
Andrew Yang -250
Eric Adams +350
Maya Wiley +900
Scott Stringer +1200
Raymond McGuire +1600
Diane Morales +5000
Kathryn Garcia +5000
Shaun Donovan +5000
#YangGang, baby!
Math. Money. Marijuana.
And an NYC casino, apparently.  
Will Andrew Yang be elected as mayor of NYC in 2021?
See above.
Next Elected Boston City Mayor 2021
Michelle Wu -120
Kim Janey +140
Andrea Campbell +800
Jon Santiago +2000
Annissa Essaibi George +2500
John Barros +2500
Who cares?
Next Elected Seattle Mayor 2021
Loren Gonzalez -150
Jessyn Farrell +250
Colleen Echohawk +600
Bruce Harrell +800
Andrew Grant Houston +3300
Lance Randall +3300
Seriously, who cares?
2022 French Presidential Election Winner
Emmanuel Macron -160
Marine Le Pen +300
Jean-Luc Melenchon +1600
Anne Hidalgo +2000
Edouard Philippe +2000
Michel Barnier +2000
Xavier Bertrand +2000
Laurent Wauquiez +2500
Bruno Retailleau +4000
Francois Baroin +4000
Arnaud Montebourg +5000
Benoit Haman +5000
Bruno Le Maire +5000
David Lisnard +5000
Manuel Valls +5000
Pierre de Villiers +5000
Valerie Pecresse +5000
Francois Hollande +6600
Nicolas Dupont-Aignan +6600
Yanick Jadot +6600
Eric Zimmour +10000
Segolene Royal +10000
Nicolas Sarkozy +20000
It'll be Macron or Le Pen. Probably the incumbent.
Whichever one that is.
Bet accordingly.
German Political Betting Odds
2021 German Chancellor Election Winner
Armin Laschet -130   
Markus Soder +140    
Annalena Baerbock +650    
Robert Habeck +1200  
Jens Spahn +2500
Olaf Scholz +2500    
Alice Weidel +6600   
The one with the French name. That guy should obviously be the next Chancellor of Germany.
2021 Biden Presidential Mental Fitness Test Update
Will Joe Biden complete his first term as US President?
How in the world is this line so stagnant? "No" should be pulling -10000, easy.