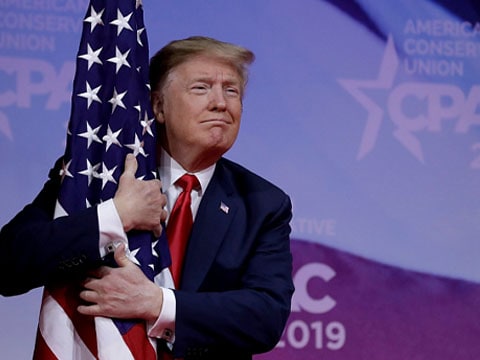 The impeachment inquiry into President Donald Trump will reenter the public sphere today with the open testimonies of United States diplomat Bill Taylor and deputy assistant secretary of state for European and Eurasian Affairs George Kent.
The two will appear in front of the House Intelligence Committee to answer questions regarding the alleged quid pro quo by Trump.
According to a whistleblower's complaint, the President applied pressure on Ukraine to investigate Hunter and Joe Biden in exchange for military aid.
Both Taylor and Kent previously testified behind closed doors. Through the transcripts released from the private hearings, the officials were alarmed by the actions of Trump and his associates.
"I realized that one of the key pillars of our strong support for Ukraine was threatened," Taylor told the committee. "The irregular policy channel [of Rudy Giuliani and several US diplomats] was running contrary to the goals of longstanding US policy."
Kent hinted at a similar irregularity organized by Giuliani, this time meant to oust former US ambassador to Ukraine Marie Yovanovitch via a "classic disinformation operation."
Yovanovitch, who was relieved of her duties earlier this year, previously testified in private but will give her public deposition this Friday.
Per Yovanovitch, she was removed from her post because of Trump's "concerted campaign" against her. During Trump's July phone call with Ukrainian President Volodymyr Zelensky, the POTUS even referred to Yovanovitch as "bad news."
With the full week of public testimonies, Trump's impeachment odds could shift dramatically. However, which way they shift is still to be determined.
In preparation for the impeachment possibility, MyBookie has a few prop bets surrounding Trump's future.
The first bet– the most prominent of the three– is the chances that Trump is actually impeached and removed from office. Oddsmakers at MyBookie project that Trump will not be removed with -250 chances he remains in office until the 2020 elections.
Will Trump be impeached and removed before the 2020 elections?
If Trump is not removed from the White House, he is favored to run for reelection in 2020 with -700 odds. These odds equate to an 84.79% chance, which could still be low for Trump and a second run.
Will Trump run for reelection in 2020?
The final prop bet on the site is the odds Trump will win the 2020 election. While they're not as good as his "Will he run in 2020" odds, the chances he wins next year are still favored at -230.
Will Trump be elected to a second term as POTUS?