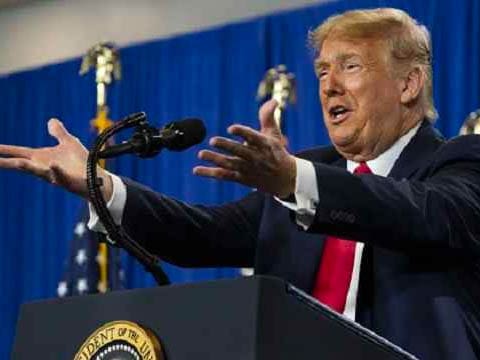 We were not even going to POST an article today. Still, when the sportsbooks dropped new odds for the final presidential debate, both my mouth and my obligatory 9:00 AM vanilla latte simultaneously dropped.
Never before seen in the history of political propositions, the bookkeepers posted over 50 new lines for the final debate, now scheduled for Thursday, October 22nd, in Nashville, Tennessee.
The first presidential debate felt like the equivalent of watching your 4th-grade cousin's school-wide recorder competition. Picture a (non)musically inclined 9-year old play a sewn rendition of Hot Cross Buns, and you are pretty much there.
More importantly, the debate resulted in the betting line for the presidential 2020 winner shifting to favor Joe Biden. Trump's coronavirus diagnosis threw a wrench in the second debate. Instead of a typical second debate, Trump and Biden held dueling town hall meetings.
Joe Biden fared relatively well but stumbled when pressed on court-packing and contradicting policy messaging between his website and in-person statements.
Trump took a risk stepping out of his media bubble and got grilled by moderator Savannah Guthrie on his tax returns and his misleading statistics on the pandemic.
Both candidates scramble to sway the few undecided voters left in the final debate. Moderated by NBC Whitehouse correspondent Kristen Walker, the last debate aims to cover six general subjects: the pandemic, race issues in the US, environmental issues, the struggle of American families, national security, and the role of leadership.
Scroll down through these sizzling odds; we highlighted the ones that we think could lead to big payouts.
Betting lines courtesy of MyBookie.
Happy betting!
WHAT STYLE WILL JOE BIDEN'S TIE BE
Striped Or Spotted -190
Solid Color +145
WILL JOE BIDEN HAVE A POCKET SQUARE SHOWING
Yes -400
No +250
J BIDEN WEARS MASK ON STAGE AT ANY POINT-BROADCAST
Yes +120
No -160
WHAT COLOR WILL DONALD TRUMP'S TIE BE
Note: Predominant Color Will Be Used For Grading Purposes
Grading Purposes
Red/Purple -220
Blue/Light Blue/Navy Blue +250
Black/White/Grey +400
WHAT STYLE WILL DONALD TRUMP'S TIE BE
Striped Or Spotted +145
Solid Color -190
TRUMP – BIDEN TIE STYLE PARLAY
Trump Striped Tie – Biden Striped Tie +250
Trump Solid Tie – Biden Striped Tie +125
Trump Striped Tie – Biden Solid Tie +450
Trump Solid Tie – Biden Solid Tie +350
WHAT WILL BE SAID FIRST BY JOE BIDEN
Thanks +100
Hello +150
Thank You +200
Hi +300
WHAT WILL BE SAID FIRST BY DONALD TRUMP
Thank You +100
Hello +150
Thanks +200
Hi +300
WHICH TOPIC WILL BE DEBATED FIRST
Fighting Covid-19 +300
American Families +350
Race In America +350
Climate Change +400
National Security +400
Leadership +400
WHAT WILL BE SAID FIRST BY TRUMP OR BIDEN
Pandemic +175
Mask +200
Recovered +175
Who/World Health Organization +500
Cdc/Center For Disease Control +500
Fauci +700
WHAT WILL BE SAID FIRST BY TRUMP OR BIDEN
Class +175
Struggle/Struggling +200
Healthy +225
Breakdown +400
Traditional +400
WHICH STATE WILL BE MENTIONED FIRST
Tennessee -165
Ohio +250
Florida +250
Michigan +500
New York +600
MIN IN TO THE DEBATE FOR TRUMP TO SAY HUNTER
Over 15 Minutes 30 Seconds -120
Under 15 Minutes 30 Seconds -120
HOW MANY TIMES WILL D TRUMP SAY CORRUPT/CORRUPTION
Over 3.5 -120
Under 3.5 -120
HOW MANY TIMES WILL DONALD TRUMP SAY "UKRAINE"
Over 3.5 +120
Under 3.5 -160
HOW MANY TIMES WILL DONALD TRUMP SAY "BURISMA"
Over 1.5 +155
Under 1.5 -220
HOW MANY TIMES WILL JOE BIDEN SAY COVID
Over 8.5 -120
Under 8.5 -120
HOW MANY TIMES WILL DONALD TRUMP SAY COVID
Over 4.5 +100
Under 4.5 -140
HOW MANY TIMES WILL JOE BIDEN SAY "CORONAVIRUS"
Over 1.5 +120
Under 1.5 -160
HOW MANY TIMES WILL DONALD TRUMP SAY "CORONAVIRUS"
Over 2.5 -110
Under 2.5 -150
WHICH CANDIDATE WILL SAY "BLACK PEOPLE/AMERICANS"
Joe Biden – First -150
Donald Trump – First +110
WILL JOE BIDEN SAY "RACIST"
Yes -400
No +250
WHICH CANDIDATE WILL SAY "RACISM" FIRST
Joe Biden -400
Donald Trump +250
HOW MANY TIMES WILL DONALD TRUMP SAY "ISIS"
Over 2.5 -120
Under 2.5 -120
HOW MANY TIMES WILL DONALD TRUMP SAY "ANTIFA"
Over 3.5 +120
Under 3.5 -160
TIMES "RUSSIA" WILL BE SAID BY EITHER CANDIDATE
Over 3.5 -140
Under 3.5 +100
HOW MANY TIMES WILL "EMAIL" BE SAID BY D TRUMP
Over 2.5 -150
Under 2.5 +110
HOW MANY TIMES WILL "LAPTOP" BE SAID BY D TRUMP
Over 1.5 -130
Under 1.5 -110
WHAT WILL BE SAID FIRST BY EITHER CANDIDATE
Fraud +165
Liar +165
Corrupt +165