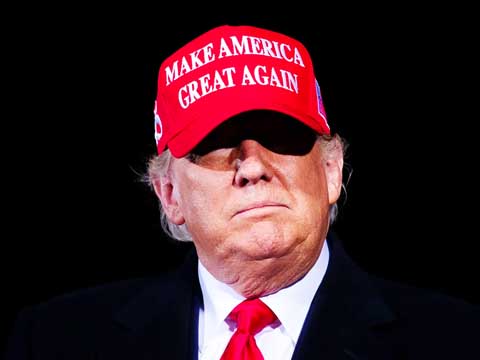 There's a new survey making its rounds today that indicates a whopping 28% of Republicans believe President Donald Trump will be rightfully "reinstated" as President before the end of 2021.
That, of course, is so out of the realm of possibility that even the best Vegas election betting sites won't offer action on such a logical absurdity.
While it's obvious that Trump crushed Creepy Basement Dementia Joe™ in the 2020 Presidential election only to see a coordinated campaign of voter fraud strip his win in the wee hours after polling stations closed nationwide, there is no legal mechanism by which Trump could actually be reinstated.
This is true even if the fraud were to be openly admitted to by the Democratic operators that coordinated the steal.
In other words, there is no legal precedent for such a reinstatement, and there's not likely to be a new law cooked up by the House of Representatives and ratified by the Senate to address the issue and reinstall Trump.
Even if the GOP reclaims both chambers of Congress in 2022 (as the US House odds and US Senate odds indicate is the likely outcome), there will be no appetite among the RINO set (that is, almost every single "Republican" holding public office) to cook up some new rules to reseat The Donald.
Here's a good general rule: If you can't find odds on a given political outcome, you can trust that it's not a reasonable outcome in this – or any – universe.
Well, it's either for that reason or due to the fact that something is so polarizing and controversial that no legitimate sportsbook wants to sully its brand in the eyes of half its users to post a series of odds for the event in question.
This, for example, is why you won't find any Kyle Rittenhouse odds at the best online political sportsbooks, even though the case is an incredible media circus with 24/7 coverage these last several weeks.
Going back to the central point – that is, Trump odds on whether or not the GOAT will be "reinstated" before the end of 2021 – there is one betting line available that suggests a pre-2024 path back to the presidency for Trump:
Donald Trump To Become House Speaker For 2023 Congressional Session?
BetOnline AG used to have another betting line, supplementary to the above.
That wager – which has since been taken down – asked bettors whether or not Trump would win a seat in the US House of Representatives in 2022, and it was trending similarly to the above (albeit less extremely so) before its ouster.
However, Trump doesn't actually have to be a US House rep to be Speaker.
In fact, there is no rule on who can be Speaker of the House. The Speaker doesn't even have to be an elected official at all!
This, of course, means the GOP could take back the House in 2022, select Trump as Speaker, initiate impeachment proceedings against Joe Biden and VP Kamala Harris, send the case to the Senate, and – if they can get 66 votes in the upper chamber – send the pair of imposters packing.
The Presidential Line of Succession would then fall to Trump as Speaker, and Bob's your uncle.
This, of course, is almost as unlikely as the above scenario of reinstallation.
Trump – while beloved by the American people – is unambiguously not beloved by the establishment politicians on either side of the political divide.
2021 Joe Biden Presidential Mental Fitness Test Update
Will Joe Biden finish his first term as President?
Yes -165 (-165)
No +125 (+125)
Still no.
What year will Joe Biden exit office?
2025 -160 (-160)
2022 +400 (+400)
Not Before 2026 +425 (+425)
2023 +550 (+500)
2024 +1400 (+1400)
2021 +3300 (+2000)
As 2021 comes to a close, the payout on this year is getting better and better.
If you go on this line any time soon, go ahead and hedge with equal money on 2021, 2022, and 2023.
While the payout on 2024 is very nice, we think he'll punch out before then. Meanwhile, 2025 being the favorite at -160 is about as braindead as Biden himself.
Will Joe Biden be impeached and removed from office?
No -700 (-700)
Yes +400 (+400)
Impeached? Probably.
Removed? Never.
Joe Biden Approval Rating By December 1, 2021
Over 42% -120 (41.5%, -120)
Under 42% -120 (41.5%, -120)
Biden's current approval rating at the time of this writing is 42.8% according to the leftist creeps at FiveThirtyEight.
However, his real approval rating is closer to 38%.
Remember, the hacks at FiveThirtyEight allow liars and frauds to pollute their polling aggregator, because they themselves are apparently cut from the same cloth.
Source: Conservative Brief