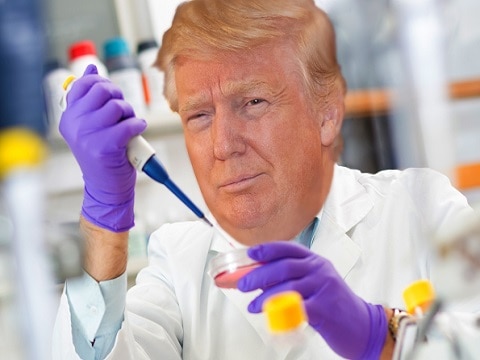 Nice try, President Donald J. Trump, M.D. — but you gotta be quicker than that if you want to pull a fast one on the best Las Vegas online sportsbooks.
Vegas Trump Vs. Biden Odds 2020
Election odds from Bovada
Donald Trump -120
Joe Biden +115
Andrew Cuomo +3300
Hillary Clinton +4000
Mike Pence +6600
Michelle Obama +15000
Nikki Haley +15000
The updated 2020 Election Odds from Vegas keep President Trump as the betting favorite over former VP Joe Biden, but knock him down a peg after asking members if disinfectants could potentially be injected into American voters and possibly cure the coronavirus.
Dr. Donald Trump, The Tide Pod President
Trump's Medical Hypothesis
"The disinfectant, where it knocks it out in a minute and is there a way we can do something like that by injection inside, or almost a cleaning. It gets in the lungs," wondered aloud Dr. Donald Trump, who likely took a hit of the "good stuff" before speaking to the public.
Human Doctor Tweets Real Medical Advice
Vegas Docks Donald, Warms Up Cup Of Joe
As of April 24th, Vegas oddsmakers now list Trump's chances of winning reelection at -120, meaning a $120 bet would win $100 and a wager on the incumbent President has a 54% chance to win a second term in the White House.
The presidential odds for Biden are currently listed at +115, indicating the former Vice President is the underdog with a 46% implied probability.
As a betting example: A $100 bet on Biden +115 would win $115 if the ex VP pulls the upsets on November 3.
Overall, the 2020 election matchup appears to be edging in Biden's favor since he and Trump were listed at +125 and -125, respectively, according to the odds from Vegas earlier in April.
And with 192 days to go until the general election on November 3, Bovada's oddsmakers already have put out tons of presidential prop bets, and below, you'll find all the ways to wager on their prognosis for Election Night 2020.
Vegas Election Props & Futures
Election props from Bovada
2020 Presidency – Winning Party
Democratic Party EVEN
Republican Party -130
2020 Republican Party Nominee
Republican Candidate
Donald Trump -2500
Mike Pence +1200
Nikki Haley +4000
Mitt Romney +8000
Paul Ryan +10000
Ben Sasse +15000
John Kasich +15000
William (Bill) Weld +15000
2020 Democratic Party Nominee
Joe Biden -1200
Andrew Cuomo +1400
Hillary Clinton +180
Michelle Obama +4000
Joe Biden's VP Pick
Kamala Harris +240
Amy Klobuchar +300
Elizabeth Warren +600
Michelle Obama +1000
Gretchen Whitmer +1100
Stacey Abrams +1100
Catherine Cortez Masto +1500
Tammy Duckworth +1800
Tammy Baldwin +3000
Val Demings +3000
Andrew Cuomo +4500
Michelle Lujan Grisham +4500
Hillary Clinton +5000
Susan Rice +9500
Tulsi Gabbard +9500
Democrats Brokered Convention
Trump To Finish First Term
Trump First-Term Recession
2020 Election – Popular Vote Winner
Democrats -275
Republicans +200
US House Majority
Democrats -290
Republicans +210
US Senate Majority
Republicans -180
Democrats +135
Congress – Balance of Power
Democratic House, Republican Senate +120
Democratic House, Democratic Senate +170
Republican House, Republican Senate +280
Republican House, Democratic Senate +4500